From a field of 68 applicants, the city of Apopka has hired its first ever in-house attorney who will start in the position on...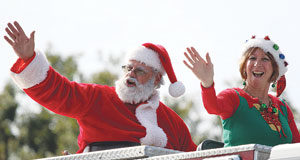 Santa Claus and his Mrs. wave from atop an Apopka Fire Department truck on Saturday, December 8, during the annual Apopka Christmas Parade. The...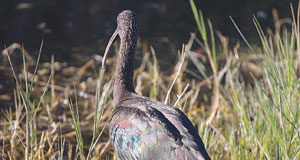 A glossy ibis keeps his eyes on what he hopes is his next meal along the Lake Apopka Wildlife Drive. The drive is open...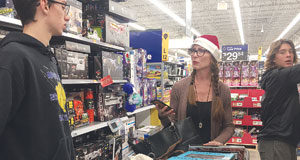 An Apopka-based nonprofit, Forever Wishes, had a big spending spree by purchasing gifts for Orange County families to give them a memorable holiday season.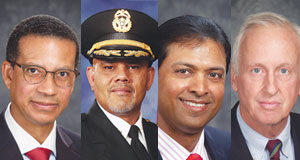 Orange County Mayor Jerry L. Demings this week announced four Orange County Government veterans for key staff appointments to his new administration. The appointments...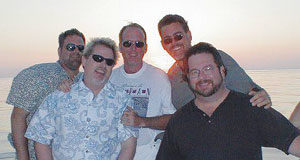 By Allison Boscarine, Special to the Chief. He represented a lot of time and really hard work during our high school careers. He expected our...
---
Friday, December 14, 2018
OUR POSITION:
Foliage Sertoma Club is thanked for annual parade
Apopka is a community where people do things for each other and work together for the common good. Helping others is a way of life for many in Apopka and the annual Apopka Christmas Parade is a great example.
THE VOICE OF THE COMMUNITY: OPINION & ARTICLES OF INTEREST
Many positions need filling
By Christine Moore, County Commissioner District 2
Last week, I shared my acceptance speech for the Orange County Commission at the Oath of Office held at the Convention Center. This week, as I prepare the new office and appoint committee members, I thought I would share some of that journey.
---
AHS hosted 'Super STEM Saturday'
By Melissa Byrd, orange County School Board, District 7
With one week left before winter break, I know this can be a stressful time for our older, shining scholars. They head into midterms, final exams, and end-of-course exams this week!
---
Eyewitness accounts of first Christmas still the best
By Richard Corbel, Corbeil's Corber
In this season of celebration, the Archko chapter on His birth is quite beautiful and, like most of the accounts therein, is in close agreement with Scripture.
---
Letters to the Editor:
Your Opinion Counts. Send a Letter to The Editor
Police Beat: STAY INFORMED. Get the details: who, when, and why arrests were made in our community by subscribing to The Apopka Chief today.
---
Lifestyle News
Hello Folks, In case you didn't notice, it got cold again this week. We have more rain, and possibly storms, comin' today, Friday, December 14. The...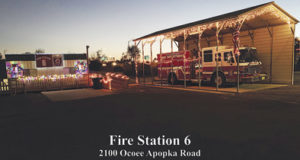 Apopka firefighters are always up for some fun competition, especially during the holidays.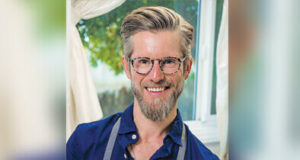 Take a bite into any one of Chris Tucker's pastry creations, and you'll discover a common theme among them: a Southern style of baking...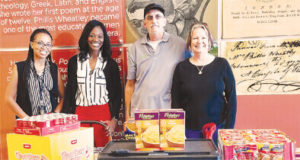 The Apopka Elks Lodge donated food to Zellwood Elementary and Phillis Wheatley Elementary for their food banks. Pictured left at Zellwood Elementary are, (l-r), Ms....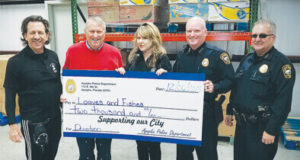 The Apopka Police Department donated to Loaves & Fishes' annual holiday toy drive with a $2,000 check. Such donations help families who are less...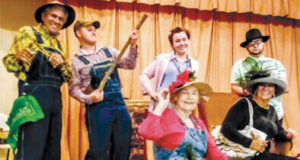 The Zellwood Players Drama Team will present "A Cricket County Christmas," a Christmas comedy with the true meaning of Christmas featuring a little singing...
Together with Clarion Associates, a national land-use consulting firm, the city of Apopka has been striving to make the land development code more user-friendly while implementing several of the city's development and visioning documents and modernizing the code's development regulations.
Questions arose Wednesday, December 12, at a city Development Review Committee (DRC) meeting about how a proposed subdivision would be developed about a mile south of the Kelly Park Road interchange at the Wekiva Parkway.
Since many people shop online or through meet-up apps during the holiday season, Apopka police want to remind citizens there is an area at the police station where residents can conduct exchanges.
Loaves & Fishes, a faith-based social service organization in Apopka, is seeking donations for its Christmas distribution days.
The Apopka City Council unanimously approved a resolution concerning the Florida Department of Transportationand the Apopka city center project. Read details on this approval on page 7A.
Are you brave enough to be part of the initial Black Bear Polar Plunge on New Year's Day, Tuesday, January 1, at Rock Springs Kelly Park , 400 E. Kelly Park Rd. Apopka, FL 32712? If so, registration starts at 10 a.m., and the Plunge will last from 10:30 a.m.-1 p.m.
Jordean Brigham of Apopka recently graduated from the University of Southern Mississippi with a Bachelor of Science degree.
The Dorothy Lumley Melrose Center for Technology, Innovation and Creativity has been chosen to receive a $500,000 endowment from the Kendrick B. Melrose Family Foundation to upgrade and enhance its software and technology.
Loaves & Fishes, a faith-based social service organization in Apopka, is seeking donations for its Christmas distribution days. Loaves & Fishes is located at 206 E. 8th St., Apopka. The website is www.loavesandfishesapopka.com.
The Orange County Clerk of Courts recently launched a new feature on its website that allows customers to purchase a packet or multiple packets of forms required for civil and family matters right online.
Sports News
Hello Folks, In case you didn't notice, it got cold again this week. We have more rain, and possibly storms, comin' today, Friday, December 14. The...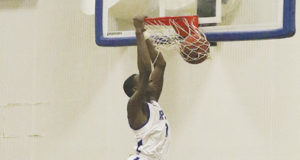 After a pair of wins this week, the Apopka Blue Darters boys basketball team is sporting a 5-1 record and on a five-game winning...
The Wekiva Mustangs' have already developed the weakness with the most impact.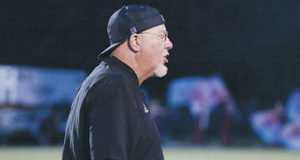 The Apopka High School athletic director said this week he hopes to have a new football coach named by the end of next week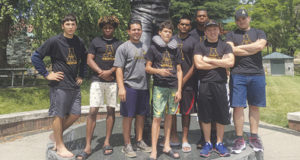 All in all, coach Lenin Vazquez declared the 2016-17 season successful for Wekiva Mustangs wrestling as progress continued to be taken and bear tangible...
Hello Folks, Well, we have cooler weather again and the wind has been kinda nasty. With the up-and-down temperatures and the wind blowin' like crazy, lots of...
Apopka High will host Metro vs. Florida Challenge in January
The schedule for the annual Metro vs. Florida Challenge hosted by Apopka High boys basketball coach Scott Williams and the Blue Darters boys basketball team has been finalized.
Bowl season gets under way; first one is in Orlando
Believe it or not, college football bowl season begins this weekend and the first bowl that will kick off will be the Cure Bowl at the Camping World Stadium in Orlando.