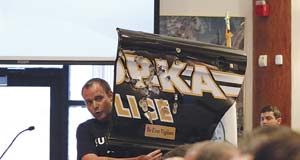 Apopka police officers packed the council chambers Wednesday, July 18, to speak against a proposed limit of three percent for merit raises for city...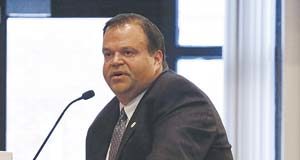 The revenue that the proposed tax rate would raise would balance the upcoming 2018-2019 budget and would also give the city the money needed...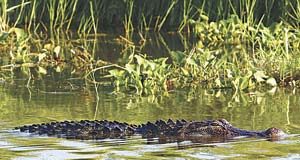 An alligator swims in one of the canals along the Lake Apopka Wildlife Drive recently. The drive is open each Friday through Sunday and...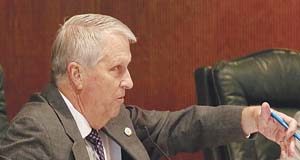 The fireworks that were supposed to be set off on July 4 to celebrate America's Independence Day will instead light up the sky in...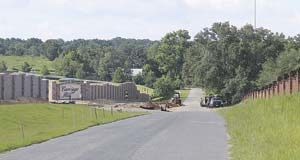 The improvement and/or extension of Rogers Road was among the items discussed by city staff Wednesday, July 18, at the Development Review Committee (DRC)...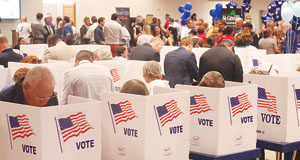 Here are the results from the Apopka Area Chamber of Commerce's Political Hob Nob and Straw Poll held Tuesday, July 10.  2018 Political Straw Poll...
---
Friday, July 20, 2018
OUR POSITION:
Budgetary restraints problem for amount of merit increase
More than one member of the City Council also expressed that if the merit increase is kept at three percent, it is expected only for this budget year – it is not meant to continue for years into the future.
THE VOICE OF THE COMMUNITY: OPINION & ARTICLES OF INTEREST
Oratorical participants win awards
By Rod Love, County Commissioner District 2
This past Sunday, I had the honor and pleasure of participating as a judge in the annual Scholarship Sunday oratorical contest at the New Hope Missionary Baptist Church in Apopka.
Hot car heatstroke has killed 764
It only takes a few minutes for the inside of a car to get dangerously hot, and the near record-high temperatures in many regions of the country this summer pose a greater risk for heatstroke tragedies.
When president pulls off such miracles, obviously God loves him
By Richard Corbel, Apopka Chief Staff
With the vast majority of the "Hate Trumpers" marching in the streets obviously being below the age of 50, this is certainly the gang that "couldn't think straight."
The End of the World
By Patti Bankson, The Way I See It
My take on it all is that every time the president does something even a little out of step with mainstream political thinking or behavior, they start salivating over the possibility for Impeachment!
---
Letters to the Editor:
Your Opinion Counts. Send a Letter to The Editor
Police Beat: STAY INFORMED. Get the details: who, when, and why arrests were made in our community by subscribing to The Apopka Chief today.
---
Lifestyle News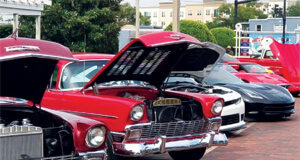 A Classic Car Show has been scheduled for Saturday, August 4, on the campus of the Church of the Holy Spirit on the corner...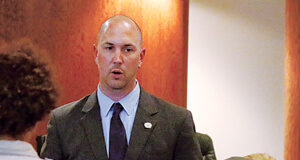 City Commissioner Kyle Becker held a tour of the Apopka City Hall  prior to the Wednesday, July 18 City Hall meeting. At least a...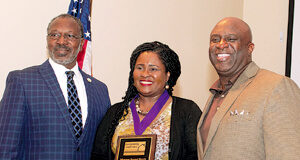 Monique Morris, an employee with Orange County Public Schools, was recognized at the 2018 Orange County Community Conference in the Renaissance Senior Center in Orlando on Saturday, July 14.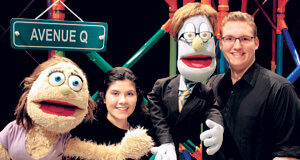 Apopka residents Rebecca Pennell as Kate Monster and Alec Lacher as Rod will perform in the musical, "Avenue Q," high-school version at Dr. Phillips...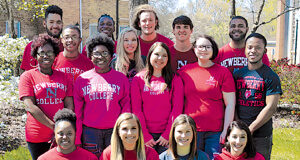 Jonathan Elicier of Apopka has been selected to serve as an Alpha Leader for the 2018 Wolf Pack Welcome summer orientations and Howl Effect...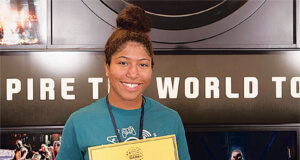 Ruby Nunez completed a week at Electronic Arts (EA) Tiburon, Maitland's STEAM video gaming summer camp. She was one of 10 female high school...
Other Headlines, Events and More:
Crews are scheduled the nights of today, Friday, July 20, and Saturday, July 21, to work to permanently close the State Road 46 intersection at County Road 46A. Nightly lane closures are scheduled from 8 p.m.-6 a.m. to allow crews to move the traffic signal about a half-mile west on SR 46 to a new connector road. This will allow work to begin on additional portions of the Wekiva Parkway (SR 429).
Four polling places have changed in Northwest Orange County for the upcoming 2018 elections, and the Orange County supervisor of elections office began mailing new voter information cards Monday, July 16, to Orange County voters whose polling places have changed for the 2018 elections. See page 5A,

The Wekiva Study Area Coalition (WSAC), a citizens' group organized to monitor and affect the Florida Department of Environmental Protection's Wekiva Basin Management Action Plan (BMAP), is sponsoring a debate for all Orange County Commission candidates seeking to represent District 2. The event is open to the public. Details on the debate on page 7A.

State Representative Jennifer Sullivan's staff will hold office hours at Apopka City Hall, 120 E. Main Street, on Tuesday, July 24, from 9 a.m. to noon for constituent outreach. Call Morgan Hatfield at 352-742-6275 for an appointment.
As part of its ongoing efforts to improve pedestrian safety in Apopka, the Apopka Police Department will be conducting a three-day pedestrian safety enforcement operation that will focus on motorists who fail to yield the right-of-way to pedestrians.
Phillis Wheatley Elementary School will host a Grill & Chill on the school's field, 1475 Marvin C. Zanders Ave., Apopka. For more details see page 1B.
Wekiwa Springs State Park, located in Apopka, is having Discovery Hour in the Park Sunday afternoon in the park's Interpretive Pavilion at 2 p.m.
A Back to School Fair will take place on Saturday, August 4, from 10 a.m. to 1 p.m., at the John H. Bridges Community center, 445 W. 13th St., Apopka. There will be a free backpack and school supply giveaway. Pre-registration is open until Friday, July 27.
A multi-year reunion for Apopka High School classes of 1945-65 will be held Saturday, July 21, at the Zellwood Community Center, 3160 Union St., Zellwood.
An Apopka Verizon store is donating up to 220 backpacks to students in the community as part of a national backpack giveaway.
Apopka's faith community is holding this seminar free of charge to create an understanding of the best way to help someone in need. See more details on this event held at First United Methodist Church of Apopka.
The Northside Baptist Church Vacation Bible School Game On! will take place. "Game On! is a week of gearing up for the big game," a church spokesman said. See dates and details on pager 5B.
The 2018 Back-to-School sales tax holiday begins on Friday, August 3, 2018, and ends on Sunday, August 5, 2018.
Youth ages 5-17 can join the Young Readers Summer Book Club, where they can read three to five books per month and earn stars for rewards. Read more on page 7B.
The Debbie Turner Cancer Care and Resource Center of Apopka will hold a fundraising day at Mellow Mushroom Pizza Bakers restaurant Tuesday, July 24, in Mount Dora.
Disney fine artist Doug Bolly, an Apopka resident, will have an art signing, meet and greet, and will debut his newest Disney art at Disney Springs.
Wekiwa Springs State Park, located in Apopka, is hosting Family Fun Hikes on the first Sunday of the month at 10 a.m.
Free required immunization shots and/or the certified DH 680 will be given Monday, July 23, through Saturday, July 28, from 8 a.m. to 3 p.m. each day, and on Sunday, July 29, from 9 a.m. to 2 p.m., at the OCPS Academic Center for Excellence, 701 W. Livingston St., Orlando.
Sports News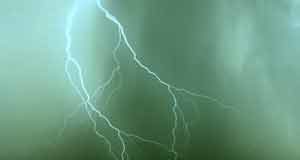 Hello Folks, We are still gettin' lots of rain in our area just about every afternoon. Afternoon rains are good because it kinda cools things...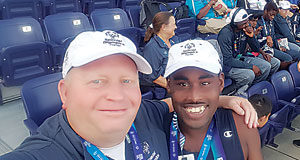 For Steve Schwarze, the years of heading up the Special Olympics program at Apopka High School reached a zenith earlier this month when he...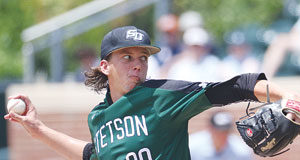 The pitching, however, won out and Gilbert parlayed that talent on the mound into becoming a first-round draft pick of the Seattle Mariners following...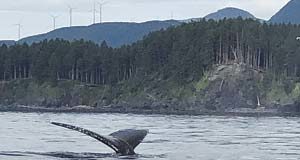 During the summer, Apopka Blue Darters football coach Rick Darlington often travels to other high schools to teach the coaching staffs the single-wing offense...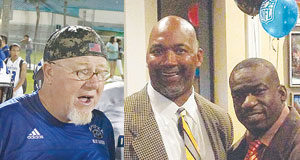 Apopka Blue Darters football coach Rick Darlington will be one of the guest speakers Saturday, July 14, at the youth and high school coaches'...
OTHER SPORTS HEADLINES
All-season athletic passes, along with signs and advertising, are on sale now by the Apopka High School athletic department.
Registration for Apopka Raptors youth football and cheerleading is ongoing through August 1. There are five age groups from ages 4-6 through 13-14.