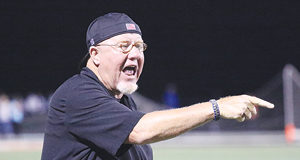 Rick Darlington, who led the Blue Darters to three football state championships, resigned his position at Apopka High this week to become the head...
The new Orange County mayor, three new county commissioners, and one returning commissioner were sworn in at the 2018 Oath of Office Ceremony at...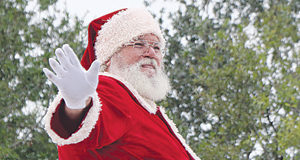 The parade will follow the traditional route from Third Street north along Park Avenue to Votaw Road. The parade takes about two hours to...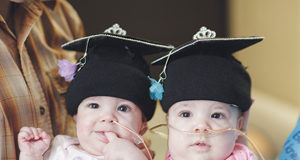 Twin sisters Jesi and Remi of Apopka came wailing into the world on May 15 as conjoined twins locked at the abdomen, the outline...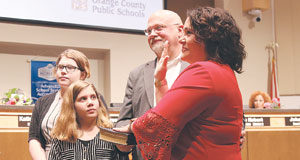 In addition to Byrd, other elected board members – including former Orange County Mayor Teresa Jacobs as chair – were sworn in at a...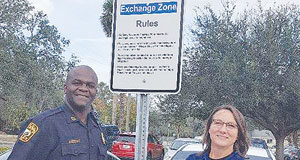 Since many people shop online or through meet-up apps during the holiday season, Apopka police want to remind citizens there is an area at...
---
Friday, December 7, 2018
OUR POSITION:
Darlington – leaving but never forgotten
To a man, they highly praised their former coach and the influence he had on them as men. The discipline that Darlington has in the football program translates into real life, as well and the joy and disappointment that naturally comes from athletic competition.
George H. W. Bush lived a life of service to our country
The passing last week and memorial services of President George H. W. Bush this week bring back memories of a man who truly sought to bring about a kinder and gentler society.
THE VOICE OF THE COMMUNITY: OPINION & ARTICLES OF INTEREST
Moore gives thanks for support
By Christine Moore, County Commissioner District 2
This election for me was about earning the trust and confidence of the citizens. I had to prove I had the experience, vision, and talent to become their leader.
---
Exciting and enlightening first week
By Melissa Byrd, orange County School Board, District 7
It was an exciting, educational, and enlightening week. As a new school board member, I understand there is a lot to learn.  At the association conference, I attended a New School Board Member Academy with sessions on building community through communication, current education, and political issues, and many more.
---
Israeli scientist is going after Alzheimer's disease
By Richard Corbel, Corbeil's Corber
The December issue of the Levitt Letter contains an article by Abagail Klein Leichman that offers some hope of prevention in the near future, covering a positive approach by an Israeli brain researcher in developing a vaccine against this devastating disease.
---
Faithful
by Patti Bankson, The Way I See It
In the midst of kind words and accolades for President George H.W. Bush, who died last weekend, someone introduced a discordant-sour-note … political, of all things, of all times.
---
Letters to the Editor:
Your Opinion Counts. Send a Letter to The Editor
Police Beat: STAY INFORMED. Get the details: who, when, and why arrests were made in our community by subscribing to The Apopka Chief today.
---
Lifestyle News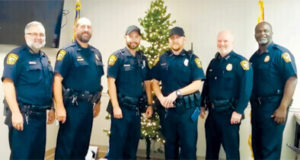 Throughout November, Apopka police officers participated in an event to raise awareness for prostate cancer and men's health in general. Participating officers donated money...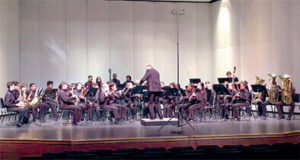 The Apopka High School band will hold its annual Winter Prism Concert today, Friday, December 7, at 7 p.m. in the school's auditorium. The...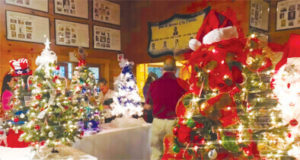 The Festival of Trees was opened on Sunday, December 2, with a tree lighting ceremony at the Museum of Apopkans, 122 East Fifth Street. ...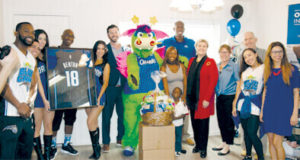 On Monday, December 3, Shawntia Benton and her sons Daimonee, 4, and infant Nicholas were given the keys to her home on West Ella...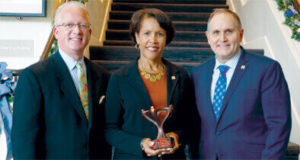 Superintendent Dr. Barbara Jenkins of Orange County Public Schools is 2018's "Outstanding Superintendent Communicator," an honor handed out by the Sunshine State School Public...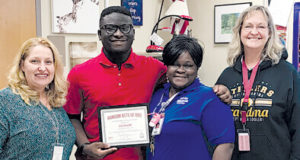 Wekiva High School senior Zaquan Kemp was recognized Tuesday, November 27, for his many hours of volunteer work in the community by Sonny's BBQ,...
The Apopka City Council voted unanimously to table a decision in increasing the density of a subdivision until after the developer meets with Rock Springs Ridge residents, who requested further details on the project.  Read more on the proposed development.

The Dorothy Lumley Melrose Center for Technology, Innovation and Creativity has been chosen to receive a $500,000 endowment from the Kendrick B. Melrose Family Foundation to upgrade and enhance its software and technology.
The judges have been named for the annual Apopka Christmas Parade that will step off at 10 a.m. on Saturday, December 8. The route will go from Third Street north along Park Avenue to Votaw Road. Traditionally, the parade takes about two hours to complete.
Loaves & Fishes, a faith-based social service organization in Apopka, is seeking donations for its Christmas distribution days. Loaves & Fishes is located at 206 E. 8th St., Apopka. The website is www.loavesandfishesapopka.com.
The Orange County Clerk of Courts recently launched a new feature on its website that allows customers to purchase a packet or multiple packets of forms required for civil and family matters right online.
Sports News
Hello Folks, Well, we have cooler weather again and the wind has been kinda nasty. With the up-and-down temperatures and the wind blowin' like crazy, lots of...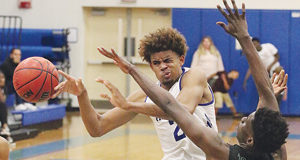 On a night when Apopka's top three scorers – Zach Anderson, Nate Louis, and John Latimer III – combined for just 17 points, senior...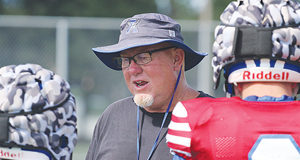 The search has already begun for Rick Darlington's replacement as football coach at Apopka High School. Darlington, who was coach of the Blue Darters...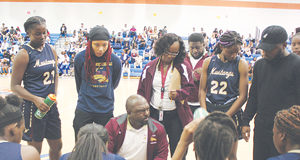 Heading into the second half of the District 9A-3 championship tournament final while holding a 20-point lead, a 23-3 record and ranked inside the...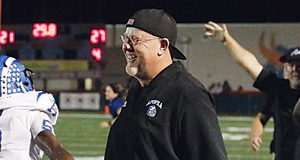 While we're heavy into winter sports in our local high schools these days, with the announcement this week that Rick Darlington was leaving as...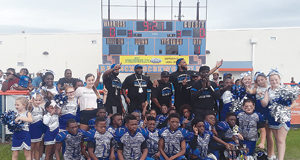 The Apopka Raptors 8u football team is competing this weekend in the AAU national tournament in Davenport. The team won the FYFCL regional championship...
Wekiva basketball splits contests with University and Colonial
Successive points on two stretches of three consecutive possessions was the difference during the contest played on Friday, November 30 and against the Cougars. An uncontested lay-up put the Grenadiers ahead on the first possession of the contest played Wednesday, November 28.
Even though the four-day event is a little more than a month away, the schedule for the annual Metro vs. Florida Challenge hosted by Apopka High boys basketball coach Scott Williams and the Blue Darters boys basketball team has been finalized.