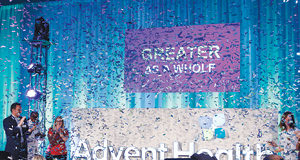 Florida Hospital Apopka's new campus opened last December and just a couple of weeks after the first year anniversary of the opening of the...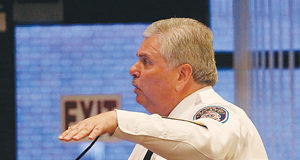 About 30 years after giving up coverage of the unincorporated areas around Apopka, the Apopka Fire Department will again be providing fire and ambulance...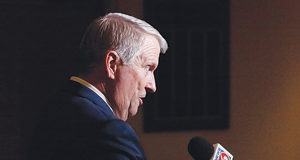 City officials emphasized that the red-light cameras will continue to be effective through December 31 and that the Apopka Police Department will continue to...
Backpacks filled with school supplies were given out Saturday, August 4, at the John Bridges Community Center in Apopka. Here, Pastor Darrell Morgan of...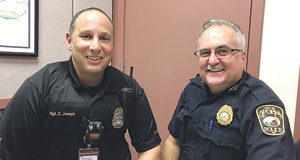 Sgt. Carlos Joseph (l) and Deputy Chief Randy Fernandez are working toward keeping Apopka students safe this school year.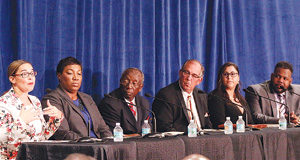 A town hall meeting, including two speakers and a panel, explored ways men and women can contribute to their community through mentorship, learning from mentors, and using different resources to...
---
Friday, August 3, 2018
OUR POSITION:
AFD to begin serving some new areas of Northwest Orange County
When the new fiscal year begins on October 1, the AFD will begin serving some areas of unincorporated Northwest Orange County with fire and ambulance service. It's a win-win for the city of Apopka and Orange County.
THE VOICE OF THE COMMUNITY: OPINION & ARTICLES OF INTEREST
From world-class athlete to mentor
By Rod Love, County Commissioner, District 2
For Delloreen Ennis, participating in athletic endeavors has always been her greatest joy. A competitive athlete who competed in three Olympics, she recently settled into the Central Florida region as a recreation specialist at Orange County Parks and Recreation, and local children are benefiting from her high-energy, motivational approach to helping them reach their full potential not only as athletes, but also as good citizens.
Founders saw each colony as a star
By Dr. Paul Kengor
Center for Vision & Values
The men of the Founders' era learned to navigate by the stars. Their country would be navigated by both a natural law and divine law – or, as Jefferson put it in the Declaration, by "the laws of nature and nature's God."
From deep space to bones to eyeballs, Israel has the answers
by Richard Corbel
With all the Tremendous Trump Topics dominating the news lately, God's scientific, medical and technological gifts passed through Israel was bypassed by me in the past two months. But, I did hold on to the Levitt Letters of the past two months, which contained some more amazing gifts from this tiny land (8,019 square miles) and tiny population (7.5 million) that continues to bless the world, while defending itself from killer hordes.
The Proof's in the Economic Pudding
by Patti Bankson, The Way I See It
They… we… don't like things he does as a person, but do like what he's done as America's CEO. That's who they – I – voted for. We saw The Good, the Bad and the Ugly and took a chance on the Good being good for us and a country we believed was heading in the wrong direction.
---
Letters to the Editor:
Your Opinion Counts. Send a Letter to The Editor
Police Beat: STAY INFORMED. Get the details: who, when, and why arrests were made in our community by subscribing to The Apopka Chief today.
---
Lifestyle News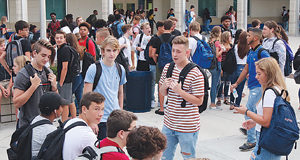 Le Nguyen (bottom, left photo) along with hundreds of other Darters, set out on their first day of school at Apopka High School, Monday,...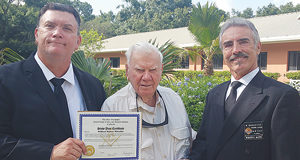 The Masonic Orange Lodge #36 awarded William "Mac" McGuffin, (center), for 60 years of service as a Master Mason at an award ceremony held...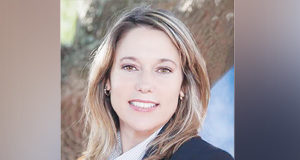 Apopka resident Michelle Chase has been chosen as one of the top 100 real estate agents in the Orlando metro area. Chase is a...
Musician Samuel Johnson will perform and tell his story Saturday, August 18, at 11:30 a.m. at Graceworx Community Church. His story includes one of...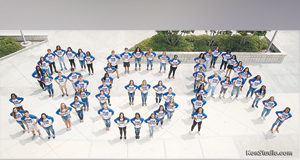 Apopka High School's Student Government Association pose for their traditional SGA photo to show their enthusiasm for beginning the new school year. The AHS...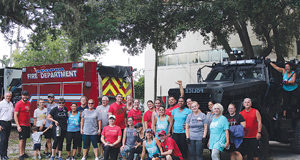 The community was invited to join Camp Gladiator at a special workout honoring Apopka Police Department and Apopka Fire Department for their heroic work to...
Other Headlines, Events and More:
Early voting for the primary election begins today, Friday, August 17, and will continue through Sunday, August 26. Read more.
The Apopka Planning Commission this week recommended approval in amending a planned unit development (PUD) master plan of a mixed-use project located east of State Road 429 and north of Lust Road, which would accommodate the influx of homeowners in the growing Florida Hospital Apopka area. Read more.
Sports News
Nine-year-old Logan Edwards shows the 5-1/2-pound bass he caught using a Junebug speed worm. Hello Folks, It was another good weekend for fishin'. Folks were gettin'...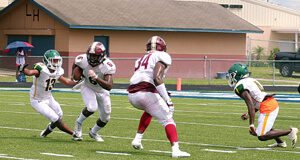 After advancing to the state finals for the first time last season, the Wekiva Mustangs participated in a day of scrimmages last Saturday, August...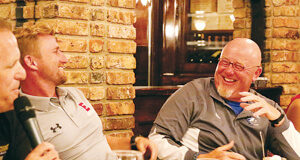 While neither team went up against a powerhouse program in the officials' scrimmages held Saturday, August 11, both teams performed very well against their opponents during the two quarters of action.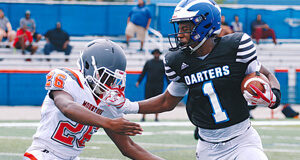 It was only a scrimmage and for just two quarters, but the Apopka Blue Darters football team scored early and often as the Blue...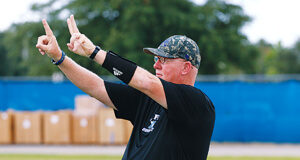 While it was good for the Apopka Blue Darters football team to have a chance to go up against another team, last week's two-quarter...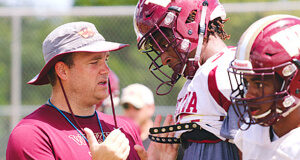 When taking to the field today, Friday, August 17, the Wekiva Mustangs football team will face the most unconventional challenge of the season in...
OTHER SPORTS HEADLINES
Weather may say it's summer, but fall sports are almost here. While the weather says it's still summer, the calendar is turning to mid-August and that means school begins soon and sports seasons will quickly follow.
Wekiva wrestlers spend time at camp. The south's oldest and world's largest wrestling camp is organized by the coaches of and held at Appalachian State University (located in Boone, North Carolina) every summer. Eight members of the Wekiva Mustangs wrestling team experienced the whole range of value produced by the camp first-hand this past June 27-30.