---
Friday, October 4, 2018
OUR POSITION:
Here's our candidate endorsements
After looking at the races and the proposed state constitutional amendments, we have come up with our endorsements. Use these as a guide, if you wish, but just remember that your vote is what is important, no matter how you cast it. Read more.
THE VOICE OF THE COMMUNITY: OPINION & ARTICLES OF INTEREST
Local Airport to be economic engine
By Rod Love, County Commissioner District 2

I share this with you (again) to introduce two new initiatives that I am working on in partnership with area decision makers: A feasibility study of aviation and passenger rail as well as a vocational training program for mechanical aviation/aeronautics at the Orlando-Apopka Airport. Read more.
I want to teach my students to think
By Carl Trueman, Center for Vision & Values
That is my philosophy of education in miniature: I want to teach my students to think, which means the classroom must be a place where I challenge them and where they are free to challenge me. That is the only way true learning can be achieved in an ethical manner. Read more.
Israel's leadership in science, medicine, and technology goes on.
By Richard Corbeil
From the miracles of modern medical science to a 2,300-year-old technology being tapped by laser science, again reported by the America Friends of Tel Aviv University, where scientists at (TAU) have harnessed a 2,300-year-old water displacement technology to develop a novel laser beam that traps and moves particles in specific directions. Read more.
Reliving The Zone
By Patti Bankson, The Way I See It
Meanwhile, those whose philosophies got us here, are doing their darnedest to keep us here. Not for love of country, but for personal gain. Those who understand the importance of what's happening now need to work together. Read more.
---
Letters to the Editor:
Lake Marshall project has changed my life
Alan Wood, Apopka
It is a relief that none of our concerns were implemented into the Lake Marshall project Appian Engineering, LLC and Royal Oak Homes are developing since this has given me more free time.
Your Opinion Counts. Send a Letter to The Editor
Police Beat: STAY INFORMED. Get the details: who, when, and why arrests were made in our community by subscribing to The Apopka Chief today.
---
Other Headlines, Events and More:
Sports News
Hello Folks, I hope you had a great weekend and you got a chance to do some fishin'. Unfortunately for me, my fishin' buddy was out of the town and we...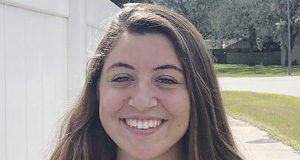 Last season, Alexis Rieli wrote a chapter of Apopka High School sports history. Rieli was the first Blue Darter to advance to a girls...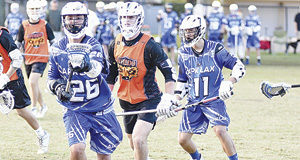 The Apopka Talons Lacrosse Club team played in the second weekend of a three-weekend tournament on Sunday, October 7, at Ward Park in Winter...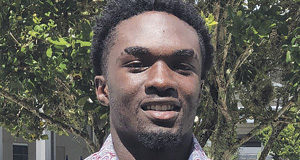 Apopka Blue Darters football player Akeem Brown was named the Baptiste Orthodontics Male Athlete of the Month for September for Apopka High School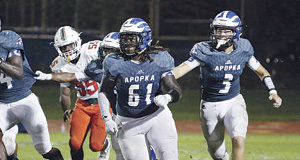 A year after dismantling Jacksonville Mandarin, the Apopka Blue Darters scheduled the Mustangs for homecoming this year. However, a much-improved Mandarin squad turned the...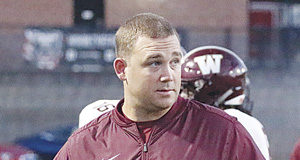 Next up and being played today, Friday, October 12, is a road contest against the Evans Trojans
Apopka High School golfers getting ready for postseason
Steady improvement with the possibility of reaching the level of play good enough to advance from the District 3A-5 to the Region 3A-1 championship meet has been the scouting report for the Apopka Blue Darters since the 2018 season began
Wekiva has solid performance; Apopka not so much
It was a good news/bad news situation for football teams last week here in Northwest Orange County.