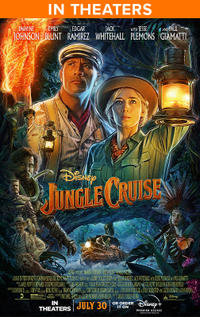 JUNGLE CRUISE
Action/Adventure,  Comedy
 Friday, July 30, 2021
Dr. Lily Houghton enlists the aid of wisecracking skipper Frank Wolff to take her down the Amazon in his ramshackle boat. Together, they search for an ancient tree that holds the power to heal — a discovery that will change the future of medicine.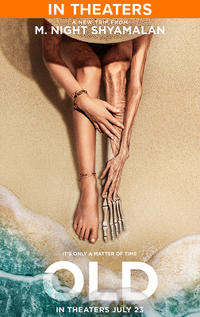 OLD

Suspense/Thriller
Friday, July 23, 2021
A chilling, mysterious new thriller about a family on a tropical holiday who discover that the secluded beach where they are relaxing for a few hours is somehow causing them to age rapidly – reducing their entire lives into a single day.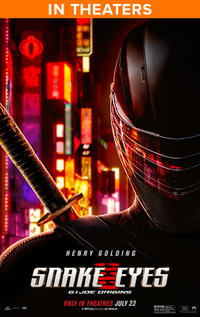 SNAKE EYES
Action/Adventure
Friday, July 23, 2021
Snake Eyes: G.I. Joe Origins stars Henry Golding as Snake Eyes, a tenacious loner who is welcomed into an ancient Japanese clan called the Arashikage after saving the life of their heir apparent. Upon arrival in Japan, the Arashikage teach Snake Eyes the ways of the ninja warrior while also providing something he's been longing for: a home.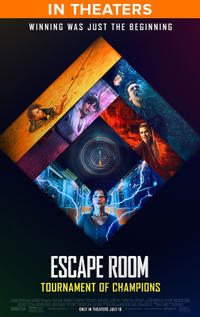 ESCAPE ROOM: TOURNAMENT OF CHAMPIONS
Action/Adventure,  Horror
Friday, July 16, 2021
ESCAPE ROOM: Tournament of Champions is the sequel to the box office hit psychological thriller that terrified audiences around the world. In this installment, six people unwittingly find themselves locked in another series of escape rooms, slowly uncovering what they have in common to survive…and discovering they've all played the game before.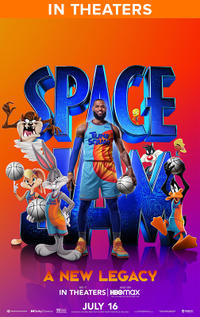 SPACE JAM: A NEW LEGACY
Comedy
Friday, July 16, 2021
When LeBron and his young son Dom are trapped in a digital space by a rogue A.I., LeBron must get them home safe by leading Bugs, Lola Bunny and the whole gang of notoriously undisciplined Looney Tunes to victory over the A.I.'s digitized champions on the court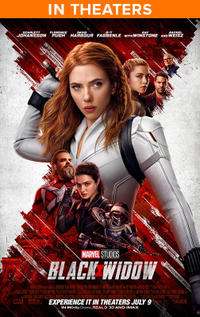 BLACK WIDOW
Action/Adventure
Friday, July 9, 2021
In Marvel Studios' action-packed spy thriller "Black Widow," Natasha Romanoff a.k.a. Black Widow confronts the darker parts of her ledger when a dangerous conspiracy with ties to her past arises. Pursued by a force that will stop at nothing to bring her down, Natasha must deal with her history as a spy and the broken relationships left in her wake long before she became an Avenger.