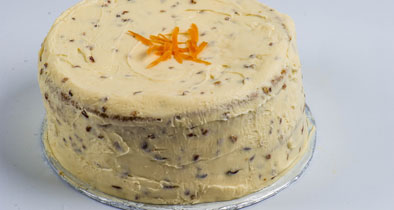 Memorial Day is coming up this Monday. This solemn holiday was instituted in 1868 in response to the tragic loss of 620,000 soldiers from both sides in the War Between the States, that  ended in the spring of 1865. The occasion, known for the ritual of placing flowers and wreaths on the graves of fallen soldiers, was called "Decoration Day" and observed on May 30th each year.
In 1971, with the enactment by the Federal Government of the Uniform Monday Holiday Act, four national holidays became the third day of a three-day weekend. It was at that time that the holiday was renamed "Memorial Day."
Veterans' groups across the nation felt this change, simply for the sake of convenience, cheapened the cherished observance of the memory of their fallen comrades. Today, we remember that what is important is that we honor ALL of our lost war heroes.
Toni LaPierre's Grandma's Carrot Cake is so good, we believe it is worthy of being our star dessert for Memorial Day. We thank Toni and New Vision Community Church's Feeding the Flock cookbook for sharing this wonderful recipe with us. Toni gives instructions for either a glaze that you pour over the hot cake while still in the pans or an orange cream cheese frosting you apply after taking the layers out of the baking pans. They both sound fantastic.
From Cooking with Foliage La Sertoma of Apopka, we have Greta Howard's Crab Casserole Supreme. Rearding the "scant" tablespoon of lemon juice, this means a little less than a tablespoon.
In First Presbyterian Church of Punta Gorda's cookbook, Mrs. Smith has contributed a recipe using sausage, eggs, and cheese with cubes of bread which you can prepare the night before, refrigerate, and bake next day for breakfast (or whenever).
Nancy Thomas shares her Potato Salad recipe. It has been in Kapers in the past but is good enough for a repeat performance.
Buttermilk biscuits that will melt in your mouth! Lillian Cleghorn shares her recipe in Northside Baptist Church's cookbook. Thank you, ma'am!
Mrs. Leuty's Congealed Salad is a wonderful holiday treat. This recipe is from our friends up in Plains, Georgia, in their publication titled Plains Pot Pourri.
Toni LaPierre's
GRANDMA'S CARROT CAKE,
Recipe from New Vision
Community Church's,
Feeding the Flock cookbook
2 cups all-purpose flour
2 teaspoons baking soda
1/2 teaspoon salt
2 teaspoons cinnamon
3 eggs, well beaten
3/4 cup vegetable oil
3/4 cup buttermilk
2 cups sugar
2 teaspoons vanilla
1 8-ounce can crushed pineapple, drained
2 cups grated carrots
1 3-1/2 ounce can flake coconut
1 cup chopped pecans
Carrot Cake instructions:
Combine flour, soda, salt and cinnamon; set aside. Combine eggs, oil, buttermilk, sugar and vanilla; beat until smooth. Stir in flour mixture, pineapple, carrots, coconut and nuts. Pour batter into two greased and floured 9-inch cake pans. Bake at 350 degrees for 35-40 minutes or until toothpick inserted comes out clean. Immediately spread buttermilk glaze evenly over layers while still in pan.
Buttermilk Glaze:
1 cup sugar
1/2 teaspoon baking soda
1/2 cup buttermilk
1 teaspoon light corn syrup
1 teaspoon vanilla
Combine ingredients (except vanilla) in heavy saucepan. Bring to boil and cook four minutes, stirring often. Remove from heat and stir in vanilla. (I use half on cake and save half for French toast.)
Orange Cream Cheese Frosting:
1/2 cup butter, softened
1 8-ounce package cream cheese, softened
1 teaspoon vanilla
2 cups powdered sugar
1 teaspoon grated orange rind
1 teaspoon orange juice
Combine butter and cream cheese, beating until light and fluffy. Add vanilla, powdered sugar, rind and juice; beat until smooth. Remove cake from pans and frost. There is enough frosting for two-layer cake.
GRETA HOWARD'S
CRAB CASSEROLE SUPREME
Recipe from Cooking with
Foliage La Sertoma of Apopka
6 ounce package frozen King crab
10 ounce package frozen broccoli spears
1 cup sharp cheddar cheese, grated
1/2 cup butter
2 tablespoons onion, minced
2 tablespoons flour
1/2 teaspoon salt
1/8 teaspoon curry powder
1 cup milk
1 tablespoon (scant) lemon juice
2 tablespoons melted butter
1/2 cup soft bread crumbs
Defrost and drain crab. Cook broccoli according to package directions and arrange in bottom of 1-quart casserole. This works best in a square casserole dish. Sprinkle grated cheese over broccoli. Melt butter in a saucepan and sauté onion until golden. Stir in flour, salt and curry. Gradually add milk and cook over low heat, stirring constantly, until thick. Stir in lemon juice. Add crab. Pour mixture over broccoli. Mix melted butter and bread crumbs and sprinkle over crab. Bake at 350 degrees for 30 minutes. Serves 4.
BARBARA SMITH'S
SAUSAGE AND EGG CASSEROLE
Recipe from First Presbyterian Church of Punta Gorda,
A Taste of Heaven
10 eggs
1 teaspoon salt
4 cups milk
12 slices of bread, cubed
2 teaspoon dry mustard
2 cups mild cheddar cheese, shredded
1-1/2 pounds pork sausage
Fry sausage, breaking it up while it cooks. Beat eggs and remaining ingredients including cooked sausage and bread cubes. Put in buttered 11 x 13-inch casserole dish. Refrigerate 12 hours (or overnight). Bake at 350 degrees for 1 hour or until the center is set.
NANCY THOMAS' POTATO SALAD
Recipe from Reader of The Apopka Chief and The Planter newspapers
Five pounds red potatoes, boiled in skins till tender
Five or six eggs, hard-boiled
Celery, about two ribs
Multicolored sweet peppers, six small
Sweet onion, 1/4 large (not too much)
Dill pickle, large, or dill relish
Salt and pepper to taste
Dressing:
Mayonnaise, 1 cup (or amount to your taste)
1 teaspoon spicy prepared mustard
1/4 teaspoon dill weed (optional)
1/4 teaspoon dry mustard
1/4 teaspoon celery seed
Pickle juice, to taste
Paprika, hold aside for garnish
Cook, drain and cool potatoes and eggs. Put ice on hot eggs to help with peeling. Peel the skins from cooled potatoes and set aside. Cube potatoes 3/4-inch or thereabout into big bowl. Salt and pepper potatoes and fold together. Setting aside two eggs for garnish, peel and chop the cooled eggs; salt and pepper to taste. Dice celery. Setting aside a couple of the peppers to slice into rings for a colorful garnish, slice and dice multi-colored sweet peppers and onion. Fold together the seasoned potatoes and eggs with the diced celery, peppers, onion, and pickle.
Mix dressing in separate bowl: mayonnaise, spicy mustard, dill pickle juice, dill weed, dry mustard, and celery seed. Pour the dressing over the potato salad. Fold together. You want it nice and creamy. Add more pickle juice if you want. Now for the important part: Taste it. See what else is needed. Sprinkle more salt and pepper and add more pickle juice and mayo if you think it is called for.
Place the garnishes on top of the salad: Pepper rings and sliced eggs. Sprinkle beautiful red paprika on top. Cover with plastic wrap and store in refrigerator to allow the flavors to meld. Serve cold.
LILLIAN CLEGHORN'S
BUTTERMILK BISCUITS
Recipe from Northside
Baptist Church
2 cups all-purpose flour
2 teaspoons baking powder
1/4 teaspoon baking soda
1/4 teaspoon salt
1/4 cup butter or margarine
1 cup nonfat buttermilk
Combine first four ingredients in a large bowl. Cut butter into flour mixture with a fork or pastry blender until crumbly. Add buttermilk, stirring just until dry ingredients are moistened.
Turn dough out onto a lightly floured surface. Knead two or three times. Pat or roll to 1/2-inch thickness. Cut with a 1-1/2-inch round cutter and place on a baking sheet.
Bake 400 degrees for 15 minutes or until biscuits are golden brown.
Yield: Makes 16 biscuits.
MRS. SARA LEUTY'S
CONGEALED SALAD
Recipe from Food Favorites of Plains, Georgia Plains Pot Pourri
1 No. 2 can (2-1/2 cups) crushed pineapple
1 12-ounce container cottage cheese
1 cup mayonnaise
3/4 cup evaporated milk
1 3-ounce package lemon Jello
1 3-ounce package lime Jello
1-1/2 cup hot water
1 cup chopped pecans
Dissolve Jello in hot water. Let mixture chill until thickened but not set. Mix all ingredients and pour into mold or large baking dish. Chill until firm.