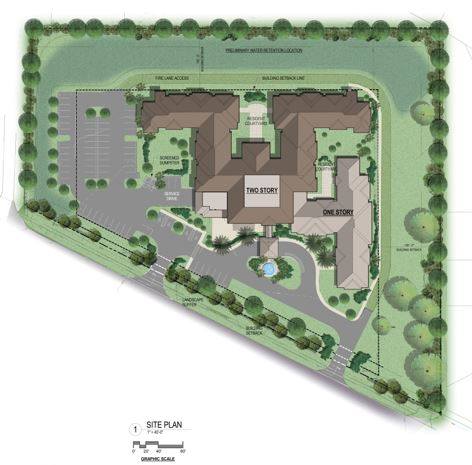 On Tuesday, September 13, the Planning Commission recommended approval in amending development plans of a proposed assisted living facility.
Canterwood Manor is a proposed assisted living facility designed to be two stories that will include up to 125 beds, a central courtyard and large community room for meetings and activities.
Developers are eyeing a 7-acre property north of Old Dixie Highway, east of Richard L. Mark Drive and south of Errol Parkway as Canterwood Manor's location.
The only amendment the developers put forth was to increase Canterwood Manor's maximum floor area ratio from 0.25 to 0.30. That would mean the property's maximum square footage would get bumped up from 76,121 to 91,345 square feet.
Through an ordinance, the City Council adopted Canterwood Manor's Planned Unit Development (PUD) zoning and a master plan/preliminary development plan on April 14, 2014.
With the exception of the request to change the building's footprint, no details of the PUD have changed since the adoption.
At the Planning Commission's September 13 meeting, representatives from Canterwood Manor's developers presented engineering designs and discussed the facility as an advantage to the Apopka community.
Canterwood Manor seeks to help people with special needs, dementia and Alzheimer's disease and to provide facility residents with quality care, said Joel Hass of MJM Associates, Canterwood Manor's property developer.
Canterwood Manor will employ 80 people with salaries ranging from $17,650 to $85,000 a year, according to Hass.
The proposal will go to City Council for first reading on Wednesday, September 21.
The Apopka Chief will have an expanded story about the Planning Commission meeting in the September 16 edition.