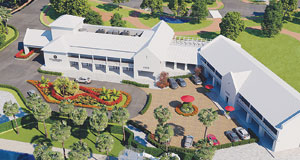 The New Errol development team met with the city of Apopka's Development Review Committee (DRC) at the regular Wednesday, February 7, meeting at City Hall, to go over city staff's comments about rezoning.
New Errol is a proposed 261-residential unit with several amenities intended to revitalize the golf community located on Errol Parkway, off U.S. Highway 441.
Signature H officials said they have already spent more than $2.5 million on the project that would redevelop the Errol Estate golf community.
In addition to the 261 homes, New Errol also includes a new golf course, the new clubhouse/lodge area Staghorn Club and Lodge with a 40-room lodge, a community water park and a senior campus in the form of two adult living facilities with 90 beds each and one building with a 60-bed post-acute rehabilitation center.
Seven members of the New Errol project team, including those from Celebration development company Signature H Property Group, were at the DRC meeting. The DRC consists of representatives from various city departments.
Because of the meeting's time constraints, the applicants and DRC only discussed the key comments including the golf course's zoning category, the buffers, and infrastructure.
"As zoning documents go, the New Errol PUD (planned unit development) is complex," said Blake Drury, a planner from Signature H's New Errol partner GAI Consultants, in an email.
"We focused our time with the DRC on the few outstanding issues affecting the plan – the makeup of the required buffers, the zoning category for the golf course, and the phasing of certain key pieces of infrastructure. The city gave what we believe to be reasonable clarifications to our handling of these topics and we will address them in our final revision of the document."
Though New Errol has been in the works for two years now, its plan has gone through several levels of government review including the City Council, which approved the overall plan, the rezoning of the 79-acre Errol Estate, and transmittal to the Florida Department of Economic Opportunity on August 22, 2017.
The state approved the plan, and sent it back to the city for the DRC's review, who then submitted its comments to Signature H, and of which Signature H discussed with the DRC on February 7.
The New Errol project will go before the Planning Commission meeting on Tuesday, February 20, and the City Council on Tuesday, February 27.
Both public meetings for New Errol will take place at the Apopka Community Center/VFW, 519 S. Central Ave., starting at 5:30 p.m.
This article appears on page 1A of the Friday, February 9, issue of The Apopka Chief.