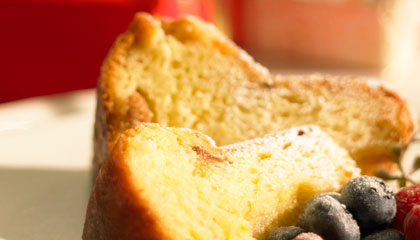 We are still waiting for a big bag of mail bringing beloved recipes from our readers. Of course, email works, too! We have one this week from Joyce Lampp as she shares her recipe for sour cream pound cake. Joyce has been a faithful reader and contributor to our newspaper for years and she brings her homemade goodies for us here at the newspaper to enjoy from time to time. Lucky us!
We do have some old-timey favorites for you, as a matter of fact. One is from former first lady Rosalynn Carter for chicken and rice that we found in Plains Pot Pourri from Food Favorites of Plains, Georgia. There is also one for tomato relish from Plains Pot Pourri.
We found Alton Brown's (yes, the famous chef from the Good Eats show on Food Network!) boiled peanuts. We all love boiled peanuts, and most of us know how to prepare them. But, for some of our newer neighbors transplanted from other areas who haven't grown up with boiled peanuts in their lives, the recipe is below. Try 'em! You'll like 'em!
Shirley Maples shares her recipe from New Vision's cookbook for hamburger and potato au Gratin with French fried onions on top. It sounds not only delicious but quick and easy.
And from the Florida Federation of Garden Clubs cookbook Paths of Sunshine, we have a Vidalia onion casserole, and also an Oriental rice recipe which seems to be easy to fix and takes only an hour to bake.
Please email your recipes to: news@theapopkachief.com or mail them to The Apopka Chief, P.O. Box 880, Apopka, 32704-0880. And send us not only your recipes but ideas for future recipe columns as well.
ROSALYNN CARTER'S 
CHICKEN AND RICE CASSEROLE
Recipe from Food Favorites of Plains, Georgia
Plains Pot Pourri 
1 chicken – cut up and seasoned
1/2 stick butter
1 4-ounce can mushrooms, drained (save liquid)
4 large onions
2 chicken bouillon cubes
1 cup uncooked rice – do not use Minute Rice
Melt butter in casserole. Place chicken in layers with onions and mushrooms. Cook, covered, for 1-1/2 hours at 350 degrees. Remove chicken, set aside. Add enough boiling water to mushroom liquid to make 4-1/2 cups of broth in casserole. Dissolve bouillon cubes in broth. Add rice. Place chicken in casserole dish and cook for 1 hour.
SHIRLEY MAPLES' 
HAMBURGER DISH
Recipe from 
New Vision Community Church's,
Feeding the Flock cookbook
1 pound hamburger
1 box French's Au Gratin Potatoes
2 cups boiling water
1 can cream of mushroom soup
1 cup milk
dash parsley flakes
1 small can French fried onions
Brown hamburger, drain and set aside. In greased casserole dish, pour boiling water over potatoes and let stand for 10 minutes. Add 1 can undiluted soup, milk and cheese sauce from Au Gratin package. Add parsley flakes and hamburger, stirring well. Place onion rings on top and bake at 400 degrees for 25 minutes.
VIDALIA ONION CASSEROLE
Recipe from Florida Federation of Garden Clubs 
Paths of Sunshine Cookbook
Onion casserole:
6 to 7 Vidalia onions, peeled, sliced and separated into rings
1/2 cup butter (no substitutes please)
breadcrumbs
Parmesan cheese
Parsley for garnish
White Sauce:
2 tablespoons butter
2 tablespoons all purpose flour
salt and pepper to taste
1 cup milk
1 teaspoon mustard
1/3 cup (or more to taste) Cheddar cheese
Saute onion rings in butter in large saucepan until just wilted. Turn into baking dish.
Make a white sauce from butter, flour, salt and pepper, milk, mustard, adding cheese to taste. Pour sauce over onions. Stir lightly. Add breadcrumbs and Parmesan cheese. Garnish with parsley. Bake at 400 degrees for 20 minutes. Serve piping hot.
ORIENTAL RICE
Recipe from Florida Federation of Garden Clubs 
Paths of Sunshine Cookbook
1/2 cup (1 stick) butter or margarine
1 cup long grain rice, uncooked
1 10-ounce can onion soup
1 can water
1 6-ounce can mushroom stems and pieces
1 6-ounce can water chestnuts, thinly sliced
Melt butter in casserole dish; set aside. Mix rice, soup, water, mushrooms and water chestnuts. Pour into casserole with melted butter. Bake covered at 350 degrees for 45 minutes. Remove cover and continue baking for 15 additional minutes.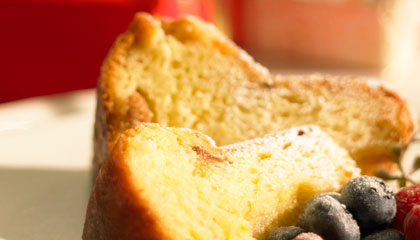 JOYCE LAMPP'S 
SOUR CREAM POUND CAKE
Recipe from 
Reader of The Apopka Chief and The Planter newspapers
1 cup (2 sticks) butter or margarine
3 cups sugar
6 eggs
1 8-ounce cup sour cream
3 cups plain flour
1/4 teaspoon salt
1/4 teaspoon baking soda
1 teaspoon vanilla
Cream butter and sugar together. Add eggs 1 at a time, beating after each addition.
Sift flour, salt and soda together. Add 1 cup of the sifted flour mixture at a time to the creamed butter and sugar mixture, alternating with 1/3 of sour cream. Beat until well mixed. Then add vanilla, mixing in.
Spray tube pan with cooking spray. Cut and line the bottom of tube pan with waxed paper. Bake in a 350-degree oven for 1 hour and 15 minutes. Cool on cooling rack before removing from pan.
ALTON BROWN'S 
(from the show: GOOD EATS) BOILED PEANUTS
As published on 
Foodnetwork.com 
Ingredients:
2 pounds in-shell raw Virginia or Valencia peanuts 
3 ounces kosher salt
3 gallons water
Directions:
Wash the peanuts in cool water until the water runs clear. Soak in cool water for 30 minutes to loosen any remaining dirt.
Drain and rinse the peanuts. Add the peanuts to a 12-quart pot along with the salt and 3 gallons of water. Stir well. Cover and cook on high for 4 hours. Check the texture of the peanut at this point for doneness. When done, boiled peanuts should have a similar texture to a cooked dry bean. It should hold its shape, but not crunch when bitten. Add more water throughout the cooking process, if needed. If necessary, continue for 3 to 4 hours longer.
Drain the peanuts and store in a covered container in the refrigerator for up to 1 week.
*Cook's note: The cooking time can vary greatly depending on how fresh the peanuts are. The fresher the peanut, the less time it will take to cook.
Total time: 4 hours and 35 minutes
Prep time: 5 minutes
Inactive: 30 minutes
Cook time: 4 hours
Yield: approx 4 pounds in shell or 2 pounds out of shell
Level: Easy
MRS. ARCH HELMS' 
SWEET TOMATO RELISH
Recipe from 
Food Favorites of Plains, Georgia
Plains Pot Pourri
Ingredients:
2 quarts (8 cups) ripe tomatoes, chopped
3 cups (red) cider vinegar
6 cups sugar
1 or 2 green bell peppers, chopped
1 or 2 hot peppers, chopped (depending on your taste)
2 large onions, chopped
Directions:
Wash tomatoes, core and cut out any bad spots. Cut each tomato into 4 pieces. Put tomatoes in big pot, mash a little to get some juices. Cook until they are mushy. Stir every once in a while. Add the rest of the ingredients to tomatoes. Let cook slowly. Stir. Cook until thick. Put in jars and seal while hot.
…