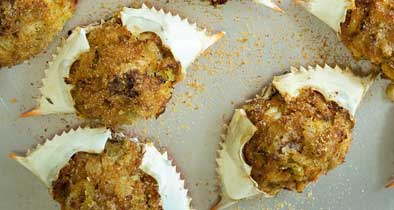 We have a new cookbook called Southern Style, written by Jane Bradley. It is Volume 23 from the Collector's Series of The American Cooking Guild, copyrighted 1987.
Jane says, in regard to the bread recipe called Williamsburg Sally Lunn, "The fact that Sally Lunn was a baker's daughter in Bath, England, in the eighteenth century is about the extent to which cooks can agree when it comes to this recipe. It is a regal loaf, traditionally baked in a ring mold, and really is a pride in Virginia, especially Williamsburg, where it is commonly served. I use a decorative pan, called a kugelhopf pan, for a more dramatic looking loaf, but you may use a 9- or 10-inch Bundt or tube pan, or a large savarin ring. These pans can be purchased in specialty cookware stores and gourmet shops."
Dixie Deviled Crab is another Jane Bradley contribution to this week's Kitchen Kapers. Jane says, in her book Southern Style, "This recipe was given to me by my Great-Aunt Florence (Mrs. Blyth Noe) of Washington, North Carolina. In the early days of local T.V., Aunt Florence did a thirty-minute cooking segment on the Hospitality House show. She did this "live" four days a week! When asked how she continued to be so creative, she responded, "There are as many meal combinations as you have thoughts – there's no end to it." This is the easiest recipe for the most delicious deviled crab I've ever eaten. It can be baked in a casserole, in scallop shells as a main dish, or in clam shells as a first course. Aunt Florence prefers to use crab shells, but the health department frowns on this practice unless you are picking the crab yourself. She tells me that clam shells stay hotter longer because of their thickness. You can substitute ceramic or glass shells, available at specialty cookware stores."
Also, from Southern Style by Jane Bradley, here is another recipe that I suspect will be a dynamite discovery for our readers. And, as a BONUS, we are furnishing Bradley's instructions on how to process your jars in a water bath for preserving. (I always wonder about how to do that.)
Jane says, "This is my cooking colleague's (Betty Rosenblum), recipe for Chutney. It is without peer. I have made this recipe with peaches fresh from my back yard, but it works just fine with frozen peaches. Try with plums, apricots, or mangoes. Delicious!
Spoon over a cube of cream cheese and serve with wheat crackers, or fill a peach half with chutney and serve with cold poached chicken. Add 1/4-cup chutney to tuna or chicken salad with a pinch of curry powder and serve in a tomato cup or as a filling for cream puffs. Use for tea sandwiches by adding minced chutney and ground country ham to mayonnaise or butter, perhaps with a dash of curry powder. Spread on bread and sprinkle with chopped, roasted peanuts.
Whatever you do, just make lots! It is a wonderful gift from your kitchen and keeps many months when refrigerated and can be kept indefinitely if processed in a water bath."
WILLIAMSBURG SALLY LUNN
Recipe from Southern Style
by Jane Bradley
1 cup milk
1/4 cup water
2 tablespoons sugar
2 tablespoons dry yeast
3-1/2 to 4 cups All Purpose flour,    sifted
2 teaspoons salt
1/2 cup butter, melted
3 eggs, beaten
Additional butter for mold or pan
1) Heat milk and water until quite warm, about 110 degrees F, testing with an instant read thermometer. Add sugar and dry yeast and stir to dissolve. Set aside and allow the yeast to "proof." 2)Sift flour and salt, setting aside. 3) Place yeast mixture into the bowl of your mixer fitted with a beater blade. Add butter and beaten eggs and mix well. Gradually add flour. When 3-1/2 cups flour have been incorporated, batter should be very thick but not stiff. If necessary, add remaining 1/2 cup flour to make a thick batter. Cover with plastic wrap and let rise in warm place until doubled in bulk, about 1 hour. 4) Butter a pan and set aside. 5) Beat dough down with mixer or wooden spoon. Turn into prepared pan. 6) Do not fill pan more than half full, using two pans if necessary. Cover with plastic wrap and let rise again for 1 hour or until mixture has almost reached the top of the pan. 7) Meanwhile, preheat oven to 350 degrees Fahrenheit. 8) Bake for 50 to 60 minutes or until bread is golden brown. 9) If bread seems to brown too quickly on top, cover loosely with foil. 9) Cool in pan for a few minutes, then turn out onto wire rack to cool. 10) Bread is best served warm but is also very good sliced and toasted. 11) Baked loaf may be frozen. 12) When ready to serve, remove from freezer and leave bread in original wrapping. Trapped moisture in the wrapper will be reabsorbed by the bread, making it moist. 13) When thawed, unwrap and gently heat in a 325 degree oven for 8 to 10 minutes. Serve immediately. Yield: 1 loaf, 8 to 10 inches.
DIXIE DEVILED CRAB
Recipe from Southern Style
by Jane Bradley
1 pound crabmeat
2 tablespoons mayonnaise
1 teaspoon yellow mustard
1 jar (4 ounces) pimento,
   chopped, with the juice
1/2 teaspoon Worcestershire sauce
2 large eggs, beaten
Salt and pepper to taste
Butter for the dish
1) Preheat oven to 350 degrees Fahrenheit. 2) Pick any bits of shell or cartilage out of crab. Place crab in a large bowl. Add remaining ingredients. Using a fork, mix very well. 3) Pour into buttered casserole or shells and bake for 30 minutes or until nicely browned and a knife, when inserted in middle of casserole, comes out clean. Individual shells will cook in 20 to 25 minutes. Serve immediately. 4) I spray shells with vegetable spray for easy clean-up. You can also give filled shells a quick spray to aid in browning and to keep crab moist.
NOTE: Substitute 1 pound canned crabmeat if fresh is unavailable. Serves: 4 (casserole, scallop or ceramic shells) or fills 12 clam shells.
FRESH PEACH CHUTNEY
Recipe from Southern Style
by Jane Bradley
2 cups brown sugar
2 cups white sugar
1-1/2 cups white, distilled vinegar
2 teaspoons crushed red pepper
4 teaspoons salt
2 tablespoons mustard seeds
2 large cloves garlic, minced
2 large onions, thinly sliced
   lengthwise
4 teaspoons fresh ginger, minced
4 cups seedless raisins
8 cups fresh peaches, thinly sliced
1) Using a large, heavy pan, combine all ingredients and bring to a boil. Reduce heat and simmer until thickened, about 2 hours, stirring from time to time so that mixture does not stick. 2) When desired thickness, place into sterilized jars and seal.
(See NOTE 2, below for instructions to processing.) Allow to cool on a double thickness of towels away from drafts. Store in refrigerator or process to keep indefinitely.
NOTE: When peaches are really at their peak, I make several batches of chutney. You have some flexibility with this recipe. If you have a bit more fruit, add it. If you don't like so many raisins (I use a lot), reduce to 2 cups. If you prefer, cider vinegar can be used. Add the zest and juice of 2 lemons or just thinly slice them and add to the pot. Experiment! Yield: 5 pints.
NOTE 2: For processing in a water bath, wipe any drips off the jars or lids and seal. Process in a water bath for 20 minutes, as follows: The recommended method of processing in a water bath is to immerse filled jars in a container large enough so they are covered by several inches of water. Bring the water to a vigorous boil and start counting the time only after the water returns to the boil. When required time is up, remove jars and place on a double thickness of towels to cool, away from drafts.
When cool, check the seal by pressing down on the lid. If the lid moves, it has not properly sealed. These improperly sealed jars of pickle should be refrigerated and eaten as soon as possible.
If there is no "give" in the lid when pressed and the lid is concave, you have attained a proper seal and pickles can be safely stored in a cool, dark place for many months.