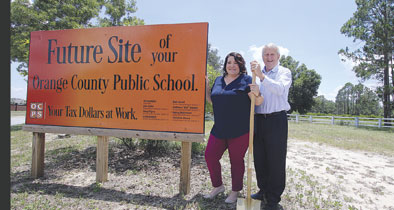 Orange County Public Schools pushed the construction schedule of its first K-8 school in Apopka from 2026 to 2022, which will relieve student overcapacity in the northwest Apopka area.
Orange County School Board member Melissa Byrd, representing District 7 that comprises Northwest Orange County, revealed the schedule change at the Wednesday, July 3, Apopka City Council meeting. Bringing a K-8 school to Apopka was a top priority for Byrd.
To be built in the Northwest Recreation Complex area located on the west side of Jason Dwelley Parkway and between Appy Lane and Kelly Park Road, the relief school is designed to take the burden off Wolf Lake Elementary School and Wolf Lake Middle School, both of which are overcrowded.
Wolf Lake Elementary has 1,134 students, about 300 more students than the typical elementary school, while Wolf Lake Middle School houses 1,401 students, nearly 200 more than middle schools.
According to city of Apopka documents, there are more than 900 residences either planned, under construction, or already occupied within a mile or so of the Wekiva Parkway (State Road 429) interchange at Kelly Park Road. The K-8 school site is about 1-1/4 miles from the interchange.
"The two schools that are out of whack, which are Wolf Lake middle and elementary, by doing a K-8, I think we'll relieve both schools, which are really the only two schools (in the Apopka area) that have a big overcrowding problem," Apopka Mayor Bryan Nelson said.
The schedule shift for the new K-8 relief school in Apopka was decided at a Thursday, June 27, Orange County School Board work session, where OCPS reviewed their 2019-2020 operating and capital budgets, as well as the Code of Student Conduct.
At the June 27 work session, OCPS reviewed Northwest Apopka's demographics and found that Wolf Lake Elementary School's overcrowding wasn't enough to fill a full elementary school on its own, Byrd said.
Read the full story on page 1A of the Friday, July 5 edition of The Apopka Chief. Subscribe today!