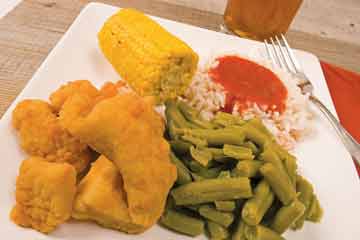 Isn't it lovely now? Some crisp chill in the air when we wake up. I am ready for this change from hot weather. Of course, around mid-day, I welcome temperatures in the 70s.
From Southern Living's All-Time Favorites, we have Chicken Mediterranean. It looks delicious and won't take too long to cook once you marinate the dish for two hours.
Fried Catfish from Southern Living's All-Time Favorites is wonderful. Piping hot, delicious catfish fillets. And Mrs. Walker's Hush Puppies from Charleston Receipts to go with the catfish? Heavenly.
In the following two bean recipes, I have added volume measures where they had only weight, and weight where they listed only volume. Also, for your elucidation (!), I add that one part dry beans equals three parts canned beans. In other words, if you need two cups dry beans in a recipe, you will need six cups canned beans to replace them in that recipe.
You can replace traditional overnight soaking by bringing the beans to a boil, removing the covered pot from the burner and setting it aside for an hour for a quick soak.
A.J. Rhodes shares her recipe for Boston Baked Beans (from her mother-in-law). She says to "drain and reserve" the soak water to cook the beans. Lots of folks do use the soak water. I have adopted the belief that the soak water now contains the "indigestible sugars" that make for uncomfortable gaseous situations as well as other undesirable elements released during the soak. I use clear water to cook the beans, and my beans come out delicious.
Not to be outdone by traditional navy beans, the humble black bean (Frijoles Negros) also makes an appearance below in the form of a casserole. Thanks to Savannah Style for this recipe. They choose to top their beans with sour cream. It looks absolutely scrumptious!
Joan Hoffman's Date and Nut Bread is fantastic. Thanks to First Presbyterian Church of Punta Gorda in their recipe book, A Taste of Heaven. Yummy!
CHICKEN MEDITERRANEAN
Recipe from Southern Living
All-Time Favorites
1/2 pound skinned and boned chicken breasts, cut into cubes
4 garlic cloves, minced
2 tablespoons olive oil
1 (14-1/2 ounce) can diced tomatoes, undrained
1/4 cup kalamata olives, pitted and chopped
1/2 teaspoon dried parsley flakes
1/2 teaspoon dried basil
1/2 teaspoon dried oregano
1/3 cup crumbled feta cheese
4 ounces penne pasta, cooked
Combine first three ingredients in a zip-top plastic freezer bag. Seal and chill two hours.
Cook chicken mixture in a large skillet over medium-high heat for eight minutes or until chicken is done; remove from skillet. Add tomatoes and next four ingredients to skillet. Reduce heat, and simmer, stirring often for seven minutes.
Return chicken to skillet. Sprinkle with feta cheese, and remove from heat. Cover and let stand five minutes. Serve immediately over hot cooked pasta.
Makes two servings.
Note: To serve four, use one (14-1/2 ounce) can diced tomatoes and double all other ingredients. Cook chicken mixture eight to ten minutes or until done; remove from skillet. Add tomatoes and next four ingredients to skillet. Reduce heat, and simmer, stirring often, seven to eight minutes.
FRIED CATFISH
Recipe from Southern Living's
All-Time Favorites
6 (4- to 6-ounce) catfish fillets
2 cups milk
2 cups yellow cornmeal
1 tablespoon seasoned salt
2 teaspoons pepper
1/2 teaspoon onion powder
1/2 teaspoon garlic powder
1 teaspoon salt
Vegetable oil
Garnish: lemon wedges
Place catfish fillets in a single layer in a shallow dish; cover with milk. Cover and chill 1 hour. Combine cornmeal and next four ingredients in a shallow dish. Remove catfish fillets from refrigerator and let stand at room temperature 10 minutes. Remove from milk, allowing excess to drip off. Sprinkle evenly with 1 teaspoon salt. Dredge catfish fillets in cornmeal mixture, shaking off excess. Pour oil to depth of 1-1/2 inches into a large skillet. Heat to 350 degrees. Fry fillets in batches about 3 to 4 minutes on each side or until golden brown. Drain on wire racks over paper towels. Garnish, if desired. Makes 6 servings.
MRS. TAFT WALKER (MARY TAFT) HUSH PUPPIES
Recipe from Charleston Receipts, America's Oldest Junior League Cookbook in Print,
a Cookbook by The Junior League of Charleston, Inc.
2 cups corn meal
1 teaspoon soda
1 teaspoon salt
6 tablespoons chopped onion
2 tablespoons flour
1 tablespoon baking powder
1 egg
2 cups buttermilk
Red pepper, to taste
Mix all dry ingredients, add chopped onion; then add milk and egg beaten together. Drop by small spoonfuls into boiling deep fat. They will float when done. Drain on brown paper. Serves 8.
BOSTON BAKED BEANS
Recipe from A. J. RHODES in
Allrecipes
2 cups (1 pound) navy beans
1/2 pound bacon
1 onion, finely diced
3 tablespoons molasses
2 teaspoons salt
1/4 teaspoon ground black pepper
1/4 teaspoon dry mustard
1/2 cup ketchup
1 tablespoon Worcestershire sauce
1/4 cup brown sugar
Soak beans overnight in cold water. Simmer the beans in the same water until tender, approximately 1 to 2 hours. Drain and reserve the liquid.
Preheat oven to 325 degrees Fahrenheit.
Arrange the beans in a 2-quart bean pot or casserole dish by placing a portion of the beans in the bottom of dish, layering them with bacon and onion.
In a saucepan, combine molasses, salt, pepper, dry mustard, ketchup, Worcestershire sauce and brown sugar. Bring the mixture to a boil and pour over beans. Pour in just enough of the reserved bean water to cover the beans. Cover the dish with a lid or aluminum foil.
Bake for 3 to 4 hours in the preheated oven until beans are tender. Remove the lid about halfway through cooking and add more liquid if necessary to prevent the beans from getting too dry.
CASSEROLE OF BLACK BEANS TOPPED WITH SOUR CREAM
Recipe from Savannah Style,
a Cookbook by The Junior League of Savannah, Inc.
1 pound (2 cups) dried black beans (Frijoles Negros)
1-1/2 cups onion, coarsely chopped
2 large cloves garlic, minced
3 stalks celery, coarsely chopped
1 medium carrot, scraped and coarsely chopped
1-1/2 tablespoons salt
1/2 teaspoon black pepper, freshly ground
2 bay leaves
1/4 teaspoon oregano
1 tablespoon parsley, chopped
Dash cayenne
4 tablespoons butter or margarine
1 to 2 ounces dark rum (optional)
Rinse beans and pick over. Place in large kettle, add water to cover. Cover and bring quickly to full boil. Remove from heat and let stand, covered, for one hour. Add next nine ingredients and more water to cover, bring back to a boil and simmer, covered, over low heat for two hours, stirring occasionally. Correct seasoning and if desired, a bit of cayenne can be added.
Remove bay leaves and turn bean mixture into a 3-quart casserole. Stir in butter or margarine and two ounces dark rum, if desired. Mix thoroughly. Cover and bake in preheated 350-degree Fahrenheit oven for one hour or more, until beans are thoroughly tender. Remove from oven. Serve with side dish of sour cream as topping.
Good served with baked ham, smoked tongue or turkey and a large salad of greens. Freezes beautifully.
JOAN HOFFMAN'S
DATE AND NUT BREAD
Recipe from First Presbyterian Church of Punta Gorda,
A Taste of Heaven
1 cup chopped dates
1 teaspoon baking soda
3/4 cup boiling water
1 egg
3/4 cup brown sugar
4 tablespoons melted shortening (Crisco)
1 teaspoon salt
1 teaspoon vanilla
1-1/2 cup flour
1 teaspoon baking powder
3/4 cup chopped walnuts
Cut dates in pieces and place in bowl. Add baking soda and boiling water. Mix well and let stand until cool. Beat egg and add sugar gradually, beating well. Add vanilla. Combine with date mixture. Add dry ingredients and nuts. Add melted (but NOT hot) shortening. Mix well. Pour into two well-greased small loaf pans. Bake at 300 to 325 degrees for one hour to one hour and 15 minutes before removing to wire rack to cool.