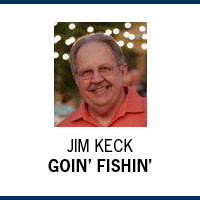 Hello Folks,
It's been a tough few days to get on the water and try and do some fishin'. This past weekend, we got plenty of rain and wind, and blue-bird skies. Then the first of the week, we got some more rain and blue-bird skies, more wind and colder weather. If you add all that up, it's was not a good time to be on the water fishin'.
We still have some folks who did get on the water in-between all that goin's on and they were able to catch a few fish. Most folks are fishin' for specks in the lakes in our area.
Captain Joe reports that the folks in his area who went fishin' were catchin' their specks by driftin' in open water. They just got out there and let the wind drift 'em across the lake. Most of the specks are bein' caught on jigs tipped with a minner.
If the weather holds, you should be able to catch some specks in Lake Monroe by driftin' across the lake. Before the cold front, folks were catchin' some specks in Lake Jesup out in front of Soldiers Creek on jigs tipped with a minner.
Lake Dora, Lake Beauclair around Deer Island should be good for specks, as well. You should be able to catch some specks in Lake Woodruff and in Lake Griffin, too. They were catchin' some nice specks in Lake Harney in open water before the cold front, and the specks should start bitin' by the weekend.
We have a full moon comin' up on Tuesday, February 3, so if we get some decent weather, the specks should start bitin' again. We might see a few specks to move closer to shoreline to spawn on this full moon but the water temperature might still be on the cool side, so they might not go on the beds for a while. If you do go fishin', you can check and see if you can find the specks gettin' closer to the shoreline. I know that the bass are not on the beds yet. My fishin' partner Rick was on the water Monday and he saw a few beds bein' started but there was no fish on 'em yet. He fished all day and only caught three little bass. He didn't get a bite until after it warmed up. The bass probably moved back to deeper water again after this cold front. The water temperature dropped and that pulled the bass off the beds.
If you want to catch some bass, I would suggest you take along some shiners and fish the mouth of the canals and the residential canals on the Harris Chain. If you want to fish the Butler Chain or the Conway Chain, I would take along some shiners and fish out from the mouth of the canals that go between the lakes. You can also try the residential canals as well.
I would also like to take a minute and thank Captain Joe at Sorrento Bait and Tackle for the years he has contributed to this article.
Captain Joe is closin' his store in the next few weeks. He has decided to retire and do some more fishin'. I just wanted everyone to know that you will be able to get shiners and minners and night-crawlers at Ace Hardware in Sorrento. They will also carry some terminal tackle for everyone in case you forget something before you go fishin'.
Thanks again to Captain Joe and Captain Linda for all the fishin' reports they contributed over the years.
See ya next week.
Tip of the week: good weather.
Save a few and good luck!