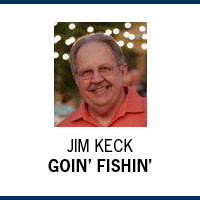 Hello Folks,
This week's full moon brought in some cooler weather and it looks to get a little cooler by the time you read this. I know a lot of folks are goin' fishin' for specks in most of the lakes in our area and they are catchin' some good numbers. Of course, the weather and the wind plays a key role while you're fishin'. If it's too windy, you'll have a tough time driftin' the lake and keepin' your jigs in the strike zone.
If you want to catch some specks, you need to fish in Lake Harney, Lake Jesup, or Lake Woodruff. These three lakes have been producin' some nice stringers of specks. You need to drift open water with jigs tipped with a minners at various depths until you locate the specks. Once you catch a few specks in a certain area and the depth they are holdin' in, drift back and forth over that area until they quit bitin'. You need to use brightly colored jigs like pink, chartreuse, and lemon-orange. The gold ice jig has been catchin' some specks as well. You can catch some specks in Lake Dora and Lake Beauclair around Deer Island. Most folks are driftin' mid-lake with jigs tipped with a minner.
Folks are catchin' some specks in the Kissimmee Chain in most all the lakes. Folks are driftin' open water with jigs tipped with a minner. Again, you will have to cover a lot of water until you locate 'em and then keep driftin' back and forth over the area where you caught your specks.
I also got a report from Captain Paul Solomon that folks are catchin' some specks in Lake Cherry in the Clermont Chain. You will have plenty of company but if you can endure the boat traffic, you should be able to catch some specks.
The bass fishin' has been pretty good in most of the big chains in our area. Folks are catchin' some nice bass on shiners and swim-baits in the Butler Chain, the Kissimmee Chain, and the Harris Chain. You need to fish the mouth of the canals, the residential canals, or in open water around the submerged hydrilla beds. You can also catch some bass by fishin' a shiner around the pepper grass and eel grass beds you find in the lakes.
Rick and I got on the water over the weekend, and decided to fish the Butler Chain. We caught 15 bass up to 4.5 lbs. We caught most of our bass on plastic worms.
We fished around the pepper grass beds and the hydrilla beds with watermelon seed red glitter plastic worms to catch our bass. We also checked to see if any bass were on the beds, and where we fished, we didn't see any bass on the beds. The big bass we caught was just startin' to show some development of roe. We did notice that the water temperature had dropped to 62 degrees and a couple of weeks before that the water temperature was around 67 degrees. With another cold front this week, will keep the water temperature down and that will keep the bass off the beds for a while.
Well, that's it for this week.
I'll see ya next week.
Tip of the week: watch the weather.
Save a few and good luck!