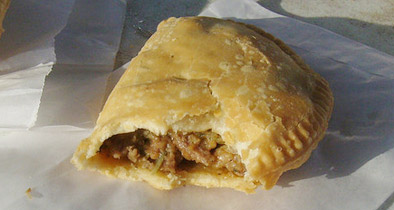 Here is Nita Collins' Shrimp Newburg from Cooking with Foliage La Sertoma of Apopka. This looks wonderful, and, being a lover of shrimp, I am going to try it very soon. Be mindful when adding the cooked sauce into the beaten egg yolks; you don't want to harden the yolks, you just want to quickly meld the sauce and the yolks together. Forgive me if I don't use toast points; I will most certainly have rice under my Shrimp Newburg!
The recipe for Hot Meat Pies, borrowed from Louisiana by the way, comes from the Florida Federation of Garden Clubs' book titled Paths of Sunshine. We are warned that, if you are going to fry them, you should use deep fat, NOT vegetable oil as the pies may fall apart! You can bake these pies rather than fry them if you prefer.
Also from Paths of Sunshine, Savory Vegetable Casserole looks pleasing to the palate. All the ingredients are frozen or in cans except for the mushrooms.
From Savannah Style, we have Spinach Pie. It calls for two 10-ounce packages of frozen spinach, eggs, sour cream, cheese, a pie shell, and a few other items.
The Apple Crisp recipe below from Bonnie Milliken uses either sugar or Splenda. We appreciate the Northside Baptist Church folks for sharing with us.
Reader Isabel Beach's "Bluebree Muffins" as she calls them come during blueberry season in South Carolina. She makes muffins often, as she grows her own blueberries. The muffins really are scrumptious.
NITA COLLINS'
SHRIMP NEWBURG
Recipe from Cooking with
Foliage La Sertoma of Apopka
3/4 pound cooked shrimp
1/4 cup margarine or butter
2 tablespoons all-purpose flour
3/4 teaspoon salt
1/8 teaspoon cayenne pepper
1/8 teaspoon nutmeg
1-1/2 cup Half and Half
2 egg yolks, beaten
2 tablespoons sherry
Toast points
Cut large shrimp in half. Melt margarine or butter, and blend in flour and seasonings. Add Half and Half gradually and cook until thick and smooth, stirring constantly. Stir a little of the heated sauce into the beaten egg yolks; add to sauce, stirring constantly. Add shrimp; heat. Remove from heat and slowly stir in sherry. Serve immediately on toast points. Makes 6 servings.
HOT MEAT PIES –
AN OLD LOUISIANA TRADITION
Recipe from Florida Federation of
Garden Clubs Inc., Paths of Sunshine
FILLING:
1 tablespoon shortening
2 tablespoons flour
1/2 pound ground beef
1-1/2 pounds ground pork
2 large onions, chopped
6 green onions, chopped
3 tablespoons parsley, chopped
Salt and pepper
Make a roux of shortening and flour. Add other ingredients and salt and pepper to taste. Cook thoroughly, let cool before placing in dough.
PASTRY:
4 cups flour
2 teaspoons baking powder
1/2 cup melted shortening
2 eggs
Milk to make stiff dough
Sift flour and baking powder; add shortening, then eggs. Add enough milk to make a stiff dough. Roll very thin. Use a saucer to cut circles of dough. Fill half full with meat mixture. Fold dough over, dampen edges with water and crimp with a fork. Fry in deep fat until golden brown.
NOTE: Some may prefer to reverse the proportions of beef and pork. Do not use vegetable oil as the pies may fall apart. Some prefer to bake pies at 350 degrees for 15 minutes or until brown. Yields 18 pies.
SAVORY VEGETABLE CASSEROLE
Recipe from Florida Federation of
Garden Clubs Inc., Paths of Sunshine
1 pound fresh mushrooms, sliced lengthwise
One small onion, grated
1/2 cup butter
1/4 cup flour
1 teaspoon salt
1/2 teaspoon white pepper
3 cups milk
3/4 pound sharp cheese
1/8 teaspoon hot pepper sauce
1 teaspoon soy sauce
1 (9-ounce) package frozen artichoke hearts
1 (9-ounce) package frozen green beans, French style
1 (10-ounce) package frozen lima beans
1 (8-ounce) can water chestnuts sliced lengthwise into thirds
1 (3-1/2-ounce) can French fried onion rings crumbled
Cook mushrooms and small onion in butter for about five minutes. Add flour, salt and white pepper. Stir thoroughly to blend the seasonings with mushrooms and onion. Stir in milk and cook, stirring constantly, until thickened and smooth. Add cheese, hot pepper sauce and soy sauce. Stir until cheese is melted. Meanwhile, prepare the frozen vegetables as directed. Blend vegetables into cheese mixture. Add water chestnuts, mixing lightly to avoid mashing vegetables. Turn mixture into a buttered 2-quart casserole. Bake at 350 degrees for 10 minutes. Sprinkle crumbled onion rings atop and bake 10 more minutes.
SPINACH PIE
Recipe from Savannah Style,
a Cookbook by The Junior League of Savannah, Inc.
1 pastry pie shell
2 (10-ounce) packages frozen chopped spinach
1/2 teaspoon salt
4 eggs
1 cup sour cream
1-1/2 cups coarse bread crumbs
6 tablespoons butter, melted
1/2 cup cheese, shredded
Precook pie shell until lightly browned. Cook spinach according to instructions on package. Drain well and add salt to spinach. Place drained spinach in pie shell and cover with eggs. Lightly whip sour cream to make it spreadable and cover the eggs with it. Toss bread crumbs in butter and shredded cheese and sprinkle over sour cream. Bake in a preheated 350-degree Fahrenheit oven 20 to 30 minutes. The eggs should be set like poached eggs. Do not overcook.
Use one package of spinach for a deep dish pie shell. Use two packages for a quiche pan.
BONNIE MILLIKEN'S APPLE CRISP
Recipe from Northside Baptist Church cookbook
Apple Filling:
1 tablespoon water
1 teaspoon almond extract
6 cups (4 medium) tart apples, sliced and unpeeled
Heat oven to 375 degrees. Place apples in a 1-1/2 quart casserole that has been sprayed with non-stick cooking spray. Mix water and almond extract. Pour over apples. Toss to coat.
Crumbly Topping:
1/2 cup uncooked oatmeal
2 tablespoons all-purpose flour
2 tablespoons white or brown sugar or Splenda
2 tablespoons chopped almonds
1/2 teaspoons ground cinnamon
3 tablespoons reduced-fat margarine
Mix crunchy topping ingredients until well mixed and crumbly, then sprinkle the topping over the apples. Bake at 375 degrees for about 30 minutes or until top is golden brown and apples are tender.
Yogurt Topping:
1/2 cup plain nonfat yogurt
1/8 teaspoon almond extract
1 teaspoon sugar or Splenda
Serve Apple Crisp warm with yogurt topping.
ISABEL BEACH'S BLUEBREE MUFFINS
Recipe from Reader of The Apopka Chief and Planter Newspapers
2 cups Bisquick
1 cup sour cream
3/4 cup sugar
2 eggs
1 cup fresh blueberries (put aside)
Combine Bisquick, sour cream sugar and eggs. Mix up the batter by hand. Spoon batter into the muffin cups a little at a time. Gently add the blueberries, then more batter, layering until you run out of blueberries and batter. Bake at 425 degrees for 20 minutes. Look to see if golden brown near the end. Take out of oven when they look ready. Yields 14 muffins.