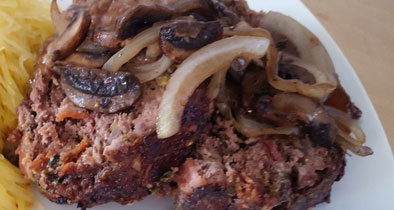 Mrs. Salmons shares her Fried Chicken and Gravy recipe with us in Charleston Receipts. It looks delicious.
From Amanda Thomas-Henke, we have meat loaf that she originally got from Nita Holleman of Food.com and changed it up a little bit to get her own recipe. Amanda says she adds some garlic to hers and sautés the sweet onion and garlic prior to mixing it into the meat loaf. I would venture a guess that most of us change recipes a little bit to suit our preferences or simply because we might be out of an ingredient.
Bruncheon Eggs from Savannah Style uses eggs, sausage, cheese and French bread. You layer the ingredients and refrigerate overnight. Then bake it for a little under an hour at 350 degrees.
Judy Peeler's Cauliflower Soup looks wonderful. Feeding the Flock, put out by New Vision's Community Church, shares Judy's recipe with us.
New Vision's Feeding the Flock does it again with Anna Kennedy's Eggplant Casserole. Thank you so much.
Richard Houchins' Pineapple Cheesecake Squares sounds teriffic. We found this recipe in New Vision Community Church's Feeding the Flock cookbook.
MRS. HARRY SALMONS'
(ROSAMOND WARING)
FRIED CHICKEN
Recipe from Charleston Receipts, America's Oldest Junior League Cookbook in Print,
a Cookbook by The Junior League of Charleston, Inc.
1 fryer (1-1/2 to 2-1/2 pounds)
1 cup flour
1/2 teaspoon salt
1/4 teaspoon pepper
Fat for frying
Dress and disjoint fryer. Chill in icebox overnight, if possible. Sift flour and mix with salt and papper. Put flour mixture in paper bag and add several pieces of chicken to this at a time, to coat chicken with flour. Have about 2 inches of grease in large hot frying pan. When all chicken is in, cover for 5-7 minutes. Uncover and turn chicken when underside is golden brown. Cover again for 5-7 minutes, then remove top and cook until bottom side is brown. Reduce heat and cook 20 minutes longer. Turn chicken only once.
FRIED CHICKEN GRAVY
Pour off most of the fat, leaving the brown crumbs. Add a little flour and brown. Add hot water and stir until smooth and thickened. Season with salt and pepper.
AMANDA THOMAS-HENKE'S
MEAT LOAF
Reader of The Apopka Chief and
The Planter newspapers
Originally from NITA HOLLEMAN
of Food.com
Meat loaf:
1-1/2 pounds ground beef OR ground shoulder roast OR venison or other game meat…
see below for game meat loaf instructions
1 slice bread, broken or chopped finely
1 egg
1 small Vidalia onion or sweet onion, chopped finely
1 teaspoon table salt
1/4 teaspoon black pepper
4 tablespoons ketchup
1/2 to 2/3 cup whole milk OR Half & Half
Sauce:
4 tablespoons apple cider vinegar
2 to 4 tablespoons dark brown sugar, packed firm (or amount to taste)
1/2 cup ketchup
Sauce instructions:
Combine meat loaf ingredients and place into a loaf baking dish. Smooth out top.
Combine sauce ingredients and pour on top and sides of meat loaf.
Bake at 350 degrees about one hour to an hour and 15 minutes or until done. Nita Holleman, the originator of the dish from Food.com, says the addition of 1 or 2 teaspoons of Kitchen Bouquet makes this recipe very good. Recipe should be 'plump' from the addition of the milk or Half & Half. It should not be runny.
If you are using game meat such as deer, which is a very dry meat, add some fat to the deer meat. For instance: for one pound of ground venison, add about 1/2 pound of deer sausage for the fat content. Otherwise, your results will be poor simply for lack of fat. Preparation time for the meat loaf is 20 minutes; baking takes one hour or a little more.
BRUNCHEON EGGS
(Sausage, Eggs, Cheese)
Recipe from Savannah Style,
a Cookbook by The Junior League
of Savannah, Inc.
6 eggs
2 cups milk
1 teaspoon salt
1 teaspoon dry mustard
1 pound sausage, mild or hot
3 or 4 slices French bread, cubed and sautéed in melted butter
1 to 1-1/2 cups sharp cheese, grated
Beat eggs, milk, salt and mustard. Saute and drain sausage. Layer bread, cheese and sausage in greased 9 x 13-inch dish. Pour milk and egg mixture over all. Refrigerate overnight. Bake at 350 degrees for 45-50 minutes.
JUDY PEELER'S
CREAM OF CAULIFLOWER SOUP
Recipe from New Vision
Community Church's
Feeding the Flock cookbook
2 tablespoons butter
1 small onion, chopped
1 cup chicken flavor stock
2 large potatoes, diced
1 small head cauliflower, broken into florets
1/2 cup boiling water
1/8 teaspoon ground coriander
1/2 teaspoon white pepper
1/8 teaspoon ground nutmeg
2 cups Half and Half
Fresh chopped chives, watercress or parsley to suit taste
In large saucepan, melt butter; add onions, sauté until translucent. Add chicken stock and potatoes. Cover and cook for seven to ten minutes or until tender. Puree potato mixture using blender or food processor. Return mixture to pan. Meanwhile, in another pan, cook cauliflower in water for about seven minutes or until barely tender. Remove one cup florets with slotted spoon and put aside. Puree remaining cauliflower with its cooking water and add it to potatoes. Cut remaining florets into very small pieces and set aside. Add coriander, nutmeg, and pepper to soup. Simmer. Stir in Half and Half, and then add reserved florets. Heat, but DO NOT boil. Garnish with watercress, chives or parsley. Serve.
Anna Kennedy's
EGGPLANT CASSEROLE,
Recipe from New Vision
Community Church's
Feeding the Flock cookbook
1 medium eggplant
3/4 cup grated cheese
1/2 cup milk
1/2 stick butter or margarine
2 slices toast (crumbs)
Salt to taste
Pepper to taste
Peel eggplant and cut into blocks. Bring to boil and boil 4-5 minutes. Drain. To the eggplant, add toasted breadcrumbs, milk, butter, salt and pepper. Mix all together. Put in casserole dish and sprinkle grated cheese over top. Bake at 350 degrees until cheese melts and begins to bubble.
RICHARD HOUCHINS'
PINEAPPLE CHEESECAKE SQUARES
Recipe from New Vision Community Church's Feeding the Flock
CRUST:
2 cups all-purpose flour
2/3 cup margarine or butter, softened
1/2 cup almonds, finely chopped and toasted
1/2 cup powdered sugar
Crust:
Preheat oven to 350 degrees. Mix all ingredients in medium size bowl with fork until crumbly. Press firmly and evenly in bottom of ungreased rectangular pan, 13 x 9 x 2 inches. Bake until set, for about 15 to 20 minutes.
CHEESECAKE:
2 8-ounce package cream cheese, softened
1/2 cup sugar
2 eggs
2/3 cup unsweetened pineapple juice
1/4 cup all-purpose flour
1/4 cup sugar
1 20-ounce can crushed pineapple, well-drained (reserve 1 cup juice)
1/2 cup whipping cream
Cheesecake:
Beat cream cheese in medium size bowl until smooth and fluffy. Beat in 1/2 cup sugar and the eggs. Stir in 2/3 cup pineapple juice. Pour cream cheese mixture over hot crust. Bake just until center is set, about 20 minutes. Cool completely. Mix flour and 1/4 cup sugar in 2-quart saucepan. Stir in 1 cup reserved pineapple juice. Heat to boiling over medium heat, stirring constantly. Boil and stir 1 minute. Remove from heat. Fold in pineapple. Cool completely. Beat whipping cream in chilled bowl until stiff. Fold into pineapple mixture. Spread carefully over dessert. Cover loosely and refrigerate until firm, about 4 hours. Cut into about 3-inch squares. Makes 12 squares.