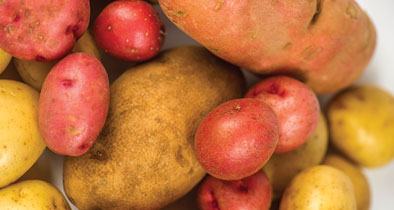 We have some great potato recipes for you this week. Isn't it amazing how that vegetable, so bland all by itself, is so receptive to whatever treatment you wish to give it to taste just wonderful? I must say… potato is probably my favorite food. According to Wikipedia, although the potato originated in southern Peru and northwest Bolivia, more than 99 percent of our current varieties are direct descendents of a subspecies once grown in the lowlands of south-central Chile. On the list of nutrition facts, their potassium content supplies 25 percent of our daily requirement. They also supply 70 percent of vitamin A, and 30 percent of vitamin D. The humble potato seems to be a "wonder" food.
Frances McHale's Italian Roasted Potatoes looks good enough for company or for simply pampering your own family. We found her recipe in (where else?) Preserving the Big Potato, put out by the Apopka Historical Society.
Linda Laurendeau's Potatoes or Vegetable Medley looks wonderful. Her recipe is also shared in Apopka Historical Society's Preserving the Big Potato.
One of our readers shared her Potato Salad recipe. It has been in Kapers in the past but is good enough for a repeat performance. Here again is Nancy Thomas' potato salad recipe for your enjoyment.
From our friends in Plains, Georgia, Pot Pourri, we have Mary Wise's Potato Rolls, which calls for two servings of instant dried potato and two packages of dry yeast. It looks as if it will make a good-sized bunch of rolls.
From The New York Times NEW Natural Foods Cookbook, by Jean Hewitt, we have Currant and Rice Pudding. And, I confess, I was tempted to substitute chopped cranberries or raisins for the currants (in my own kitchen, of course). Then I got the bright idea, "Maybe I should look up currants!" I did. True currants, or black currants, are tart, not sweet. And, being berries, not grapes, they grow on bushes. In 1911, their commercial cultivation in the U.S. was outlawed as it was believed they were spreading disease that negatively affected the timber industry. Then Greece began exporting Zante currants, which are small dried grapes. So, if I use Zante currants, which are sweet, I will probably enlarge the measurement to at least 1/2 cup. True currants, being tart, would be a different taste altogether. I would need to experiment a little first before I play too much.
Check out the Walnut-Vegetable Bread from The New York Times NEW Natural Foods Cookbook, by Jean Hewitt. It looks healthful. And… delicious!
FRANCES MCHALE'S
ITALIAN ROASTED POTATOES
Recipe from
Apopka Historical Society's
Preserving the Big Potato –
A Collection of Potato Recipes
8 potatoes
7 garlic cloves
2 cups Parmesan cheese
1/2 cup vegetable oil
Salt and pepper to taste
Slice potatoes as if for French fries but a little thicker. Put in a 10" x 2" round or oblong pan (preferably non-stick). Add oil, garlic, cheese, salt and pepper. Sprinkle a little cheese, pepper, salt, oil and 1 clove garlic (sliced or chopped) over top. Bake covered for 2 hours at 375 degrees or until potatoes are done. Uncover and brown potatoes, about 10 to 15 minutes.
LINDA LAURENDEAU'S POTATOES
OR VEGETABLE MEDLEY
Recipe from
Apopka Historical Society's
Preserving the Big Potato –
A Collection of Potato Recipes
5 to 6 medium potatoes, skins on, washed and pierced for microwave
2 tablespoons extra virgin olive oil
1 teaspoon seasoning (Everglades is my favorite, but there are many wonderful blends – experiment!)
Microwave the potatoes for 4 to 5 minutes. You want them not quite fork tender. Put olive oil and seasoning into a 1-gallon sealable storage bag and mix. Cut potatoes in chunks and add to the bag. Seal and toss to coat the potatoes. Fry in hot pan or on a griddle, tossing from time to time, until golden and edges are crispy.
VARIATION: When potatoes have crisp edges, add raw, sliced: green peppers, onions, yellow squash, and zucchini coated in a bag with same amount of oil and seasoning. Cook together for a few minutes and serve hot as a vegetable medley.
NANCY THOMAS' POTATO SALAD
Recipe from Reader of The Apopka Chief and The Planter newspapers
Five pounds potatoes boiled in skins till tender
Five or six eggs hard-boiled
Celery, about two ribs
Multicolored sweet peppers, six small
Sweet onion, 1/4 large (not too much)
Dill pickle, large
Salt and pepper
Mayonnaise, 1/2 cup (more if needed)
Dill weed
Dry mustard
Celery seed
Paprika
Cook, drain and cool potatoes. Cook, drain and cool eggs by putting ice on drained eggs. Peel the skins from warm potatoes and set aside. When potatoes are cool enough to handle, chop into pieces no larger than 1/2 inch or so. Salt and pepper the potatoes in big bowl and mix with spatula. Setting aside at least two whole eggs to slice for garnish, peel the cooled eggs, chop, salt and pepper to taste. Dice celery. Setting aside a couple of the peppers to slice for garnish, slice and dice five or six small multi-colored sweet peppers. Slice and dice 1/4 large onion. Fold together in big bowl the potatoes, eggs, celery, peppers, onion, and pickle.
Mix dressing in separate bowl: 1/2 cup, maybe a little more, of the mayonnaise and two tablespoons or so of dill pickle juice. Add to this soupy mixture, 1/4 teaspoon each of following: dill weed, dry mustard, celery seed. Add salt and pepper to taste if more is needed.
Pour the dressing into the potato salad. Fold together. Don't make mashed potatoes out of the mixture!
Place the garnishes on top of the salad: Pepper rings and chopped eggs. Sprinkle beautiful red paprika on top. Cover with plastic wrap and store in refrigerator for enough time to allow the flavors to meld together. Serve.
MARY WISE'S POTATO ROLLS
Recipe from Food Favorites of Plains, Georgia Plains Pot Pourri
2 packages dry yeast
4 to 5 cups all purpose flour, divided
2 servings instant mashed potatoes
1 cup milk
1/2 cup sugar
1 tablespoon salt
1/2 cup shortening
2 eggs
In large bowl, stir together yeast and two cups flour.
In saucepan, heat until just barely warm, milk, sugar, salt and shortening, stirring until shortening is dissolved. Add potatoes.
Combine this with the flour and yeast. Add eggs. Beat with mixer three minutes. Stir in the remaining flour, or enough to make soft dough.
Grease dough and place in a well-greased bowl.
Place in refrigerator for one hour until dough has risen twice in bulk.
Make rolls, let rise about two hours.
Bake at 375 degrees. Any remaining dough may be stored for future use.
CURRANT AND RICE PUDDING
THE NEW YORK TIMES NEW
NATURAL FOODS COOKBOOK
Copyright 1982 by Jean Hewitt
3 cups milk
3 eggs, lightly beaten
1/2 teaspoon pure vanilla extract
1/2 cup brown sugar
1/8 teaspoon salt
2 cups cooked brown rice
1/2 cup chopped nuts
2 tablespoons currants
1/4 teaspoon grated nutmeg
1/2 teaspoon ground cinnamon, or to taste
Preheat the oven to 325 degrees. Beat the milk, eggs, vanilla, sugar, and salt together. Add the rice, nuts, currants, nutmeg, and cinnamon. Turn into a buttered casserole and bake for 30 minutes or until pudding is the desired consistency. The longer the pudding bakes, the drier it will become. Yield: Four servings.
WALNUT-VEGETABLE BREAD
THE NEW YORK TIMES NEW
NATURAL FOODS COOKBOOK
Copyright 1982 by Jean Hewitt
2 cups whole wheat flour
1/2 cup brown sugar
1-1/2 teaspoons baking powder
1/2 teaspoon baking soda
1/2 teaspoon salt
2 eggs
1/2 cup milk
1/3  cup vegetable oil
1 cup grated carrot (1 large)
1/2 cup finely diced celery
3/4 cup chopped walnuts
1. Preheat the oven to 350 degrees. 2. Mix together the flour, sugar, baking powder, baking soda, and salt. 3. Beat the eggs with milk and oil and add with carrot, celery, and nuts to the dry ingredients. Mix well, then turn into an oiled 9 x 5 x 3-inch loaf pan. 4. Bake for 50 minutes or until a toothpick inserted in the center comes out clean. 5. Let stand in the pan on a wire rack for 10 minutes, then turn out and cool completely. Yield: One loaf.