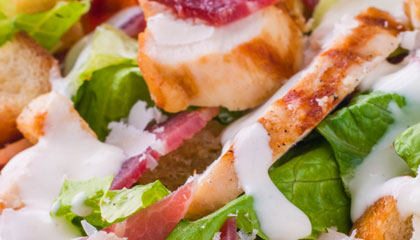 Another cookbook has turned up in our office. It was hiding under a stack of newspapers. (Tee hee… just kidding.) It is from our local organization, the Apopka Citizen Police Alumni Association, Sharing Our Finest Cookbook. Now we have some more lovely recipes that we can share with you.
We are trying hard to stay with summery fare to comfort our readers as they try to survive this HOT weather. Perhaps we should all try going into a quiet room, closing our eyes and picturing ourselves ensconced in a woodsy setting, the green trees casting a soft, quiet shade with their feathery tops being rustled by gentle breezes. Surely that cools you off.
Please email your recipes to: news@theapopkachief.com or mail them to The Apopka Chief, P.O. Box 880, Apopka, 32704-0880. And send us not only your recipes but ideas for future recipe columns as well. Your input is absolutely appreciated and CHERISHED.
ELOISE SURRETTE'S
STEAKS ON STICKS (Grill)
Recipe from Apopka Citizen Police Alumni Association,
Sharing Our Finest Cookbook
3-1/2 pounds boneless steak, cut into 1-inch cubes
1 clove garlic, cut
2 tablespoons olive oil
20 small white onions
salt and pepper to taste
Rub steak cubes with garlic and brush with olive oil. Arrange cubes on green wooden sticks or skewers, alternating each with an onion. Grill over hot bed of charcoal. Brush, if desired, with your favorite barbecue sauce.
SHERRY WARD'S VEGGIE PIZZA
Recipe from Apopka Citizen Police Alumni Association,
Sharing Our Finest Cookbook
2 cans crescent rolls
2 packages cream cheese
2 packages Ranch dressing (dry)
1 small bag radishes
1 small cauliflower
1 small broccoli
1 small sweet onion
1 small green pepper
1 small can black olives
1 small jar green olives
white/yellow cheese
Miracle Whip or mayonnaise
Put crescent rolls on cookie sheet. Spread out like a pizza. Bake at 350 degrees for 10 to 15 minutes or until brown. Let cool. Mix cream cheese and dry Ranch dressing together. Add Miracle Whip or mayonnaise until mixture is spreadable. Grate radishes, cauliflower, broccoli, sweet onions and green pepper, fine. Chop green and black olives. Put veggies on crust in layers. Push veggies down to stay on pizza. Put cheese on pizza. Ready to eat. Makes one cookie sheet. Mmmm, good!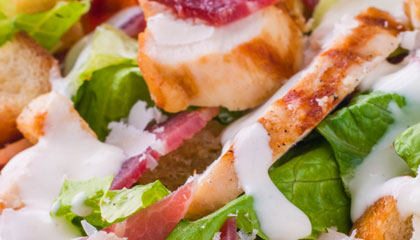 JEANNE USTLER'S 
CHICKEN SALAD SUPREME
Recipe from Apopka Citizen Police Alumni Association,
Sharing Our Finest Cookbook
2 cups cooked chicken, cubed
3/4 cup chopped celery
1/2 cup toasted almonds
2 tablespoons chopped pickles
2 tablespoons chopped green olives
2 tablespoons chopped black olives
2 eggs, hard-boiled and sliced
3/4 cup mayonnaise
Combine all ingredients. Toss lightly. Serve over lettuce. Garnish with watercress or parsley. Serves 6.
MRS. MAE HEWETT'S 
GOLDEN GLOW RELISH
Recipe from 
Food Favorites of Plains, Georgia
Plains Pot Pourri cookbook
2 quarts cucumbers, peeled and seeds removed, then ground
2-1/2 cups ground carrots
1 cup ground red sweet peppers
1-1/2 cups ground green sweet peppers
3 cups apple cider vinegar
1 teaspoon dry mustard
3 cups water
2 teaspoons plain salt
2 cups sugar
1/2 teaspoon turmeric
Grind cucumbers, combine with next four ingredients. Let stand three hours. Drain off brine and discard. Combine remaining ingredients, bring to a boil, simmer 10 minutes. Seal in jars.
CYNDI WRIGHT'S 
SHELLS AND GRAPE SALAD
Recipe from Apopka Citizen Police Alumni Association,
Sharing Our Finest Cookbook
8 ounces shell pasta, cooked al dente
4 cups red seedless grapes
1/2 cup chopped green onion
3 ounces blue cheese
1 clove garlic, minced
1 cup mayonnaise
3 tablespoons lemon juice
Salt and pepper to taste
While pasta is hot, mix all ingredients. Cool at least two hours.
LEMON BUTTERED CARROTS
Recipe from 
Florida Federation of Garden Clubs 
Paths of Sunshine Cookbook
3 tablespoons butter
6 medium carrots, sliced
1 medium apple, peeled and sliced
1 tablespoon chopped parsley
1 teaspoon grated lemon peel
salt to taste
In medium skillet, combine margarine and carrots. Cook, covered, about 10 minutes or until almost tender, stirring occasionally. Add apple and continue cooking about 5 minutes. Stir in parsley and lemon peel. Salt lightly. Serve hot. Serves 4 to 5.
FRANCES McHALE'S 
BAKED MASHED POTATOES
Recipe from Apopka Historical Society, Apopka, Florida
Preserving the Big Potato –
A Collection of Potato Recipes
6 to 8 potatoes, cooked until tender
Salt and pepper to taste
8 ounces cream cheese
8 ounces sour cream
1/4 pound butter
2 medium size onions (chopped)
Mash potatoes, adding salt and pepper to taste, cream cheese and sour cream. Mix together well and set aside. Using a skillet, sauté onions in butter until clear but not browned. Mix this into the potatoes and put in baking dish. Bake at 375 degrees for 30 minutes or until top is golden brown.
AMANDA THOMAS-HENKE'S 
FRESH STRAWBERRY TRIFLE
Recipe from Reader of The Apopka Chief and The Planter newspapers
Ingredients:
Cake –
1 box cake mix (any flavor – but I usually use vanilla or butter recipe yellow)
Eggs (however many are called for in cake mix directions plus 1-2 additional)
Butter (will be used instead of oil). Amount will depend on how much box instructions call for.
Milk (will be used instead of water). Amount will depend on how much box instructions call for.
1 teaspoon real vanilla extract
Strawberry Cream –
3 cups COLD whipping cream
8 ounces softened cream cheese
2 teaspoons vanilla extract
3/4 cup sugar
3 pints strawberries chopped and divided into 2 cups and 1 cup (may want to slice berries for the top layer instead – see assembly instructions to get an idea of what you'd like)
Directions:
Cake –
Preheat oven according to package directions.
Prepare cake mix according to package directions but add in 1-2 extra eggs, substitute butter instead of oil, substitute milk for water and add vanilla.
Pour batter into prepared 9 x 11-inch baking dish or 2 cake pans.
Bake according to package directions. Cool completely.
Strawberry Cream –
Place your mixing bowl and beaters in the freezer for 15-20 minutes before you start whipping the cream. The colder your tools and cream are, the better.
In a large COLD bowl, whip cream until stiff peaks are just about to form. Then carefully continue to beat the cream until stiff peaks form (you don't want to overbeat this and make butter). Once fully whipped, cover the bowl with plastic wrap and set in the fridge.
In another large bowl, beat cream cheese on high until light and fluffy. Scrape down the sides of the bowl as you go. Mix in vanilla and sugar until fully incorporated.
Mix in 2 cups chopped strawberries (pour any juice that has developed into the remaining cup of strawberries).
Gently fold the whipped cream into the cream cheese mixture. Cover with plastic wrap and place in fridge if not using immediately.
Assembly:
Cut the fully cooled cake into cubes (whatever size you like is good) or break into pieces (again, size depends on your preference).
Start with laying cake pieces onto the bottom of your trifle bowl (I just use a large glass bowl). Sprinkle 1/3 cup of the reserved strawberries and juice over the cake. Spread a layer of strawberry cream over the strawberries (use 1/3 of the cream). Repeat layers two more times. Make sure you can see all the layers from the sides of the bowl. The top of the bowl should be strawberries over the strawberry cream (no strawberry juice on the top layer). If you prefer a cleaner look, use sliced strawberries instead of chopped and arrange them in concentric circles (or however you like).
DAWN TICE'S 
RICE KRISPIE CRUNCHIES
Recipe from Apopka Citizen Police Alumni Association,
Sharing Our Finest Cookbook
1 cup sugar
1-1/4 cup flour
1/2 teaspoon baking soda
1/4 teaspoon salt
1 stick butter, melted
1 egg
2 cups Rice Krispies cereal
1 cup chocolate chips
1 cup coconut
Mix sugar, flour, soda, salt, butter, egg and cereal. Blend well. Add chocolate chips and coconut. Bake at 350 degrees for 10 minutes.
MARIE BERRY'S 
MOIST MEXICAN FRUIT CAKE
Recipe from Apopka Citizen Police Alumni Association,
Sharing Our Finest Cookbook
2 cups sugar
2 cups all-purpose flour
2 eggs
2 teaspoons baking soda
1 cup pecans
1 20-ounce can crushed pineapple and juice
Mix all ingredients together in bowl. Bake at 350 degrees for 30 to 45 minutes.
Topping:
2 cups confectioners powdered sugar
1 teaspoon vanilla
1 stick oleo
8 ounces Philly cream cheese
Melt oleo and add other ingredients. Pour over cake while hot.