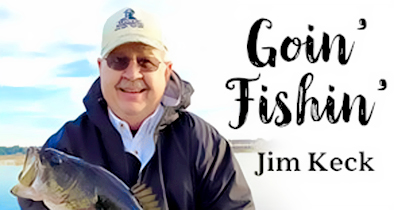 Hello Folks,
I hope you had a great weekend and, hopefully, you got a chance to go fishin'. Last week, the specks were bitin' in the Harris Chain. Lots of folks had a bucket of minners and were fishin' right up in the pad fields all over the chain. I'm sure there will be some late spawners this month as we have a new moon on Tuesday, March 21, so make sure you take advantage of the moon and catch ya some specks.
As I reported last week, Rick and his fellow anglers from Kentucky, Carl and Greg, had a great week on the water. I was able to fish with them last week myself. I fished with Carl, who, by the way, is a pastor in Kentucky, and we had a great day of fishin'. I was on my best behavior that day and it paid off. We caught probably 16 to 18 bass up to 4 pounds each. The biggest bass still had roe in her, so she will probably spawn on the new moon.
We fished open water and just out from the shoreline grass and reeds. We caught most of our bass on Bitter's 6 in. Mega Sling. We caught them on blueberry blue tail and watermelon red glitter.
It was a great day on the water and, to top it off, we saw a manatee in Lake Beauclair. I was up front runnin' the trollin' motor and Carl asked what in the world is makin' that big swirl in the water. I looked down in the water and, lo and behold, there it was. A full-grown manatee swimmin' right between the boat and the shoreline. I can assure you that, in all my years fishin' in the Harris Chain, I have never seen a manatee in the chain. It was awesome, and I hope you get a chance to spot one and enjoy the beauty of these great marine mammals. I have seen them in the St. Johns River and even had them bump up against my boat while fishin', but never in the Harris Chain.
My buddy Rich Niles fished the Harris Chain last Saturday and he caught and released eight bass up to 4 pounds each. He caught most of his bass on swim-jigs, speed worms, and one on a buzz-bait, so I would have to say the bass fishin' on the Harris Chain is pretty doggone good right now.
The bass fishin' on West Lake Toho is doin' good for bass and some specks. Wild shiners have been producin' some nice big bass on the lake. You can also catch a few specks on minners in open water between the islands or up in the pads.
I wanted to let everyone know that I will be out of town next week to attend the BassMaster Classic in Knoxville, Tenn. I will try to have reports about the classic the followin' week. Accordin' to the weather report, it looks like it's gonna be wet and cold. There might be a few snow flurries as well.
Well, y'all have a great week and I'll see ya in a couple of weeks.
Tip of the week: Bitter's Mega Sling.
Save a few and good luck!