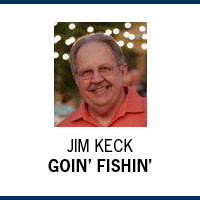 Hello Folks,
Well, we have had some warm weather and that's got lots of folks on the water fishin'. The specks are bitin' real good and so are the bass. If you want to catch some specks, I would try fishin' in Lake Monroe, Lake Woodruff, and Lake Harney. All three of these lakes have been producin' some nice stringers of specks. Lots of specks over 2 lbs. have been caught in all these lakes. Most folks are fishin' with jigs tipped with a minner, but some folks are catchin' plenty of specks by tight-linin' jigs tipped with a minner, too. Limits of specks are bein' caught in all the lakes.
Lake Jesup has been really good for specks, too. Most folks are fishin' just outside of Soldiers Creek with jigs tipped with minners and fishin' a minner under a cork. You can also catch some specks in the Harris Chain. Most folks are fishin' the cut between Lake Dora and Lake Beauclair with jigs tipped with a minner. You can still find some specks around Deer Island in both lakes. A few specks are bein' caught in the Apopka-Beauclair canals around the docks on minners fished under a cork. You will find some specks on the south end of Little Lake Harris around the pads, and in Dead River pads, too.
The bass fishin' has been really good in the Kissimmee Chain this past week. The FLW had a tournament on the chain this past week that wrapped up on Sunday. You were allowed to weigh-in five bass each day. The winner was J.T. Kenney who weighed in 20 bass for the tournament that weighed 76 lbs. Folks that's a 3.8 lb average per fish that he caught durin' the tournament. The anglers who fished the tournament found bass on the beds, off the beds, lots of bucks on the beds and a few big females on the beds, as well. Some nice bass were caught around the docks on plastic worms and Senko-type baits. One angler caught some nice bass on crank-baits around shell-beds where the current brushed up against the shell-bed. There was some current durin' mornin' each day and he was able to take advantage of bass feedin' durin' those times.
Lots of bass were caught in Lake Kissimmee by punchin' a plastic worm in the holes in the Kissimmee grass. Some anglers were able to catch their bass in the pads in Lake Kissimmee on Bass Pro Shops Stik-O worms and the Zoom Ultravibe Speed Worm.
I also know some anglers who are here from Kentucky and are catchin' plenty of Florida bass, too. My fishin' partner Rick has his brother-in-law Greg and his nephew Chris down from Kentucky and they have been fishin' every day since they got here. This is how they like to spend their vacation, by comin' to Florida to catch large-mouths. They have been fishin' in the Butler Chain and John's Lake. They are catchin' 20 to 30 bass each day up to 4 lbs. They are tryin' to catch a 10 lber. while the big females are on the beds.
Rick reports that they have seen plenty of beds in John's Lake with plenty of bucks on 'em but no big females. The have seen plenty of beds in the Butler Chain but no bass on 'em. Rick says they saw plenty of fry bass in the Butler Chain, so maybe some of the females have already spawned. They are headed to the Kissimmee Chain later in the week and see how that pans out. I will follow up with everyone next week.
So it would seem to me now would be a good time to do some fishin'. Get the rods and reels ready and get the family and go fishin'.
Tip of the week: go fishin'.
Save a few and good luck!