Hello Folks,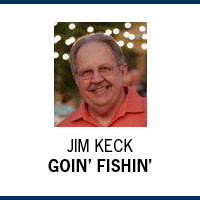 I hope everyone is havin' a great week. We have some cooler weather this weekend, so, hopefully, the water temperatures will start to come down a bit. If it does, the fishin' should get better and better each week.
The speck fishin' right now is startin' to pick up and some folks are catchin' limits of specks. The Harris Chain has been gettin' better each week. Folks are doin' the best in Lake Griffin and Big Lake Harris and a few specks are bein' caught in Lake Carlton. Most of the specks are bein' caught by driftin' with jigs tipped with a minner over the submerged hydrilla and eel-grass beds. Also, look for changes on the bottom of the lakes where you have some drop-offs.
Lake Monroe has been producin' some nice stringers of specks. We have two anglers who live here in Zellwood Station by the name of John and Dave. They really go after the specks durin' the winter. They told me that over the past few weeks, they are catchin' around 50 specks per trip. They only keep specks that are 10 inches or bigger. So out of the 50 or so they catch they may only keep 30 to 35 specks per trip. John says they use Marabou jigs tipped with a minner. They use brightly colored jigs like orange, green, chartreuse, or, John's favorite, a blue-and-white jig. Get some jigs and minners and go speck fishin'.
If the wind gets up on Lake Monroe, you can catch some specks in the St. Johns River. Folks are catchin' some nice specks in the river along the shoreline around the pads in the bends and oxbows in the river. Folks are catchin' a few specks in Lake Harney and Lake Jesup.
The bass fishin' has been hit or miss with the changin' weather conditions. Some days the bass are bitin' real good and then a front will move through and they will shut down. As you know after all these years of my writin' this column, Florida bass are finicky. They get to a point sometimes where they just won't bite for nothin' which makes for a long day on the water. But you never know until you go.
As far as the bass fishin' goes, folks are catchin' schoolers in the Butler Chain. The bass are bitin' the best early in the mornin', but the bass will be schoolin' all day so you should be able to catch 'em all day long. Lipless crankbaits and shallow-runnin' crankbaits will catch you a bass or two. You can also try a Gambler swim-bait called the Big Easy. This is a good time of the year to swim the bait over the top of the submerged hydrilla and eel-grass beds. If you find some pepper grass beds in the chain, that's another good place to use your swim-bait. Folks are catchin, some nice bass on shiners in the Kissimmee Chain. You need to fish your shiners around the hydrilla clumps throughout the chain.
The bass fishin' on the Harris Chain, especially in Lake Eustis and Big Lake Harris, has been pretty good on most days. You will do best with slow-sinkin', Senko-type baits or shiners.
That's it for this week. We will see ya next week.
Tip of the week: specks are bitin'. Save a few and good luck!