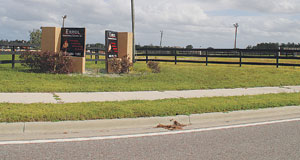 More single-family homes and a pair of commercial developments were on the docket for a meeting of the city of Apopka's Development Review Committee (DRC) on Wednesday, October 4.
Two residential developments, one planned for Lester Road and the other for an area just west of the recently opened portion of the Wekiva Parkway south of Yothers Road, came before the DRC.
The DRC, made up of representatives from various city departments, also saw a commercial proposal that would be off Rock Springs Road and Lester Road. Developers want to demolish a current convenience store on a commercial parcel that also has gas pumps in order to build a larger store.
Lester Road development
The DRC heard the initial plans for a planned 52-home development at 359 W. Lester Rd., which is where the current Errol Equestrian Center is located.
The 20-acre site is wedged between the Avian Reconditioning Center and Ambs Foliage on the north side of Lester Road between Rock Springs Road and Vick Road.
Most of the 52 lots will be 75 feet wide with some 85-foot wide lots. All the lots will be 135 feet deep and be about a quarter-acre in size.
The concept plan also called for a small pocket park of about a half-acre on the northeast side of the proposed development.
David Moon, the city's planning manager, said that while city code calls for a brick wall to be built along the west side of the development adjacent to the foliage nursery, the developer wants to put up a vinyl fence as there will likely be other development on the adjacent property in the future.
Appian Engineering of Winter Park provided the concept plans.
To learn more about what happened at the October 4 DRC meeting, read the full story in the Friday, October 6, issue of The Apopka Chief.