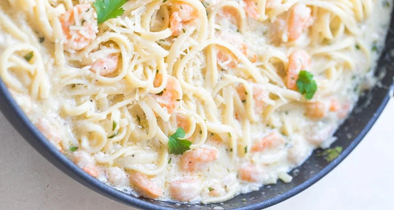 Evalene Whiddon shares her Baked Spaghetti in New Vision's Feeding the Flock. It calls for a pound of ground beef, canned vegetables and soup, cheddar and parmesan cheese, fresh onion and peppers, and spaghetti.
From A Taste of Heaven, published by First Presbyterian Church of Punta Gorda, a recipe for Scampi and Angel Hair calls for a pound of deveined and peeled shrimp.
An online site, thepioneerwoman.com, gives us Ranch Potatoes. Because a beautiful, crispy crust and tender, creamy interior is hard to achieve when roasting raw potatoes, taking the time to boil them first ensures they will not only have the perfect texture, they will also absorb more of the flavor from the oil and the ranch packet. One bite of crunchy, creamy potatoes, and you'll never want to roast potatoes the same way again. We also have the recipe  for homemade ranch seasoning used on this and numerous other recipes you probably often prepare.
Chickpea Salad from thepioneerwoman.com website appears to be beautiful, delicious, AND nutritious! Chickpeas and garbanzo beans are the same vegetable. The names are interchangeable in English and Spanish. They have been around for thousands of years, however, you can find them in the canned foods section next to all the other beans in your grocery store! This recipe makes six servings.
And from an old friend at First Presbyterian Church of Apopka, Treasures and Pleasures, we have Sis Pitman's recipe for Peanut Butter Fudge.
EVALENE WHIDDON'S
BAKED SPAGHETTI
Recipe from New Vision
Community Church's,
Feeding the Flock cookbook
1 cup green peppers, chopped
1 cup onion, chopped
1 tablespoon margarine
1 28-ounce can chopped tomatoes with liquid
1 4-ounce can mushrooms, stems    and pieces cut up and drained
1 2-1/4 ounce can ripe olives,      drained and sliced
2 taspoons dried oregano
1 pound ground beef, browned and    drained
12 ounces spaghetti, cooked and    drained
2 cups (8 ounces) shredded
   cheddar cheese
1 10-3/4 ounce can cream of
   mushroom soup, undiluted
1/4 cup water
1/4 cup parmesan cheese
In large skillet, sauté onion and pepper in margarine until tender. Add tomatoes, mushrooms, olives and oregano. Add ground beef; simmer uncovered for 10 minutes. Place half of spaghetti in a greased large (9 x 13 x 2-inch) baking pan; top with half the vegetable mixture. Sprinkle with 1 cup cheddar cheese. Repeat layers. Mix soup and water until smooth; pour over casserole. Sprinkle with parmesan cheese. Bake uncovered at 350 degrees for 30-35 minutes.
PHYLLIS GASS'
SCAMPI AND ANGEL HAIR
Recipe from A Taste of Heaven
Published by First Presbyterian Church of Punta Gorda
1 3/4 cup defatted chicken broth
1 tablespoon garlic, chopped fine
4 tablespoons scallions, chopped    (divided)
4 tablespoons Italian parsley,       chopped (divided)
1/2 pound dry angel-hair pasta
1 pound shrimp, peeled and
   deveined
Freshly ground black pepper
Bring a large pot of water to a boil for the pasta. In a large sauce pan, combine: broth, garlic and 3 tablespoons each of scallions and parsley. Bring slowly to a simmer. Cook for 2 minutes. Add pasta to boiling water. Cook according to directions. Add shrimp to broth, stir well and cook for 2-1/2 to 3 minutes or until shrimp are cooked through. Add remaining scallions. Drain pasta; divide evenly among large shallow plates. Arrange shrimp over pasta and spoon "broth sauce" over shrimp. Sprinkle with pepper. Garnish with remaining parsley. Serve immediately. Serves 4.
RANCH POTATOES
Recipe from
THEPIONEERWOMAN.COM
6 tablespoons olive oil, divided
2-1/2 pounds red potatoes,
   cut into 1-inch chunks
1 tablespoon kosher salt
1 1-ounce ranch seasoning
   packet, divided
3/4 cup sour cream
1/4 cup buttermilk or whole milk
Chopped chives or dill, to serve
     1) Preheat oven to 450 degrees Fahrenheit. Line a baking sheet with foil. Pour 4 tablespoons of the oil onto the prepared baking sheet. Place the baking sheet into the oven. 2) In a large pot, add potatoes, salt, and water to cover by 1 inch. Bring to a boil over medium-high heat. Cook potatoes until they are almost tender, 8 to 10 minutes. Drain potatoes and return them to the pot. Place lid on top of the pot and shake the pot vigorously for 30 seconds. Remove the lid and add the remaining 2 tablespoons of oil and 2 tablespoons of ranch seasoning. Fold to combine. 3) Remove the prepared baking sheet from the oven. Spoon the seasoned potatoes onto the hot oil, folding to combine. Roast the potatoes until crisp, 30 to 35 minutes. 4) In a medium size bowl, stir together the sour cream, buttermilk, and the remaining 2 tablespoons of ranch seasoning until well combined. Cover and refrigerate until ready to use. 5) Spoon and spread the ranch dressing onto a serving platter. Top with hot potatoes and sprinkle with chives or dill, if desired.
Please note the recipe for homemade ranch seasoning below. It may take you five minutes to mix a few ingredients together, and you're all set. The key ingredient is dry buttermilk powder. You can find it in the baking aisle or near the powdered milk in your grocery store. It will save you money from buying from the dairy case, and you can use it for pancakes, waffles, and many other recipes calling for buttermilk. It keeps for months.
RANCH SEASONING MIX
(WITH NO PRESERVATIVES)
Recipe from
THEPIONEERWOMAN.COM
1/2 cup dry buttermilk mix
Add seasoning in amounts to taste    of: dried parsley, dried dill, dried    chives, garlic powder, onion
   powder, salt and pepper
1) Whisk the dry ingredients all together to combine. 2) Place the Ranch Seasoning mix into an airtight container and store in the refrigerator.
CHICKPEA SALAD
Recipe from
THEPIONEERWOMAN.COM
Salad:
1 15-ounce can chickpeas, drained    and rinsed
7 ounces feta, cubed
1 English cucumber, cut into
   half moons
1 pint cherry tomatoes, halved
1 orange bell pepper, diced
1/2 small red onion, thinly sliced
2 avocados, cubed
1 cup chopped Italian parsley
1/2 cup torn basil
Dressing:
1/3 cup olive oil
3 tablespoons red wine vinegar
2 tablespoons fresh lemon juice
1 grated garlic clove
1/2 teaspoon kosher salt
1/4 teaspoon ground black pepper
1/4 teaspoon red pepper flakes
1) For the salad: In a large bowl, fold together the chickpeas, feta, cucumber, tomatoes, bell pepper, red onion, avocado, parsley, and basil.
2) For the dressing: In a medium bowl, whisk together the olive oil, vinegar, lemon juice, garlic, salt, black pepper, and pepper flakes until combined. Pour over the salad and gently fold to combine. Serve immediately.
Tip 1: Play around with your herbs by substituting dill, mint, or cilantro for the basil. Tip 2: If you are making the salad ahead of time, hold back on the avocado and parsley and basil. Stir these goodies in right before serving to ensure they are bright green and beautiful!
SIS PITMAN'S
PEANUT BUTTER FUDGE DREAMS
Recipe from First Presbyterian Church of Apopka,
Treasures and Pleasures
1 cup white sugar
1 cup brown sugar
1 cup milk
Few grains of salt
1 cup marshmallows
1/4 pound peanut butter
2 tablespoons butter
1 teaspoon vanilla
Cook sugar, milk and salt to the soft-ball stage. Add marshmallows, peanut butter and butter just before removing from the stove. Cool, add vanilla and beat, then pour into a buttered pan. NOTE: Peanut butter weight is: 1 pound = 1.89 cups, divided by 4 = 0.4725 cups, so you can probably do 1/2 cup (or little less) of peanut butter and be just fine. Or 1/4 pound peanut butter = 7-1/2 tablespoons.