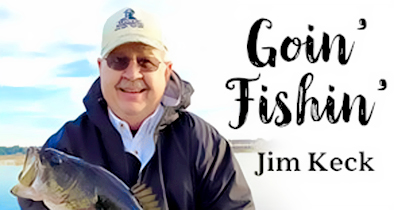 Hello Folks,
Good weather and good fishin' make for a great week.
Folks are gettin' on the water and they are catchin' lots of specks and the bass seem to be good and then not so good.
Folks are always askin' me where a good place to fish is if you don't have a boat. Well, right now it's the seawall on Lake Monroe. Kyle at Bitter's Bait and Tackle reports that folks are catchin' specks right off the seawall on minners. Usually, you will catch a mixed bag of panfish with an occasional catfish, but right now, the specks are bitin', so get you a bucket of minners, a lawn chair, and get down to Lake Monroe in Sanford and catch some specks.
Folks are fishin' for specks in Lake Monroe, and Lake Jesup from a boat and they are catchin' some nice-sized specks on jigs tipped with a minner. You can also catch 'em by fishin' with just a minner, too.
The specks in Lake Jesup are still bitin' under the State Road 417 bridge on jigs tipped with a minner fished with a cork. What I call fishin' with just a minner is fishin' your minner naked.
So, for further reference, if you see me use the "minners fished naked," you will know what I mean.
Some folks are fishin' Lake Monroe for strypers and they are catchin' some really nice-sized strypers. Kyle reports some strypers bein' caught in Lake Harris as well. Look for strypers feedin' on bait fish throughout Lake Monroe and the Harris Chain.
Most folks like to use some type of a lipless crank-bait or some folks like to use a crank-bait to catch 'em. They are fun to catch and they will stretch your string, too. If you get on 'em, you will have a blast catchin' 'em.
The bass fishin' on the Butler Chain is still doin' good. My neighbor John and his nephew Chet are catchin' a number of bass in the chain. On their last trip, they caught 19 bass.
Kyle is gettin' those same reports on the folks who are fishin' the chain as well. This time of year, look for schoolers to be bitin' in the Butler Chain.
The bass will be feedin' and gettin' ready to spawn next month. Kyle reports that a few bass are startin' to spawn in Lake Okeechobee. His buddy was fishin' a tournament there last week and noticed a few bass startin' to spawn.
I fished Lake Dora and Lake Beauclair on Monday. I was able to catch a few bass up to three pounds each. I didn't set the world on fire but at least I didn't get skunked, which is a good thing. I caught most of my bass on Rat-L-Traps. My biggest bass was caught on a plastic worm. I fished mostly off-shore around the submerged hydrilla clumps and eel-grass patches. John's Lake is hit or miss. Kyle practiced for a tournament there this week and the bites were few and far between. Hopefully by Sunday, they will start bitin' again.
Well, that's it for this week. Go get you a bucket of minners and take the family fishin' this weekend.
Tip of the week: specks off the seawall.
Save a few and good luck!