Favorite Recipes of Sweetwater Oaks is the provider of Kitchen Kapers' recipes for Apopka home chefs this week.
Much gratitude is deserved by Sweetwater Oaks Women's Club for creating that wonderful community cookbook.
The cuisine being served by Kitchen Kapers this week is wonderfully multi-ethnic. Locally collected recipes in this great Apopka-produced cookbook span the international culinary range from "down-home" USA cooking styles to Italian Rice and Norwegian Pancakes.
Hopefully, Kapers readers will enjoy new cooking adventures inspired by this week's international recipes which can accent the traditional down-home great-tasting style of hometown Apopka cuisine and make your kitchen a culinary melting pot mix combining both home grown and imported recipe styles.
As in past years, you can look forward to lots more recipes from this wonderful Apopka community cookbook whose many international recipes (along with just as many or more local ones) include Mexican Manicotti, Hawaiian Meat Balls, French Meat Pie, French onion soup, Rumanian Chicken Stew, English Sausage Rolls, Gloucester fish Chowder, Rumanian Chicken Stew, German Potato Salad, Greek Salad, Mexican Potato Salad, Italian salad bowl, President John Kennedy's New England Fish Chowder, American Chop Suey, Swedish Meat Balls, French Meat Pie, Pork Chops Hawaiian, French Onion Soup, French Meat Pie, Swedish Meat Balls, Italian Meat Loaf, Coral Gables Fish, Italian chicken, German potato salad, Greek Potato Salad, Italian Salad Bowl, Mexican Potato Salad, Mexican salad, Greek Salad, Russian Tea, Norwegian Pancakes, Chop Suey, French Meat Pie, Hawaiian Meat Balls, Italian Meat Loaf, Swedish Meat Balls, Italian Chicken, Rice Italian Style, English Pea Casserole, English Toffee Cake, Arkansas Down-Home Fried Corn, Mexican Style Rice, Italian Pizza Dough, Mexican Manicotti, Hot German Potato Salad, Russian Spice Tea, Russian Tea, Florida Style Noodles, Italian Pizza Dough, Norwegian Pan Cakes, French Onion Pie, Italian Chicken, Swedish Meat Balls, Blushin' Russian Dressing, Rumanian Chicken Stew (Tocana de Pui), English Sausage Rolls, Gloucester Fish Chowder, French Onion Soup, Italian Pizza Dough and much, much more.
Isn't that a wonderful amazingly long international recipes list and doesn't that list of recipes from the Favorite Recipes of Sweetwater Oaks cookbook make you feel like you've just been wonderfully whirled through an exciting worldwide culinary tour?
Thanks, Sweetwater Women's Club and all our local clubs, churches, schools and other groups who years ago, and through the years, gave your time, energy and inspiration to creating Apopka's cookbooks collection.
Keep 'em coming, Apopka. Keep passing on the tradition of creating more local cookbooks continually updating this town's local cookbooks collection!
Meanwhile, enjoy the recipes below which you can be cooking while thinking about your church or group continuing the Apopka cookbooks tradition into the future by creating your next Apopka cookbook. We will all be happily awaiting its arrival…
SWEETWATER OAKS 
FRENCH ONION SOUP
2 large sweet Spanish onions
1/4 cup butter
2 tablespoons flour
2 (10-1/2 ounce) cans condensed beef bouillon
2-1/2 cups water
6 slices French bread, cut 1-inch thick
1/2 cup each grated Parmesan cheese and grated Swiss cheese
Peel and slice onions. Separate into rings. (There should be about five cups.) Saute onion in butter in Dutch oven for 20 minutes, or until soft and golden, but not brown. Stir in flour. Gradually add bouillon and water, stirring until smooth. Heat to boiling, then reduce heat and simmer for 20 minutes. Meanwhile, toast bread lightly. Put slices in six ovenproof soup bowls. Ladle soup over bread. Sprinkle a little of each cheese on top of each bowl.
Bake at 425 degrees for 10 minutes or until cheese is melted and lightly browned. Recipe makes six servings.
LINDA SPAULDING'S 
SWEDISH MEATBALLS
1-1/2 pounds ground beef
3-1/2 ounce can of French-fried onions
1-1/2 teaspoons salt
1/4 teaspoon pepper
1-1/2 cups bread crumbs
1/4 teaspoon nutmeg
1/4 cup butter
1/4 cup flour
1 can bouillon
1/2 cup water
1/2 cup milk
2 eggs, slightly beaten
Combine onions, seasonings, bread crumbs and milk. Mix well. Add ground beef and eggs. Mix well. With wet hands, shape mixture into tiny balls about the size of a walnut. Brown in butter in skillet. Remove meatballs. Add flour to drippings. Blend well. Add bouillon and water.
Remove meatballs. Add flour to drippings and blend well. Add bouillon and water. Cook, stirring constantly until thickened. Add meatballs. Recipe makes 48 Swedish meatballs.
SWEETWATER OAKS 
RICE ITALIAN-STYLE
2-2/3 cups water
1-1/3 cups regular long-grain rice
3 tablespoons salad oil
1 small bunch broccoli, cut into two-inch-by-one-inch pieces
1 red pepper, cut into strips
1 small garlic clove, minced
3/4 teaspoon salt
3/4 cup grated Parmesan cheese
1 cup milk
1/4 cup pitted ripe olives, halved
2 ounces salami, diced
About 30 minutes before serving, heat the water and rice over high heat to boiling point, stirring occasionally.
Then, reduce heat to low, cover and simmer for 20 minutes or until rice is tender and all liquid is absorbed.
Meanwhile, in 10-inch skillet over medium heat, in hot salad oil, cook broccoli, red pepper, garlic and salt until tender, stirring.
When rice is done, stir in cheese and milk. Cook over low heat until cheese melts, stirring frequently. Stir in broccoli mixture, olives and salami and heat thoroughly. Recipe makes four main dish servings with 400 calories per serving.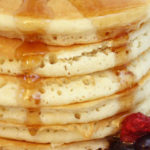 NORWEGIAN PANCAKES
1 cup (1/2 pint) sour cream
2 cups (1 pint) small curd cottage cheese
4 eggs
3/4 cup sifted all-purpose flour
1 tablespoon sugar
3/4 teaspoon salt
Combine sour cream and cottage cheese. Add remaining ingredients and beat until well mixed. Bake on hot greased griddle until bubbles break on surface. Turn and bake until golden brown. Serve hot with butter and syrup. Recipe makes four servings, approximately 24 four-inch pancakes.
FRAN RUOS' 
HAWAIIAN MEATBALLS
1 pound ground beef
1 egg
1 teaspoon salt
Pepper, amount to your taste
1-1/2 tablespoon onion, finely chopped
2 tablespoons flour
1 cup chicken stock or canned chicken soup
1 tablespoon oil
4 slices pineapple, cubed
1 green pepper, cut into large pieces
3 tablespoons cornstarch
2 teaspoons soy sauce
1/2 cup vinegar
1/2 cup sugar
Mix the meat, egg, salt, pepper and onion. Form into balls. Roll the balls in flour. Fry until light brown. Add the 1 cup chicken stock, oil, pineapple and green peppers. Simmer over low heat until peppers are tender. Make a sauce of remaining ingredients. Mix sauce well and add to meatballs. Heat thoroughly. Recipe yields six servings.