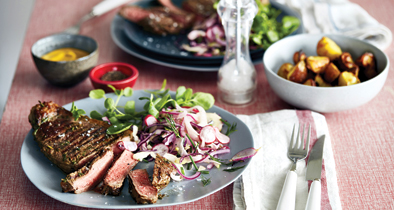 Smoky Taylor's West Virginia Creole Gumbo calls for shrimp, crab, and okra. I might want a pot of rice to go with this recipe that we found in Sharing Our Finest Cookbook from the Apopka Citizen Police Alumni Association.
Judy Peeler's recipe for wings is plenty hot enough for those who like hot. For those who don't, go easy on the red hot sauce. We thank New Vision Community Church for sharing their lovely cookbook, Feeding the Flock.
From Apopka Citizen Police Alumni Association's Sharing Our Finest Cookbook, Eloise Surrette's Steaks on Sticks is deliciously grilled for our summertime fun.
Oh, boy! Oven-baked potato slices in butter and seasonings. This comes from The Apopka Historical Society's Preserving the Big Potato. It was shared by Betty Bracey. Thank you, Ma'am.
Paths of Sunshine, the book of our wonderful state's produce and other products published by Florida Federation of Garden Clubs has a terrific Avocado Soup recipe. This soup can be served warm or cold.
We found a wonderful recipe for fresh spinach in New Vision Community Church's Feeding the Flock. It is Penny Hornberger's Wilted Spinach with Dilled Feta. I'm not sure how 1/8 of a teaspoon of green pepper can be accomplished, but you figure it out!
From Cooking with Foliage La Sertoma of Apopka, we have Greta Howard's Bibb Lettuce and Mandarin Orange Salad. I would venture a guess that if you don't have Mazola corn oil, you could probably get away with your usual vegetable oil.
Mrs. Izard submitted her Peach Upside-Down Cake to Charleston Receipts. Mrs. Izard says other fruits will work just as well as peaches. It looks like it will be fun to put together and bake.
SMOKY TAYLOR'S
WEST VIRGINIA CREOLE GUMBO
Recipe from Apopka Citizen Police Alumni Association's
Sharing Our Finest Cookbook
1/2 cup chopped onion
2 cloves garlic, minced
3 tablespoons butter or margarine
3 tablespoons flour
1-1/2 cup water
2 green peppers, chopped
2 bay leaves
1 teaspoon oregano, crushed
1 teaspoon thyme, crushed
1/2 teaspoon salt
1/2 teaspoon hot pepper sauce
10 ounces okra (2 cups)
2 (4-1/2 ounce) cans shrimp
7 ounce can crab, drained
Combine onion, garlic and butter in large saucepan. Cook until onion is tender. Blend in flour. Cook until flour is golden brown. Add water, peppers, bay leaves, crushed oregano, thyme, salt and hot pepper sauce. Bring to a boil. Reduce heat. Cover and simmer 20 minutes. Stir in okra. Bring to a boil, then reduce heat and simmer five minutes. Add shrimp and drained crab and cook five minutes.
JUDY PEELER'S
HOT BUFFALO WINGS
Recipe from New Vision Community Church's Feeding the Flock
24 Tyson frozen chicken wings
1/2 teaspoon salt
1/8 teaspoon pepper
2 tablespoons butter
2 tablespoons red hot sauce
1/2 teaspoon white vinegar
1 bottle bleu cheese dressing
Preheat oven to 450 degrees. Spray 15 x 11 x 1-inch foil lined baking pan with nonstick cooking spray. Arrange frozen wings in single layer on prepared pan. Sprinkle with salt and pepper. Bake uncovered for 30 to 40 minutes. Meanwhile, melt butter in small saucepan over medium heat. Add hot sauce and vinegar. Pour sauce over fully cooked wings. Serve with bleu cheese dressing.
ELOISE SURRETTE'S
STEAKS ON STICKS (Grill)
Recipe from Apopka Citizen Police Alumni Association,
Sharing Our Finest Cookbook
3-1/2 pounds boneless steak,
   cut into 1-inch cubes
1 clove garlic, cut
2 tablespoons olive oil
20 small white onions
salt and pepper to taste
Rub steak cubes with garlic and brush with olive oil. Arrange cubes on green wooden sticks or skewers, alternating each with an onion. Grill over hot bed of charcoal. Brush, if desired, with your favorite barbecue sauce.
BETTY BRACEY'S
BAKED SLICED POTATOES
Recipe from
Apopka Historical Society's
Preserving the Big Potato – A Collection of Potato Recipes
4 large baking potatoes
1/4 cup salad oil
1/2 to 1 teaspoon salt
1/4 cup butter or margarine, melted
2 cloves garlic, minced or pressed
1/2 teaspoon dried thyme leaves
Cut potatoes into 1/4 inch thick slices. Place in a buttered 13" x 9" baking dish. Mix butter and oil. Brush slices with mixture. Pour remaining butter and oil mixture over slices. Sprinkle with garlic, salt, and thyme. Bake at 400 degrees for 25 to 30 minutes or until potatoes are tender and browned at the edges. Serve immediately.
AVOCADO SOUP
Recipe from Florida Federation of Garden Clubs Inc., Paths of Sunshine
1 (13-3/4 ounce) can chicken broth
2 medium avocados, peeled,
   seeded and cut into chunks
1/2 teaspoon salt
1/4 teaspoon onion powder
1/8 teaspoon dried dillweed
3/4 cup light cream
2 tablespoons dry sherry wine
Combine all ingredients into a blender. Blend, medium speed until smooth. Serve warm or cold. Do not boil. Serves 4 to 6.
PENNY HORNBERGER'S
WILTED SPINACH WITH DILLED FETA
Recipe from New Vision Community Church's Feeding the Flock
20 ounce package fresh spinach. Baby spinach is good, too.
1/4 cup crumbled feta cheese
2 tablespoons chopped dill weed (fresh preferred)
1 tablespoon fresh lemon juice
1/8 teaspoon green pepper, chopped
1 tablespoon to 1/4 cup of water
Place water and spinach in Dutch oven or double boiler. Steam until wilted. Remove from heat. Add feta cheese, dill weed, green pepper, and lemon juice. Toss well.
GRETA HOWARD
BIBB LETTUCE AND MANDARIN
ORANGE SALAD
Recipe from Cooking with
Foliage La Sertoma of Apopka
1/3 cup sugar
1 teaspoon dry mustard
1 teaspoon salt
1/2 teaspoon paprika
1 cup Mazola corn oil
4 tablespoons vinegar
1/2 teaspoon minced dry onion
1/2 teaspoon celery seed
1 small can Mandarin oranges, drained
Bibb lettuce broken into bite-sized pieces
In a blender, mix sugar, dry mustard, salt, paprika, oil, vinegar and dry onion. When well mixed, add celery seed. Make the day before and refrigerate. Toss together with oranges and lettuce just before serving. Serves 6 to 8.
MRS. S. EDWARD IZARD JR'S
PEACH UPSIDE-DOWN CAKE
Recipe from Charleston Receipts, America's Oldest Junior League Cookbook in Print,
a Cookbook by The Junior League
of Charleston, Inc.
1/3 cup shortening
2/3 cup sugar
2/3 cup milk
1 teaspoon vanilla
1/4 teaspoon almond flavoring
2 eggs
2 teaspoons baking powder
1-2/3 cups flour
1/8 teaspoon salt
Cream shortening and sugar. Add remaining ingredients and beat well. Pour over peach mixture.
PEACH MIXTURE:
1/3 cup butter
1 cup light brown sugar
1-1/2 cups sliced peaches
Place butter and sugar in a sheet cake pan and heat slowly, stirring constantly until well browned. Add peaches. Cover with cake batter; bake 45 minutes at 350 degrees.
Turn cake out, peach side up. Serve hot or cold with whipped cream. Other fruits besides peaches can be used.  Serves 6.