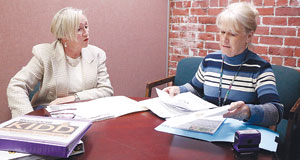 Qualifying for the March 2018 city of Apopka election continues through noon on Tuesday, January 9, with seven candidates having qualified for three seats as of press time on Thursday, January 5. The election is scheduled for March 13.
Three positions on the City Council are up for election with the mayor's race highlighting the ballot.
First-term incumbent Mayor Joe Kilsheimer is facing opposition from challenger Bryan Nelson, who is the sitting Orange County commissioner from District 2. Both have filed their qualification papers.
The Seat 1 incumbent is Commissioner Billie Dean, who is not seeking re-election. Suzanne Kidd and Alexander Smith have qualified to run for the seat, while Theresa Mott and Gene Knight have said they are planning to run, but had not qualified prior to press time.
Seat 2 incumbent Commissioner Diane Velazquez, who is in her first term, is running for re-election. Leroy Bell and Alice Nolan have officially filed papers to run while Alicia Koutsoulieris has announced her intention to run, but had not qualified by press time.
The qualifying fee for the mayor's position is $6,000, while for the City Council seats, it is $540.
Those who wish to register to vote in the city election may do so until February 12 at 5 p.m.
If a runoff is necessary, it will be held April 10.
A new feature in the election will see city voters divided into two precincts for the first time in Apopka's history.
The City Council approved the use of two precincts at a meeting in October and in December gave the OK for the map that will delineate where each voter must cast his or her ballot.
One of the precincts will remain at the Apopka Community Center/VFW at 519 S. Central Ave., where city elections have been held for several years. The new precinct will be at the conference room at the Northwest Recreation Complex offices at 3710 Jason Dwelley Parkway.
The map divides the city into basic north and south precincts with all of the new precinct – No. 9204 – north of U.S. Highway 441 and most of traditional precinct No. 9104 south of U.S. 441, although parts of downtown Apopka and all of Errol Estate are in that precinct, as well.
Voters in the new precinct will receive new information cards detailing where they are to vote in the city election.
All Apopka voters will receive a sample ballot prior to the election. It will list the candidates for the three positions that are up for election, including the mayor's job and two City Council seats.
This article also appears on page 1A of the Friday, January 5, issue of The Apopka Chief.