Grandparents are such wonderful folks.
We all have them, or at least back in our earlier days we did, starting our lives out with grandmas and grandpas.
Like our parents, our grandparents also helped us get through our early lives, starting with the first time they talked us at toddlers' age into daring to try our first learning-to-walk steps toward them.
For all that effort and daring, we earned from those older folks in our families lots of wonderful big hugs and praise celebrating that successfully accomplished feat.
At whatever our age is where we are now, however many decades it has been since those hugs, we still love and care about and treasure those grandparents more than words can convey.
Whether still present here with us and participating in our current lives or by now passed on to their eternal rewards, they will always stay still so very vibrantly alive in our memory and in our hearts.
All of the reasons above explain why our grandparents are among our life's top treasures, living forever in our mind's eye and in our memories even when they are no longer physically with us. That is why in just three weeks and two days after our celebration of Senior Citizens Day, according to our calendars, we will be celebrating National Grandparents Day on September 13!
Let's make the most of this National Grandparents Day by sharing and celebrating that grand occasion with our grandparents, if we can.
If they are no longer present in our lives, we can celebrate and honor their memory.
To every grandparent reading this, do enjoy this special annual National Grandparents Day on Sunday, September 13!
If you happen to be a grandparent who greatly loves cooking, you might even want to be the one in your family to plan and prepare a special Grandparents Day meal at your house for all of your family.
If so, you can find here in this week's Kitchen Kapers some ideas for that project and perhaps will find here some recipes you especially like and might want to cook for any family members and/or other guests who might come visiting you on Grandparents Day or maybe who you might have especially invited for that occasion.
If you've already enjoyed quite enough decades of cooking adventures by now and would most appreciate not being another day's cook, but for a nice change would like being just a totally deserving guest of honor enjoying your grown grandkids' or other much younger family members' company and their fine cooking on this celebrative National Grandparents Day, underline and circle this paragraph in red ink for them to accidentally find!
Then place this column where all your family cannot possibly miss seeing your circled paragraph in plenty of time before National Grandparents Day!
Make sure the pen used to do this crucial circling makes its mark in very brilliant bright red no one can miss seeing it. Then draw a big red star beside this paragraph, just to be extra sure your message really is sent, received and understood.
Happy Grandparents Day to all of you grandmothers and grandfathers who are reading this week's Kitchen Kapers! Celebrate and immensely enjoy your big day!
You might want to start out your Grandparents Day by enjoying the first recipe here for your breakfast and then follow up with the other recipes here later in that special day and evening.
NANCY BOMM'S 
HOLIDAY MORNING 
FRENCH TOAST
Recipe from 
St. Francis of Assisi Church
1 cup brown sugar
1/2 cup butter, melted
3 teaspoons cinnamon, divided
3 tart apples (such as Granny Smith apples), peeled, cored and thinly sliced
1/2 cup dried cranberries or raisins
1 loaf Italian or French bread cut into one-inch slices
6 large eggs
1-1/2 cups milk
1 teaspoon vanilla
In a 13- by 9-inch baking dish, combine the cup of brown sugar, the one-half cup of melted butter and the one teaspoon of cinnamon.
Add the thinly sliced apples and the dried cranberries or raisins, tossing them well in the cinnamon, brown sugar and butter mixture and coating them well.
Spread the mixture of coated apples and dried cranberries or raisins over the bottom of a baking dish. Arrange the one-inch slices of bread on top.
Mix eggs, milk, vanilla and two teaspoons of cinnamon until well blended. Pour mixture over bread, soaking the bread completely. Cover and refrigerate four to 24 hours. Bake covered with aluminum foil in a preheated 375-degree oven for 40 minutes.
Uncover and bake for five more minutes. Remove from oven and let stand for five minutes. Serve warm, Recipe serves 12 people.
DEBBIE MILLS' 
APPLESAUCE MUFFINS
Recipe from 
Episcopal Church of the Holy 
Spirit's Let's See What's Cookin'
1-3/4 cups unsifted flour
1/4 cup sugar
4 teaspoons baking powder
1/2 teaspoon salt
3/4 teaspoon cinnamon
1/4 teaspoon ginger
3/4 cup applesauce
1 egg, beaten
1/2 cup milk
1/3 cup shortening
Preheat oven to 400 degrees. Grease muffin tins. Thoroughly mix flour, sugar, baking powder, salt and spices. Mix remaining ingredients. Add applesauce mixture to dry ingredients, stirring until dry ingredients are barely moistened. Do not over mix. Batter should be lumpy. Fill muffin tins 2/3 full. Bake for 20-25 minutes or until lightly browned. Serve hot. Recipe makes one dozen large muffins.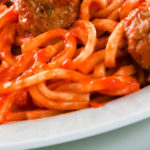 DAN CARDILLO'S MEATBALLS AND SPAGHETTI SAUCE
Recipe from Favorite Recipes of Sweetwater Oaks
Meatballs:
1 pound ground sirloin
1/2 cup Progresso bread crumbs
1/2 cup Parmesan cheese, grated 
1 egg
Garlic powder (amount to your liking)
1 shot glass of parsley or basil or both if you wish, finely chopped
Combine all of the above ingredients thoroughly and form meatballs. Fry the meatballs in corn oil until golden brown.
SAUCE FOR DON CARDILLO'S MEATBALLS:
1 (28-ounce) can tomato puree 
1 (12-ounce) can tomato paste
1 can of water added to sauce from both soup cans
To the above, add the meatballs and a whole onion (whole). Add garlic powder, pinch of oregano and pinch of garlic. Simmer for three hours. (The above is for each pound of pasta.)
CHOCOLATE NUGGETS
Recipe from Kathy Gucchia's
Chocolates From A To Umm
4 eggs
1 teaspoon vanilla
2 cups sugar
1 cup milk
1 cup cocoa
4-1/2 or 5 cups of flour
1/2 teaspoon salt
3/4 cup cooking oil
2 teaspoons baking powder
2 cups chopped nuts
1 (12-ounce) package chocolate chips
In large bowl, mix together all ingredients and roll the mixture into one-inch balls. (First put a little oil on your hands so the dough will not stick to your hands,)
Bake the chocolate nugget balls at 400 degrees for 10 minutes. Cool and frost the chocolate nuggets with your favorite chocolate frosting.