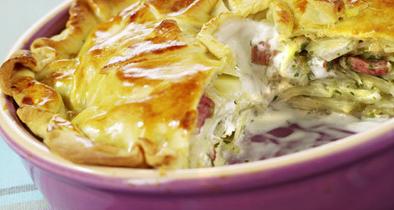 We have a "Family Favorite" from 2009 edition of Southern Living's All-Time Favorites. It is called Cornflake-Coated Pork Chops.
From Feeding the Flock, Marylin Martin's Baked Chicken Mary Jane calls for six chicken breasts, herb-seasoned stuffing crumbs, and sour cream along with other ingredients.
Ham and Broccoli Skillet Supper looks as if it is pretty simple. Open a package of au gratin potatoes, chop up some fresh broccoli (or frozen), dice up some cooked ham and onions, and add a few other ingredients, and you have a delicious meal that serves six.
How about Potato Pie that looks absolutely decadent? Allison Chase contributed her recipe to Feeding the Flock, and we have it for you right here.
Susie Sams' Mexican Black Bean Salad, is one of the recipes we have from a Taste of Heaven, from our friends over at First Presbyterian Church of Punta Gorda.
In Savannah Style, we found a recipe for Lemon Muffins that looks not too difficult. It yields 2 dozen muffins.
Mississippi Mud Cake. Ummm, ummm. We have Southern Living's recipe for this renowned delicacy from Southern Living All-Time Favorites. The picture looks wonderful. Its cutline says, "The women of Huffman United Methodist Church in Birmingham, Alabama, used this recipe for the church's 125th anniversary celebration. Of the 100 cakes made, none were left over."
CORNFLAKE-
COATED PORK CHOPS
Recipe from Southern Living
All-Time Favorites
2 large eggs, lightly beaten
2 tablespoons milk
5 cups cornflake cereal, crushed    (about 2 cups crushed)
6 boneless pork chops
   (about 3/4-inch thick)
2 teaspoons lemon pepper
1 teaspoon salt
1 teaspoon salt
1 teaspoon garlic powder
1 large lemon, halved
Garnish: halved lemon slices
Stir together eggs and milk in a shallow dish. Place cornflake crumbs in a shallow dish. Sprinkle pork evenly with lemon pepper, salt, and garlic powder. Dip pork chops in egg mixture, and dredge in cornflake crumbs. Place chops on a lightly greased rack on a baking sheet.
Bake at 350 degrees for 30 to 35 minutes or until done. Squeeze lemon juice evenly over chops, and garnish, if desired. Makes 6 servings.
Add potatoes and carrots and cook until vegetables are done, about 45 minutes. Feeds six cowboys or eight city slickers.
MARYLIN MARTIN'S
BAKED CHICKEN MARY JANE
Recipe from FEEDING THE FLOCK
NEW VISION COMMUNITY CHURCH
1 cup sour cream
2 teaspoons soy sauce
1/2 teaspoon garlic sauce
1 teaspoon celery salt
1 teaspoon paprika
Dash of pepper
6 chicken breasts, skinless
   and boneless
1 small package herb-seasoned    stuffing crumbs
Melted butter
Mix first six ingredients together. Dip chicken in mixture and roll in crumbs (be generous with the sour cream mixture). Arrange in slightly greased baking dish. Drizzle with butter. Bake uncovered at 35 degrees for one hour.
NANCY BAUM'S
HAM AND BROCCOLI
SKILLET SUPPER
Recipe from FEEDING THE FLOCK
NEW VISION COMMUNITY CHURCH
3-1/2 cups water
1 package French's Tangy
   Au Gratin Potatoes
2 cups chopped fresh broccoli
   OR 9 oz package frozen cut
   broccoli, thawed
1/4 cup chopped onion
1/4 cup butter
1 cup diced cooked ham
1/2 cup milk
5 eggs
In a medium skillet, bring water to a boil. Add potato slices. Reduce heat; cover and simmer for 10 minutes. Add broccoli; cover and cook 5 minutes. Drain. Stir in onion and butter. Saute 5 minutes, stirring occasionally.
Stir in ham. In a small bowl, combine contents of seasoning mix envelope and milk; stir until smooth. Add eggs and mix well. Pour evenly over potato mixture in skillet. Cover and cook ovr low heat 20 to 30 minutes or until eggs are set. Serves 6.
ALLISON CHASE'S
POTATO PIE
FEEDING THE FLOCK
NEW VISION COMMUNITY CHURCH
3 large baking potatoes, peeled and    thinly sliced
1 prepared 9-inch pie crust
3/4 cup grated Swiss, Gruyere, Cheddar, or Parmesan cheese
1 large egg
1-1/2 cup low-fat milk
1 tablespoon chopped fresh thyme    or basil (1 teaspoon dried)
Salt and ground pepper to taste
Preheat oven to 350 degrees. Layer potatoes in crust, sprinkling with cheese between layers. In a bowl, mix egg, milk, thyme, salt and pepper. Pour egg mixture over the potatoes and cheese and bake 45-60 minutes or until potatoes are tender and golden brown. Yield: 4-6 servings.
SUSIE SAMS'
MEXICAN BLACK BEAN SALAD
Recipe from First Presbyterian Church, Punta Gorda, Florida
A Taste of Heaven
1 (8-ounce) carton sour cream
1/4 cup chopped fresh cilantro
1 tablespoon taco seasoning
1 large head green leaf lettuce,
   torn (about 10 cups)
2 cups (8-ounces) shredded
   cheddar cheese
1/2 cup chopped purple onion
2 (15-ounce) cans black beans,      drained
2 large tomatoes, chopped
Corn chips, crushed
Combine sour cream, cilantro, and taco seasoning in a large bowl, stirring well. Add lettuce, then cheese, onion, black beans, and chopped tomatoes. Toss well. Sprinkle with crushed corn chips and serve immediately. Yield: 6 servings.
LEMON MUFFINS
Recipe from Savannah Style, a Cookbook by The
Junior League of Savannah, Inc.
1 cup butter
1 cup sugar
4 eggs, separated
1/2 teaspoon lemon extract
2 cups flour
2 teaspoons baking powder
1 teaspoon salt
1/2 cup lemon juice
2 teaspoons lemon peel, grated
Cream butter and sugar until smooth. Beat egg yolks and add to buttr/sugar mixture; beat until light and fluffy. Add lemon extract. Sift dry ingredients and add alternately with lemon juice, mixing thoroughly after each addition. Fold in stiffly beaten egg whites and lemon peel. Blend thoroughly. Fill buttered muffin tins 3/4 full and bake at 375 degrees Fahrenheit for 20 minutes.
MISSISSIPPI MUD CAKE
Recipe from Southern Living
All-Time Favorites
1 cup butter, melted
2 cups sugar
1/2 cup unsweetened cocoa
4 large eggs, lightly beaten
1 teaspoon vanilla extract
1/8 teaspoon salt
1-1/2 cups all-purpose flour
1-1/2 cups coarsely chopped
   pecans, toasted
1 (10.5 ounce) bag miniature        marshmallows
Chocolate Frosting
Whisk together melted butter and next 5 ingredients in a large bowl. Stir in flour and chopped pecans. Pour batter into a greased and floured 15- x 10-inch jelly-roll pan.
Bake at 350 degrees for 20-25 minutes or until a wooden pick inserted into center comes out clean. Remove from oven; top warm cake evenly with marshmallows. Return to oven, and bake 5 more minutes.
Drizzle Chocolate Frosting (below) over warm cake. Cool completely. Makes 15 servings.
Note: Substitute 2 (19.5-ounce) packages brownie mix, prepared according to package directions, for first 7 ingredients, if desired. Stir in chopped pecans. Bake at 350 degrees for 30 minutes. Proceed with marshmallows and frosting as directed.
CHOCOLATE FROSTING
Recipe from Southern Living
All-Time Favorites
1 (16-ounce) package powdered    sugar
1/2 cup milk
1/4 cup butter, softened
1/3 cup unsweetened cocoa
Beat all ingredients at medium speed with an electric mixer until smooth.
Makes 2 cups.