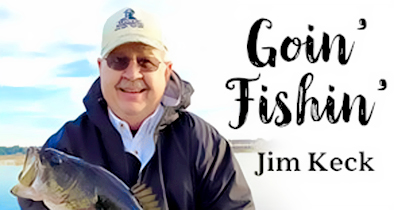 Hello Folks,
It's a little late but I want to remind everyone that this week was National Safe Boating Week, which was May 21-27. The reason I wanted to mention it is because this weekend is Memorial Day weekend and there are gonna be a lot of boats on the water. Fishin' and recreational boaters will be on all the waterways. Please make sure you practice safe boating while you are on the water this weekend. Thanks.
The fishin' has been really good in our area if you want to go bass fishin'. Kyle at Bitter's Bait and Tackle reports that the bass are bitin'. The Extreme Bass Series held its tournament last weekend on the Kissimmee Chain. The anglers launched from Lake Toho in downtown Kissimmee. The winnin' team of Jeremy Smith and Jim Folks weighed in five bass that hit the scales at a total of 38.48 lbs. They also had a big bass for the day that weighed in at 9.40 lbs. Folks, that's a 7 lb. average for five bass. I would have to say the bass fishin' on West Lake Toho is doin' pretty doggone good right now.
The bass fishin' in Lake Okeechobee is doin' pretty good as well. The Central Florida Bass Hunters held their classic down there last weekend as well. The two-day event was won by Austin Funk and Josh Wolfe whose two-day total was 40.02 lbs. Congrats, guys, on a job well done. The big bass of the tournament was caught by our own Danny Mosley. The bass weighed in at 8.42 lbs. If you go by Bitter's Bait and Tackle, say hello to Big Bass Danny.
Kyle reports that folks are catchin' a few bluegills and shellcrackers in Lake Monroe and Lake Jesup. Folks are catchin' a few bluegills and shellcrackers in the St. Johns River in the pads, too. Red wigglers and wigglers, grass-shrimp and crickets have been the preferred bait for the panfish.
The bass fishin' on the Butler Chain has been good for numbers of bass. You can go out there and catch 10 to 20 bass per trip. There is always the chance to catch a good one but lately most of the bass bein' caught are in the 1-pound to 2-pound range. Folks are catchin' 'em on plastic worms, jigs, and top-water baits early in the mornin'. Once the sun gets up, you will have to move to some deeper water around the submerged hydrilla and eel-grass in the chain.
The bass fishin' on the Harris Chain has been good, too. Major League Fishing held a Toyota Series tournament there last week. There were 188 boats in the tournament. Congrats to Jonathan Semento of Okahumpka on his win. The three-day weight for Jon was 60.1 lbs. Jon took home $80,500 for his win, which included a $35,000 Phoenix bonus. The biggest bass of the tournament was caught by Jon Mickler which weighed in at 9.05 lbs. Jon's big bass won him $500.
Well, that's it for this week. I hope everyone has a great Memorial Day weekend. Please remember all those men and women this weekend who gave the ultimate sacrifice while serving the United States in the Armed Forces. See ya next week. 
Tip of the week: safe boating.
Save a few and good luck!