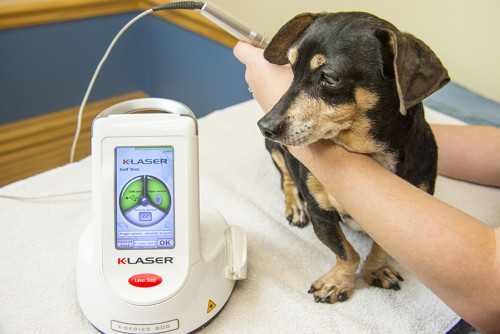 Park Avenue Animal Hospital's knowledgeable doctors and caring staff have been proudly serving the Apopka community since August 2008.
Dr. John Turgai, Dr. Rick Rubinstein, and Dr. Brianne Nelson combine many years of veterinary experience, staying ahead of the curve while providing the gentle bedside manner that clients expect and pets deserve. Together, they are dedicated to providing only the highest quality service to Apopka's pets, no matter the species.
One of the newest treatments that Park Avenue Animal Hospital provides is K-Laser Class IV Therapeutic Laser treatment for advanced pain relief and enhanced tissue repair. Multiple studies have shown that laser therapy can help relieve pain, reduce swelling and inflammation, increase range of motion, and ease the healing process for many types of acute and chronic injuries and ailments. The process is safe and easy, and has worked wonders for many of their pets.
Laser therapy works by stimulating production of cellular energy in damaged cells. It also enhances cell membrane permeability (the ability for cell membranes to transfer molecules, which enhances the exchange of nutrients and wastes across the cell membrane), making the cells work more efficiently. This promotes the speed and the quality of healing, and improves elasticity of injured tissues.
Laser therapy also modulates pain and reduces inflammation. It can be used immediately on acute injuries, over broken skin, and over metal implants. Laser therapy can also help with the resolution of chronic complaints such as arthritis and other orthopedic ailments.
The K-Laser is an effective complimentary treatment for many conditions. Post-operatively, laser therapy can be used to reduce pain at the incision site and can promote regeneration of damaged tissue, leading to a faster, more comfortable recovery. Hot spots, abscesses, and other acute skin anomalies heal faster and with less discomfort after incorporating laser therapy into normal treatment protocols. Muscle pulls, broken bones, and nerve damage all see significant improvement after laser therapy, too.  
The K-Laser is a low-level laser therapy tool that uses specific wavelengths of light to create a therapeutic effect. Laser therapy does not require any sedation or anesthesia, and it can be used in conjunction with other methods of treatment. It is not a surgical tool, and does not cut, burn, or otherwise cause damage to tissue in any way. Patients experience a gentle, warming sensation where the laser is used, and healing begins right away.
Treatment is cumulative; while most patients see at least some improvement after just one treatment, multiple treatments will maximize a patient's capacity for healing. The number of treatments is determined by the ailment itself, the chronicity (length of time it's been there), and the patient's individual response to therapy. Treatments generally last only 5-10 minutes, though each case may vary.
Park Avenue Animal Hospital, located at 847 N. Park Avenue in Apopka, will offer laser therapy as an additional method of pain control for most surgical cases, as well as laser therapy packages for outpatient treatments. The doctors and staff are excited to be able to offer this service to their clients and look forward to giving pet owners another option for giving their pets the most comfort possible.
For more information on laser therapy and how it can help your pet, contact Park Avenue Animal Hospital at 407-880-9446 or visit their website at www.ParkAvenueVets.com.
Advertisement