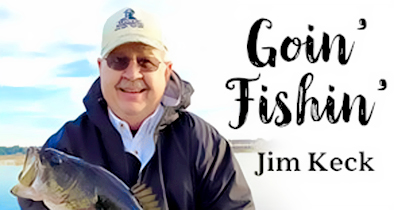 Hello Folks,
Well, we are back in town and glad to be home to some nice warm weather. My wife Shirley and I had a great trip to the mountains of Tennessee. The folks up there are still wearing jackets and it's in the low 60s at night. It was just beautiful with lots of turkeys and deer runnin' over my brother's farm.
When we got back, I noticed lots of folks are still catchin' panfish and bass. Kyle at Bitters Bait and Tackle reports that folks are catchin' plenty of panfish in most the lakes and chains in Central Florida. Lake Jesup and Lake Monroe have been good lakes to fish, along with the St. Johns River. The bluegills and shellcrackers are on the beds and you can catch a limit in no time. We had a new moon this week and a full moon comin' up at the end of the month. All you need is some red worms or crickets and you are good to go.
One section of the St. Johns River from Lake Jesup to Puzzle Lake has been really good for panfish. Most of those panfish are bein' caught in the pads. The Harris Chain and John's Lake have been producin' some nice stringers of panfish as well.
Kyle reports that the bass fishin' has been good as well. Folks are catchin' bass in most of the chains and in the local lakes as well.
John's Lake and the Maitland Chain have been good for catchin' some bass. Folks are usin' slow-sinkin Senko-type baits and speed worms. Watermelon Red Flake and Junebug have been the best colors to use.
Mark at Big Toho Bait and Tackle reports that folks are catchin' some nice bass on Lake Toho. Most of the guides are catchin' 15 to 20 bass per trip on shiners. You can also catch some nice bass along the edge of the hydrilla beds throughout the lake with speed worms, and 10 in. ribbon tail worms. Mark also reports that folks are catchin' plenty of panfish on a big shell-bed located just off the grass out from Red's Fish Camp. Most of the bluegills are bein' caught on red worms and crickets. So, if you have been waitin' for the bluegills to bite, they are doin' just that. Get the family and go fishin'.
There are only three weeks left in the inaugural Hooked on Lake Apopka Fish Tag Challenge. To date, only 24 tagged fish have been reported, and that leaves 476 fish to be caught. You can win prizes and gift cards if you are entered in the contest.
Make sure you register and it's free in case you catch a tagged fish. You need to turn the tag in of the fish you caught. The tagged fish include bass, bluegills, specks, also known as crappie. Please report your tagged fish and return the tag so you can be included in the list of eligible prize recipients. The challenge ends on May 31.
After the contest is over, Friends of Lake Apopka will be hostin' an awards ceremony on June 19 at 10 a.m. The ceremony will be held at Newton Park in Winter Garden.
I had a reader contact me about places to fish if you don't have a boat. I'm happy to announce that FWC has launched the new Florida Fishing Pier Finder on their website. You can visit MyFWC.com/PierFinder, and search Florida for piers and bridges that you can fish from by, either by county, city, or by the type of feature such as bridge or pier. So, the next time you want to go fishin' and you don't have a boat, check out this website.
See ya next week. 
Tip of the week: bluegills are bitin'
Save a few and good luck!