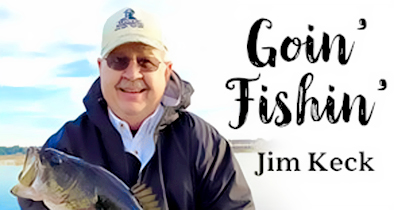 Hello Folks,
Wow, ain't this weather great. I don't know about you but I'm enjoyin' this great weather we are havin' right now. In the morning, it's cool, and the daily highs in the low 80s is great. It makes you want to get the family together and go fishin'.
If you do decide to go fishin', the specks are really startin' to bite. Kyle at Bitter's Bait and Tackle reports that the folks in his area are catchin' lots of specks. Some folks are catchin' their limit. The best areas to fish have been Lake Jesup, Lake Monroe, Lake Woodruff, and the St. Johns River. You can catch a few specks in shallow water but most of the specks are bein' caught in deeper water.
The State Road 417 bridge has a lot of specks under it right now. Kyle reports the specks are bein' caught on a variety of baits. You can catch 'em on minners, jigs, jigs tipped with a minner, and grass shrimp. You will have to dip your own grass shrimp due to the fact that no one sells them. You are allowed to catch 25 specks per person each day. You can have a two-day bag limit per each licensed angler. So, if you have been waitin' for the specks to start bitin', this weekend or the early part of next week, it might be a good time to go speck fishin'.
We had a new moon this week on Thursday so the fishin' should be really good over the next couple of days, dependin' on the weather. The bass fishin' is really good in some areas and a little slow in other areas. The bass fishin' has been really good in the Butler Chain. You can catch 30 to 40 bass per trip. Folks are catchin' 'em on top-water baits early in the mornin' then switchin' to plastic worms and Senko-type baits later in the day.
I'm gettin' some reports that a few schoolers are startin' to show up as well. Make sure you have a lipless crank-bait tied on to one of your rods in case they start schoolin' up around the boat. You want to be ready because they usually don't feed on the baitfish very long. The bass fishin' has slowed down a little on the Harris Chain this past week. You can still catch a few but the bite is a little slow.
The FWC is lookin' for input from anglers who fish the Harris Chain, the Kissimmee Chain, and Lake Okeechobee. The FWC will be lookin' for input on lake management plans of the systems on fish, wildlife, and habitats. These meetin's will include, but are not limited to, habitat protection, restoration and enhancement, fish management, and invasive plant management.
The Harris Chain meeting will be held on Tuesday November 9, from 6-8 p.m. at the Tavares Civic Center, 100 E. Caroline St., Tavares. The Kissimmee Chain of Lakes meetin' will be held on Wednesday November 10, from 6-8 p.m. That meetin' will be held at the John Boy auditorium, 201 E. Dakin Ave., Kissimmee. So, here is your chance to provide your input to the folk who take care of our lakes.
Well, I hope you get a chance to do some fishin' this week. I'll see ya next week.
Tip of the week: new moon.
Save a few and good luck!