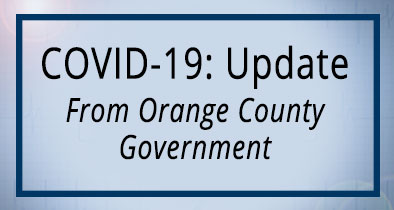 With some exceptions, people who are in Orange County for any reason must wear a face covering in a public setting since there has been a triple-digit spike in COVID-19 cases within 10 days' time.
Orange County Mayor Jerry L. Demings signed an executive order on Thursday, June 18, which will take effect on Saturday, June 20, at midnight and will stay in effect indefinitely. 
The executive order requires every person working, living, visiting or doing business in Orange County to don a face covering consistent with guidelines from the Centers for Disease Control and Prevention while in any public place.
Hospitals haven't exceeded capacity, but they're seeing slight increases in number of emergency room visits and patients being admitted into various hospitals related to testing positive for COVID-19, Demings said.
"It's concerning to me," he continued. "A few days ago I said to you we're going to monitor this. We were very optimistic that even if we have increased testing within our community, we would continue to see the numbers remain low. That is not the case."
Demings consulted with other local municipal leaders as well as health care experts before making this decision.
According to the executive order, the exceptions are the following:
Children under the age of two years old
People for whom a face covering would cause impairment due to an existing health condition
People who work in a profession who do not have any face-to-face interactions with the public
People working in a profession where use of a face covering will not be compatible with the duties of the profession
People who are exercising while observing social distancing in accordance with the CDC guidelines
Demings signed the executive order acting as the director of emergency management. 
COVID-19 statistics on June 18
Over the past 14 days, the county has had 1,586 confirmed positive COVID-19 cases, as of the afternoon of the June 18 Orange County news conference about the coronavirus. In addition, 316 new confirmed COVID-19 cases were reported Tuesday, June 17.
Since March 2020, Orange County has had 383 hospitalizations, accounting for 10 percent of all cases. In total, there have been 48 resident deaths.
More than 100,000 individuals have been tested in Orange County. The county's positivity rate continues to climb – it is now at 3.8 percent.
The Florida Department of Health in Orange County reported that they had a 10 percent positivity rate for June 17. The day prior to that, it was 11.8 percent. For recent positive cases in the last two weeks, the median age is now 29.
DOH-Orange is tracking various businesses, including bars and restaurants as well as areas near UCF that have a high number of COVID-19 cases.