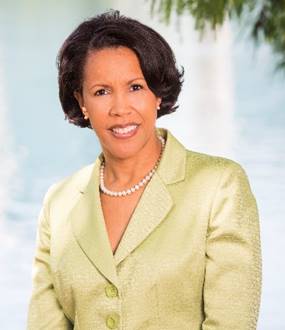 Orange County Public Schools (OCPS) Superintendent Dr. Barbara Jenkins is among the school district superintendents and administrators from across the nation who will be honored at an education awards gala on Thursday, April 27, in Washington, D.C.
The Association of Latino Administrators and Superintendents (ALAS) has bestowed Jenkins with the title of this year's Hispanic-Serving School District Superintendent of the Year.
Numerous education professionals, congressional representatives, and business leaders will attend the event at the Mexican Cultural Institute to celebrate best practices in public education, particularly in serving Hispanic populations.
ALAS state affiliate members nominated superintendents and administrators whose work exemplifies the best in the field.
The gala and awards ceremony will be held following a day-long Legislative Assembly. The Legislative Assembly brings together leaders in education and policy to discuss innovative solutions to the challenges facing school districts and the students they serve. Participants will also visit Capitol Hill to discuss with congressional representatives and key policymakers issues affecting their districts.
This year, the Assembly intends to place special emphasis on preserving Department of Education funding, specifically programs related to teacher training and after-school programs, as well as continuing the Deferred Action for Childhood Arrival (DACA) policy, which allows some immigrants who entered the country as minors to have deportation action deferred.
The Legislative Assembly is part of a larger initiative designed to bring a collective voice to national education issues, particularly those that impact Latino students and educators. While the high school drop-out rate of Hispanics has fallen, it still surpasses that of white, black and Asian students. About one-third of the U.S. Latino population is under the age of 18, making a focus on their educational attainment a priority for ALAS.
"This is a critical time for education, and we laud those who are on the front lines working side by side with our Latino students to help them be successful," said Dr. Nancy Lewin, ALAS executive director. "These leaders inspire me and our colleagues every day in their dedication to advance our mission – better educational opportunities for Hispanic youth."