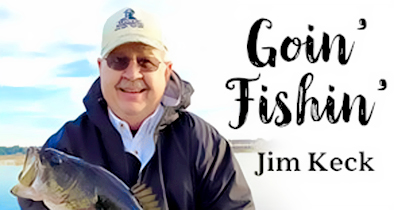 Hello Folks,
We are in February and we are lookin' for some great fishin' over the next two months. This is probably the best two months to catch your personal best bass in Florida.
BassMaster held two tournaments last week on the Harris Chain and a lot of bass were caught. Congrats to Caden Branch and Connor Beach of Liberty County High School on winnin' the tournament. They weighed in five bass that went 23 lbs. 3 oz.
Then, right after that, Bassmaster held its College Series on January 26-27 on the Harris Chain. Congrats to the college team of Blake Bullock and John Mark Berry of Blue Mountain Christian University in Mississippi. They led after the first day with five bass hittin' the scales at 29 lbs. 11 oz. They weighed in 17 lb.11oz. the second day of competition. They caught their bass in Lake Dora around a shell-bed with some coontail grass mixed in on their spot. They said they fished an area that was only 30 yards wide. They caught most of their bass on Z-Man chatter-bait Jack-Hammer. The best color was a golden shiner. They also fished with a Zoom Texas-rigged Speed Worm. Their best color for catchin' those bass was Junebug red flake.
Also, there was double digit bass weighed in durin' the tournament. The biggest bass of the tournament was caught by the team of Anderson Jones and Max Muzones of Lander University of Greenwood, S.C. Their big bass weighed in at 11 lbs. 5 oz. There was another 11 lb.–4 oz. bass caught and two bass over 10 pounds each caught durin' the tournament. I would have to say the bass are bitin' on the Harris Chain.
The MLF Toyota Series will be holdin' their tournament this week through today, Friday, February 3. Weigh-ins will be at 3 p.m. each day, at Venetian Gardens, Ski Beach.
Kyle at Bitter's Bait and Tackle reports that the speck fishin' has slowed down a little this past week. We have a full moon this weekend on Sunday, February 5, so, hopefully, the specks will start bitin' better. The best lakes to fish for specks have been Lake Monroe, Lake Jesup, and Lake Harney. Most of the specks are bein' caught on minners.
The bass fishin' on West Lake Toho has slowed down a little, but some nice bass are bein' caught on shiners. Lake Kissimmee has been producin' some better stringers of bass this past week. The bass fishin' on John's Lake has been good for the past couple of weeks. Rick and I are goin' to give it a try this week and I'll give you a report on it next week.
The R.D. Keene Park ramp on the Butler Chain is still closed. I spoke to the Orange County Parks and Recreation and they confirmed it is still closed due to high water.
Well, that's it for this week. I hope you get a chance to do some fishin', really soon.
Tip of the week: full moon.
Save a few and good luck!