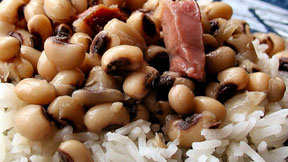 We have, courtesy of Southern Living's All-Time Favorites, Hoppin' John. This New Year's day recipe of good-luck peas and rice is a universal, traditional, favorite.
From Charleston Receipts, we have Mrs. Myers' fried oysters. Very simple and delicious.
Susan Nethercote's shrimp scampi from The Jones-Morris Family Treasury of family recipes is wonderful. All you need is a pound of raw shrimp and some butter, oil, lemon and other seasonings.
We love Teresa Ward's Buffalo wings and the dipping sauce. The recipe is found in Apopka Citizen Police Alumni Association's Sharing Our Finest Cookbook.
Gazpacho salad mold looks delicious. We found this recipe in Savannah Style and thank them for sharing.
In First Presbyterian Church of Apopka's Treasures and Pleasures, we found cornbread for 100. Try it and let us know how it comes out!
If you haven't tried Magic Cookie Bars, do! They are delicious and quite fun to make. Different versions are on different brands of condensed milk. The one we have below is from the back of the can of Baker's Corner sweetened condensed milk that we find at our local Aldi's grocery store.
PEAS, BLACKEYED
(HOPPIN' JOHN)
Recipe from Southern Living
All-Time Favorites
1 cup chopped celery
2/3 cup chopped onion
1 garlic clove, minced
1 tablespoon vegetable oil
1 (16-ounce) package frozen black-eyed peas
3/4 pound cubed cooked ham
2-1/2 cups chicken broth
1/4 teaspoon dried crushed red pepper
1 bay leaf
1 cup uncooked long-grain rice
Freshly ground pepper
Garnish: celery leaves
Cook first three ingredients in hot oil in a Dutch oven over medium-high heat, stirring constantly, until tender. Stir in peas and next four ingredients. Bring to a boil; cover, reduce heat, and simmer 30 minutes. Stir in rice; cover and cook 20 to 25 minutes or until liquid is absorbed and rice is tender. Discard bay leaf before serving. Sprinkle with freshly ground pepper. Garnish if desired.Makes 4 servings.
MRS. THOMAS E. MYERS'
(ELIZABETH NORCROSS)
FRIED OYSTERS
Recipe from Charleston Receipts, America's Oldest Junior League Cookbook in Print, a Cookbook
by The Junior League of
Charleston, Inc.
1 quart oysters
2 eggs, beaten
2 tablespoons milk
Salt and pepper
1 cup bread crumbs, cracker crumbs or corn meal
Drain oysters; mix eggs, milk, seasonings. Dip oysters in egg mixture and roll in crumbs. Fry in deep fat (375 degrees) about 2 minutes or until brown. Or fry in shallow fat about 2 minutes on one side, turn and brown on other side. Serves 6.
SUSAN NETHERCOTE'S
SHRIMP SCAMPI
Recipe from The Jones-Morris
Family Treasury
1 cup butter
1/4 cup olive oil
1 tablespoon parsley flakes
3/4 teaspoon basil
1/2 teaspoon oregano
1 clove garlic (minced or garlic powder)
3/4 teaspoon salt
1 tablespoon lemon juice
1 pound shrimp (medium is best, but any will do)
Preheat oven to 450 degrees. Melt butter, add oil, parsley, basil, oregano, garlic, salt and lemon juice. Mix.
Peel and devein shrimp. Remove tails. Split shrimp down the middle lengthwise so it will lay flat. Place in shallow pan. Pour sauce over and bake for five minutes. Then place under broiler for five minutes to brown.
Makes two servings as entrée, or more if used for appetizer.
TERESA WARD'S BUFFALO WINGS
Recipe from Apopka Citizen Police Alumni Association,
Sharing Our Finest Cookbook
5 pounds chicken wings
Crisco shortening
1 bottle Louisiana hot sauce
1/2 cup butter
2 tablespoons cornstarch
1/2 cup warm water
Melt Crisco in large skillet. When grease is popping, add wings. Fry until golden brown and crispy. While chicken is frying, make dipping sauce, as follows:
Dipping Sauce:
Melt butter in medium saucepan, then add hot sauce. Mix cornstarch and water together. The mixture needs to be soupy. When butter and hot sauce are at a boil, add cornstarch mixture, just a little at a time, stirring constantly. It will make a gravy-like mixture. You can either dip wings into the sauce mixture or dribble it over wings on plate. For hotter sauce, add more hot sauce and less butter.
GAZPACHO SALAD MOLD
Recipe from Savannah Style, a Cookbook by The Junior League of Savannah, Inc.`
3 envelopes unflavored gelatin
18 ounces canned tomato juice
1/3 cup red wine vinegar
1 teaspoon salt
Tabasco, to taste
2 medium tomatoes, peeled and diced (1-1/4 cups)
1 large cucumber, pared and diced (1-1/2 cups)
1 medium green pepper, diced (3/4 cup)
1/4 cup red onion, finely chopped
1 tablespoon chopped chives
3 large ripe avocados
Lemon juice
1/2 cup bottled oil and vinegar dressing
Watercross, for garnish
In medium saucepan, sprinkle gelatin over 3/4 cup tomato juice to soften. Place over low heat, stirring constantly until gelatin is dissolved. Remove from heat. Stir in remaining tomato juice, vinegar, salt and a few drops of Tabasco. Set in a bowl of ice, stirring occasionally, until mixture is consistency of unbeaten egg white, about 15 minutes.
Fold in tomatoes, cucumber, green pepper, onion and chives until well blended. Pour into 1-1/2 quart mold that has been rinsed in cold water. Refrigerate until firm, at least 8 hours.
To unmold, run a small spatula around edge of mold. Just before serving, peel and slice avocado. Brush with lemon juice. Arrange around salad and pour dressing over it. Garnish with watercress.
AMHERST PRESBYTERIAN CHURCH'S CORNBREAD FOR 100
Recipe from
First Presbyterian Church of
Apopka, Treasures and Pleasures
1-1/2 quarts (1 pound 14 ounces) cornmeal
1-1/2 quarts (1-1/2 pounds) sifted flour
1 cup sugar
1 tablespoon salt
4 eggs
1/3 cup baking powder
1-1/2 quarts milk
1-1/2 cups soft shortening
Sift together the dry ingredients into a mixing bowl. Add eggs, milk, and shortening, mixing at slow speed, then gradually increase speed until batter is fairly smooth. Don't overbeat. Fill greased muffin tins, each cup 2/3 full. Bake in 425-degree oven 15 minutes or until tops are slightly brown.
MAGIC COOKIE BARS
Recipe from BAKER'S CORNER SWEETENED CONDENSED MILK
1/2 cup unsalted butter, melted
1/4 cup light brown sugar, packed
2 cup graham cracker crumbs
1 cup semi-sweet chocolate chips
1 cup shredded coconut
1 cup coarsely chopped pecans
1-2/3 cup Baker's Corner Sweetened Condensed Milk
Preheat oven to 350 degrees. Place butter in 8-inch square pan, heat in oven until melted. Combine brown sugar and graham cracker crumbs in a bowl and sprinkle evenly over melted butter. In layers, add chocolate chips, coconut and pecans. Put sweetened condensed milk over top. Bake 30 minutes. Allow to cool completely before slicing.