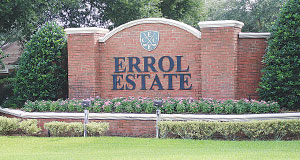 Signature H Property Group, which has submitted its plans for New Errol to the city of Apopka, will hold a series of open houses each Tuesday and Thursday as the company looks to gather support for its plans for the redevelopment of Errol Estate.
Starting July 6, Signature H will host an open house every Tuesday from 11 a.m.-1 p.m. and every Thursday from 6-8 p.m. The open houses will be held in the company's permanent offices on the second level of the Apopka Golf & Tennis at Errol Estate clubhouse.
The open houses provide residents an opportunity to view site maps and renderings and ask questions.
Signature H has stated that a primary goal was to create a plan that saves the golf course from permanent closure.
Larry Klein, long-time Errol resident and one of the owners of the golf course, stated his number one priority is to keep the course and club alive.
The plan adds amenities and repositions portions of the 27-hole golf course. The New Errol master plan for the community will be centered on the new clubhouse and lodge, a large-scale family water park, tavern-style restaurant and bar, fitness gym, salon and spa, daycare center, community event space, pavilions and greenspaces, and an outdoor recreation trail. The redefined amenity package includes the renovation of the current golf course into an 18-hole championship golf course that measures about 7,680 yards.
The New Errol project includes 264 units of mixed residential, with townhomes, cottages and larger single-family homes built in the traditional neighborhood development style. Additional land will house a new assisted living and post-acute rehab facility. The widely different residential will allow residents of the community to stay in Errol and age in familiar surroundings.
For more information regarding the open houses, contact Carol Sliman at 407-703-2902, option 2.
An extended version of this story appears on page 1A of the Friday, June 30, issue of The Apopka Chief.