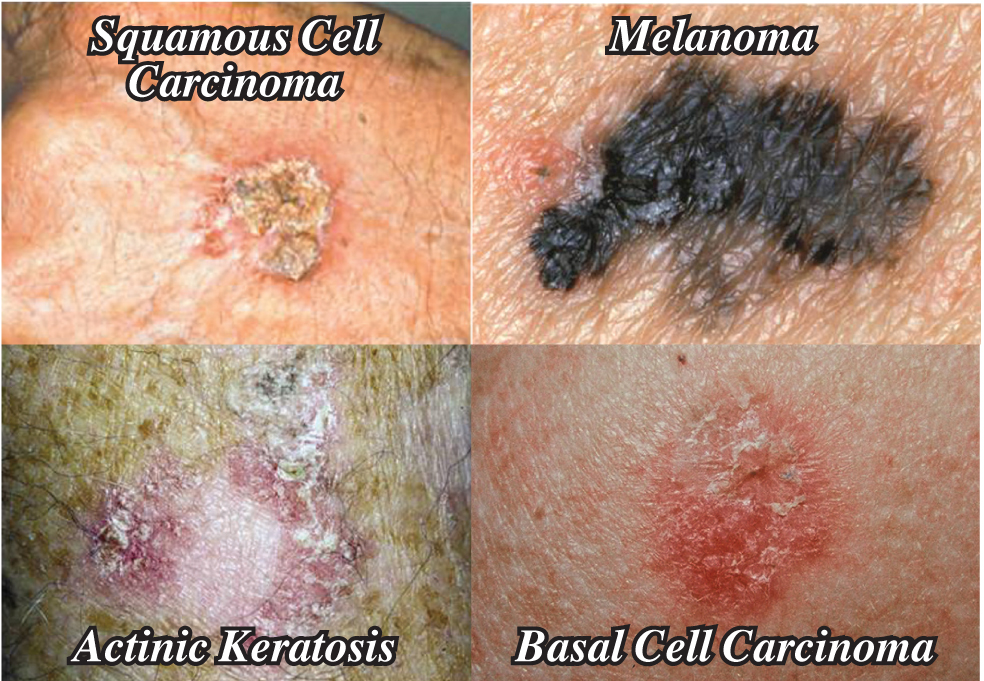 Skin cancer rates are skyrocketing in the U.S., where more than 3.5 million skin cancers are diagnosed annually, and around the world. In fact, one in five Americans is diagnosed with skin cancer at some point in their lives. It is the most common form of cancer in the U.S., with more new cases than the combined incidences of cancers of the breast, prostate, lung, and colon.
Skin cancer is a malignant condition that begins with the uncontrolled growth of abnormal cells. Recent studies show it can result as an accumulative effect from sun damage (90% in the case of non-melanoma skin cancers!). Florida's near year-round high temperatures mean everyone is at a higher risk!
What are the different types of Skin Cancer?*
• Melanoma is the most deadly of all skin cancers (It causes more than 75% of skin cancer deaths). One American dies of melanoma almost every hour.
• Basal Cell Carcinoma (BCC) is the most frequently occurring skin cancer. Though they are generally easily treated, BCCs tend to keep growing if untreated and, in rare cases, can start to spread.
• Squamous Cell Carcinoma (SCC) is the second most frequently occurring skin cancer. An estimated 65% of them arise in lesions previously diagnosed as AKs. Most are easily treated, but if not removed, some can metastasize and spread to distant tissues and organs, becoming life threatening.
• Actinic Keratoses (AKs) are pre-cancers that can turn into SCC if left untreated. They are often an early stage in the development of skin cancer.
Early detection of skin cancer is key! Cure rates are high, and recurrence rates are low for cancers that are CAUGHT AND TREATED EARLY. It is important to check for changes in size, shape, and color of pigmented areas.
The Skin Cancer foundation highly recommends an annual full-body skin exam by a dermatologist.
Associates in Dermatology is an established, growing medical and surgical dermatology practice that has served Central Florida for over 25 years. It serves patients in six counties and 15 locations.
In addition to surgical excisions of melanoma, the deadliest form of skin cancer, skin tumors, benign moles and skin lesions, Associates in Dermatology offers a number of general dermatological therapies. Common conditions treated include allergic dermatitis, psoriasis, acne, eczema, and diseases of the hair and nails.
Associates in Dermatology is under the leadership of President and Medical Director Michael Steppie, M.D., who is board-certified in dermatology and is a Mohs micrographic skin-cancer surgeon.
Dr. Steppie has a long track record of encouraging proactive skincare among Central Florida residents. After all, Floridians enjoy near year-round warm weather, which means many days at the beach, in the water, or on the golf course. And that daily exposure to both UVA and UVB rays poses a significant risk of premature aging and skin cancer, which is the most common cancer in the United States.
Associates in Dermatology is located at 531 Wekiva Commons Circle, Apopka and welcomes patients five days per week! The practice accepts most health plans so do not hesitate to contact them to schedule an appointment at 800.827 SKIN (7546). You may also visit them at www.dermorlando.com.
*Source: Skin Cancer Foundation and American Academy of Dermatology
Advertisement