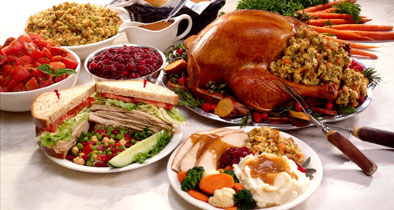 Hello, Everyone. This is our Christmas publication. We are going to have a wonderful time celebrating with our families and friends and certainly want you to do the same. Those we count in those categories are so precious to us. They are the people we love and the people on whom we can depend. As my daughter said in a recent message, "I take people for granted. I don't like to think of "what's next?" so I always pretend like we'll always be here and will always have one another. Regardless of how much time I or any of us have left, I am thankful for my family… and friends… and how much you each mean to me." So, let's be thankful for what we have and who we have in our circle. And be aware of the "reason for the season." Merry Christmas, everyone!
We found a wonderful pork roast recipe for you in Southern Living's All-Time Favorites. This can work for a small party or Christmas dinner.
Southern Living's All-Time Favorites shares their recipe for Baked Ham with us. You marinate it overnight prior to baking.
Jeanell Rogers' Perfect Roast Beef from First Presbyterian Church of Apopka's Treasures and Pleasures is always a big hit. Just choose a good roast to start with and use a meat thermometer to make sure the temperature is where you want it when it is done.
Toni LaPierre's Maryland Crab Cakes is superb for any time but especially for festive occasions. We thank New Vision Community Church for sharing their Feeding the Flock recipes with us.
Savannah Style has a recipe for an especially tasty broccoli salad; we thank them. Included is a sweet and sour sauce, bacon, and raisins. You can make it ahead thereby incorporating the flavors.
Royal Mashed Potatoes from Jean Albers is a treat fit for Royalty! The recipe is shared by the Apopka Historical Society in their publication Preserving the Big Potato. Thank you so much for sharing.
PEPPERCORN PORK ROAST
Recipe from
Southern Living All-Time Favorites
2 tablespoons olive oil
1 (4-1/2 pound) rolled boneless pork loin roast
1. Heat oil in a heavy skillet over medium-high heat. Add roast; brown on all sides. Place roast in a roasting pan, and cool slightly.
1 tablespoon mustard seeds
3 tablespoons cracked black peppercorns or multicolored peppercorns
2. Combine mustard seeds and peppercorns in a heavy-duty, zip-top plastic freezer bag; seal. Crush spices with a meat mallet or rolling pin.
2 tablespoons all-purpose flour
1 tablespoon dry mustard
2 teaspoons dried thyme
1 teaspoon brown sugar
1/4 cup butter, softened
2 tablespoons Dijon mustard
3. Combine crushed spices, 2 tablespoons flour, and next 3 ingredients; stir in 1/4 cup softened butter and 2 tablespoons Dijon mustard. Spread mixture on top and sides of roast. 4. Bake at 475 degrees for 20 minutes; reduce heat to 325 degrees. Loosely cover with aluminum foil; bake 1 hour and 10 minutes or until a meat thermometer inserted into thickest portion registers 160 degrees. Remove roast from pan, reserving 2 tablespoons drippings; keep roast warm.
2 tablespoons reserved drippings
1 tablespoon all-purpose flour
1-1/2 cups apple cider, divided
1 tablespoon cider vinegar
1 teaspoon Dijon mustard
5. Combine reserved drippings, 1 tablespoon flour, 2 tablespoons of the apple cider, 1 tablespoon cider vinegar, and 1 teaspoon Dijon mustard. Set aside this flour mixture for step 7.
3 tablespoons apple brandy
1/2 teaspoon salt
1/4 teaspoon ground black pepper
6. Bring remaining apple cider to a boil in a saucepan over medium-high heat; boil 8 minutes or until reduced to (almost half) 3/4 cup. Stir in brandy; boil 1 minute. 7. Whisk in flour mixture, salt, and pepper; cook over medium-high heat until thickened. Serve with roast. Makes 10 servings.
MARINATED BAKED HAM
Recipe from
Southern Living All-Time Favorites
1 (7 to 8-pound) fully cooked ham half
2 cups orange juice
2 cups ginger ale
1/3 cup firmly packed brown sugar
1/4 cup orange marmalade
1 teaspoon dry mustard
1. Place first 3 ingredients in a large plastic zip-top freezer bag. Seal bag; marinate in refrigerator 8 hours, turning bag occasionally. 2. Remove ham from marinade, reserving marinade. Place ham, fat side up, in a shallow roasting pan lined with heavy-duty aluminum foil. Bake uncovered, at 325 degrees for 1-1/2 hours, basting often with marinade. 3. Remove ham from oven; reduce oven temperature to 300 degrees. Slice skin from ham; score fat in a diamond design. Combine brown sugar, marmalade, and mustard; spread over scored fat. Bake ham, uncovered 30 more minutes. Let stand 10 minutes before carving. Makes 16 servings.
JEANELL ROGERS'
PERFECT ROAST BEEF
Recipe from 1990 Presbyterian Women First Presbyterian
Church of Apopka,
Treasures and Pleasures cookbook
If the roast chosen is good, well marbled with fat, and is from one of the choice cuts, the less you do to it, the better it will taste. Allow the meat to arrive at room temperature. Wipe and rub well with salt and pepper. Place the roast fat side up in an open pan without water. If roast needs fat, fasten extra suet over top with string or skewers. Place the meat in hot oven 500 degrees for 20 minutes to sear. Do NOT open oven door. Reduce heat to 300 degrees and roast for 16 minutes per pound for rare beef or 22 minutes per pound for well-done beef. Should you use a meat thermometer, it will read 180 degrees for a well-done roast.
TONI LAPIERRE'S MARYLAND CRAB CAKES
Recipe from Feeding The Flock, New Vision Community Church
1 large egg
1-1/2 tablespoons mayonnaise
1 teaspoon dry mustard
1/8 teaspoon Tabasco
1/2 teaspoon pepper
1/2 teaspoon salt
1 teaspoon Worcestershire Sauce
1 pound lump crab meat
4 or 6 crushed saltine crackers OR 1/2 cup bread crumbs.
In deep bowl, beat egg lightly with wire wisk. Add mayonnaise, mustard, pepper, salt, Tabasco, and Worcestershire Sauce. Blend until smooth. Add crab meat and crackers or bread crumbs. Toss with fingers to mix. Form into patties and fry in oil until lightly brown.
BACON-BROCCOLI TOSS
Recipe from Savannah Style, a Cookbook by The Junior League
of Savannah, Inc.
6 to 8 cups raw broccoli florets (approximately 2 bunches)
1/2 cup raisins (white and/or dark)
10 slices bacon, browned, drained, and crumbled
1 small purple onion, finely chopped (any color will do but purple adds great color)
SAUCE:
1/4 cup vinegar
1/4 cup sugar
1 tablespoon dry mustard
3 tablespoons flour
1/2 cup water
3/4 cup mayonnaise
Mix first five ingredients of sauce and cook slowly over medium heat until thickened. Let cool. Add mayonnaise. Combine broccoli, raisins, bacon, and onion, and mix with sauce. Refrigerate. Toss just before serving.
JEAN ALBERS' ROYAL
MASHED POTATOES
Recipe from Apopka Historical
Society, Apopka, Florida
Preserving the Big Potato –
A Collection of Potato Recipes
6 or 7 medium potatoes
1/2 teaspoon salt
1/2 teaspoon white pepper
1 small package cream cheese
1/2 pint sour cream
1 tablespoon butter
Cook potatoes. Mash and add salt, pepper and cream cheese. Add sour cream. Whip with electric mixer.
Put in casserole. Dot with butter. Bake in 250 degree oven for an hour or so. Can be baked as long as two hours.
Be certain casserole is covered tightly with a lid or foil. Cover as soon as made and don't peek. Put in oven and still don't peek!