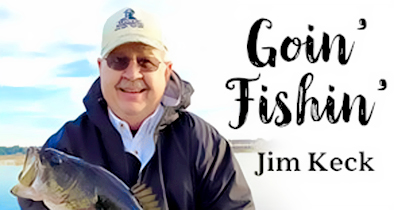 Hello Folks,
Do you realize that we are only a few days away from Christmas? This is a great time of the year with all the decorations, the gift givin', great food, and bein' with family and friends. We have so much to be thankful for includin' gettin' to go fishin'. I hope that, over the holidays, you get a chance to do some fishin'.
The specks are still bitin' pretty good in most of the lakes in our area. Kyle at Bitter's Bait and Tackle reports that the folks in his area are catchin' plenty of specks in Lake Monroe and Lake Jesup. The specks are still under the State Road 417 bridge in Lake Jesup and the specks in Lake Monroe have moved back to deeper water.
Kyle reports that the folks who are still catchin' a few specks off the seawall in Sanford are doin' better at night. It seems the specks that were in shallow water moved back to deeper water around the seawall. We should get a few specks movin' back to shallow water with this week's full moon on Saturday. Most of the specks are bein' caught on minners. It seems that the specks aren't bitin' on jigs tipped with a minner as much this year and that the specks are in the mood for minners only this year. So, remember that while you are on the water this year.
The bass fishin' has been hit or miss this week. Some folks are catchin' 'em and some folks are catchin' a few bass. The Harris Chain has been pretty good. It's taken a five-bass bag of about 20 pounds or more to win a tournament. I fished the southern end of the chain this past week and caught six bass. Most of my bass were caught on Rat-L-Traps.
On the Butler Chain, the bass fishin' has been about the numbers. You can catch plenty of small bass throughout the chain. The bass are schoolin' on the baitfish. I fished the chain with my buddy Rich Niles from Tangerine and we caught and released 16 bass, but we didn't catch any biguns. The biggest bass was around 2.5 lbs. Most of our bass were caught on Rat-L-Traps, A-Rigs, and swim-baits.
John's Lake is off and on most days. You can still catch a few bass on lipless crank-baits, plastic worms, and swim-jigs. We have had some fronts come through and with those bluebird skies, it makes it kinda tough to catch 'em. The good news is that it's still a great day on the water with the cooler weather and a slight breeze. You aren't on the water gettin' your brains baked out like we do durin' the summer months.
Well, I wish I had more good news about the fishin', but I'm sure it's gonna get better movin' forward. See ya next week.
Tip of the week: full moon.
Save a few and good luck!