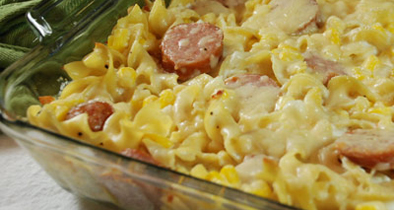 For something a little bit different for this week's Kitchen Kapers article, we wanted to search out a different locale. All of this week's recipes comes from Alabama Living Magazine.
Alabama Living Magazine is the award-winning, official statewide publication of the rural electric cooperatives (EC)  in Alabama and, according to the website, they are the largest circulation lifestyle magazine in the state. We found them at alabamaliving.coop. They have some great recipes, and we have some here for you.
Whitney Bennett, Wiregrass EC, was Cook of the Month in December of 2016. Here is her recipe for Chicken, Corn and Bacon Chowder.
Lisa Johnson, Tallapoosa River EC, contributed her recipe for Cheesy Southern Mac and Cheese.
My Good Cornbread Cake comes from Wilma Jackson, Central Alabama EC.
New Orleans Red Beans and Rice looks very tasty. This is Tammy Formby's recipe. Wilma is in Marshall-Dekalb EC.
Philena Peterson's Chicken and Dumplings looks pretty good. Philena is in Baldwin EMC.
Southern Comfort Chicken comes from Cyndi McConnell, Baldwin EMC.
Polish Casserole is contributed by Kay Moore, Cullman EC.
WHITNEY BENNETT'S
CHICKEN, CORN AND
BACON CHOWDER
Wiregrass EC
Alabama Living Magazine
1 pack of bacon
2 cans of whole kernel corn
3 boiled chicken breasts
1 clove garlic, minced
1/2 chopped onion
4 cups of chicken broth
2 cups of heavy cream
1/4 cup all-purpose flour
Salt and pepper to taste
Cayenne pepper, optional, to taste
Cut bacon into small pieces and fry, reserving the grease for later. Drain and set aside. In reserved bacon grease, cook chopped onion and minced garlic until transparent, about 2-3 minutes. Drain and set aside. In a stock pot, heat 2 tablespoons of bacon grease and add ¼ cup of all-purpose flour, mixing well to create a roux. Once the mixture has thickened, gradually whisk in chicken broth. Add onion, garlic, corn, chicken, bacon and spices. Let it simmer for 15-20 minutes on low heat. Once it is warmed through, add heavy cream and simmer an additional 5-10 minutes. Add water if the chowder becomes too thick. Cook's note: 1 rotisserie style chicken may be used in place of boiled chicken.
LISA JOHNSON'S
CHEESY MAC AND CHEESE
Tallapoosa River EC
Alabama Living Magazine
16 ounces elbow macaroni
8 ounces cream cheese
1 stick of butter
2 cups milk
4 eggs, beaten
1-1/2 cups white cheddar cheese    (reserve 1/2 cup for top)
4 cups extra sharp cheddar cheese    (reserve 1 cup for top)
Salt and pepper to taste
Prepare macaroni according to instructions on box. Drain and return to pot. Add 1 cup white cheddar, 3 cups extra sharp cheddar, eggs, milk, butter, and cream cheese to pot. Add salt and pepper. Pour into 9-inch by 13-inch casserole dish or pan. Cover with remaining 1 cup extra sharp cheddar and 1/2 cup white cheddar. Bake at 400 degrees for 20 minutes.
WILMA JACKSON'S
MY GOOD CORNBREAD CAKE
Central Alabama EC
Alabama Living Magazine
(Vegan-friendly)
1 cup unbleached flour
1-1/2 cups Martha White Corn Meal    Mix (Hot Rize)
1 cup almond milk
1/2 cup maple syrup
2 tablespoons egg replacers (can    also use flax seed)
Vegetable oil
Mix dry ingredients first. Then add almond milk, syrup and egg replacers to get the consistency like pancake batter. Add extra milk, if you have enough, or water until you get the pancake consistency. Put 1/4 cup oil into a cornbread pan or a cast iron skillet to coat, and put the pan into a 425-degree oven. Heat until hot. Remove the pan and pour the oil into the batter and mix very well, then pour the batter back into the pan. Cook for approximately 20-25 minutes at 425 degrees.
Alabama Living Magazine Editor's Note: A common formula for replacing eggs with flax seed is 1 tablespoon ground flax seeds plus 3 tablespoons of warm water-equals one egg.
TAMMY FORMBY'S
NEW ORLEANS RED BEANS
AND RICE
MARSHALL-DEKALB EC
Alabama Living Magazine
1 pound small red beans, rinsed    and soaked at least four hours, or overnight
2 cups Kielbasa sausage, cut into    bite-sized pieces
1 cup cooked ham, cubed
1 large onion, chopped
1/2 cup celery, chopped
3 large garlic cloves, minced
4 cups water (or enough to cover    bean mixture)
1/4 teaspoon dried thyme
1 large bay leaf
1 teaspoon salt
1/2 teaspoon pepper
1 teaspoon hot sauce
3 cups cooked rice
Combine all ingredients except rice into slow cooker. Cook 6-8 hours on low, stirring once. Serve over rice. Cook's note: Remove some of the beans and juices just before serving, mash them, and pour back into the pot for a thicker mixture if desired.
PHILENA PETERSON'S
CHICKEN AND DUMPLINGS
Baldwin EMC
Alabama Living Magazine
3 cups boiled, cut up chicken
2 quarts chicken broth
2 boiled eggs, chopped
1 can cream of chicken soup
1 cup plain flour
1/4 teaspoon salt
1/8 teaspoon baking powder
1 tablespoon shortening
1 egg yolk
1/4 cup broth or milk
Mix flour, salt, baking powder and shortening together; add egg yolk and milk or broth. Mix together to make a stiff dough. Roll the dough thin on a floured surface and cut into small squares. Lay squares on waxed paper about 30 minutes to dry out. Drop the squares into boiling broth and chicken soup. Cook 8-10 minutes, gradually adding the chopped chicken. Add salt and pepper to taste. Add chopped eggs. Cover with tight lid and let sit 30 minutes. Cook's note: The dumplings can be made ahead and frozen. Place them on cookie sheets until frozen, then put into freezer bags for later use.
CYNDI MCCONNELL'S
SOUTHERN COMFORT CHICKEN
BALDWIN EMC
Alabama Living Magazine
2-1/2 cups cubed chicken
1 garlic clove, finely diced, or       equivalent
1 medium onion, sliced in rings
5 medium potatoes, diced
1 cup of frozen carrots, thawed
1 pint of heavy whipping cream
1/2 to 1cup water
1 stick (1/2 cup) butter
Parsley, salt and pepper to taste
Melt butter in large skillet or Dutch oven. On medium low, cook chicken until no longer pink and onions are tender, stirring as necessary. Add garlic when "almost" done. (Do not drain any juices!) Stir in carrots, potatoes and whipping cream. Add seasonings and enough water to cover potatoes. Let simmer for 20 minutes to 1 hour.
KAY MOORE'S
POLISH CASSEROLE
Cullman EC
Alabama Living Magazine
4 cups uncooked penne pasta or       any other pasta that holds sauce
1-1/2 pounds smoked Polish
   sausage, cut into 1/2-inch slices
2 10-3/4-ounce cans condensed    cream of mushroom soup,
   undiluted
1 16-ounce jar sauerkraut, rinsed    and well drained
3 cups shredded Swiss cheese,
   divided
1-1/2 cups 2 percent milk
4 green onions, chopped
2 tablespoons Dijon mustard
4 garlic cloves, minced
Preheat oven to 350 degrees. Cook the pasta according to package directions, drain and transfer to a large bowl. Stir in the sausage, soup, sauerkraut, 2 cups of cheese, milk, onion, mustard and garlic. Spoon into 2 greased 8-inch square baking dishes. Sprinkle with remaining cheese. Bake uncovered 45-50 minutes or until brown and bubbly. Serve with garlic bread and a green salad. Cook's note: This dish is good, filling and freezer friendly. Freeze up to 3 months; to use, thaw in refrigerator overnight. Remove from refrigerator 30 minutes before baking. Bake uncovered at 350 degrees for 50-60 minutes or until golden brown.