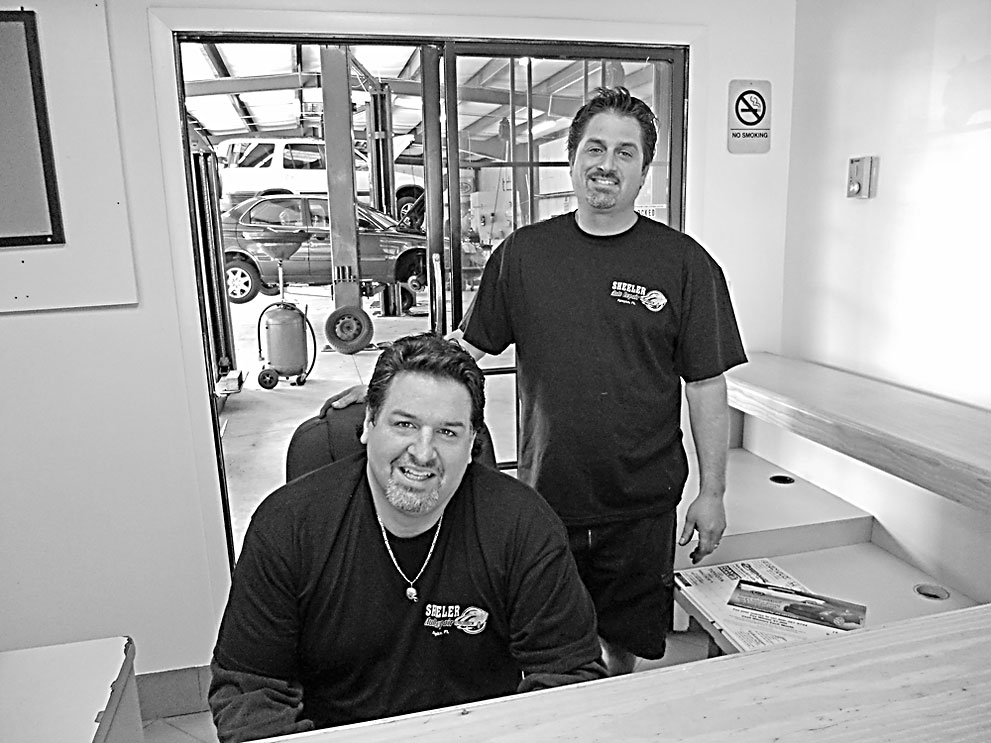 Are you tired of going into auto repair shops that are filled with service managers that are paid based on sales of service? Or how about the same place that has mechanics that are paid based on commission?
Most of the time, when you go into these types of establishments, your minor toothache can become a root canal. Usually, you'll get a list from A to Z of what you need. The question is this: Is it what you need, or what they need to meet their sales projections?
What if you have a chance to go to a family-owned and operated business, where the service manager and head mechanic are the owners, not a couple of guys who have to answer to corporate or absent owners? If you want honest and dependable auto repair service, you need to meet Sheeler Auto Repair co-owners Demetrios and Odysseus Vergos. You'll find their hands on approach, expertise, and the personal attention they give to their clientele is unmatched in the industry.
For over twenty years, this family business has offered everything from minor preventative maintenance service to complete engine overhauls, rear end work, and everything in between. Sheeler Auto Repair has eight large bays and experienced mechanics that can help get you safely on the road in a timely manner.
Voted one of the best automotive repair businesses in Apopka, you will find the professionals at Sheeler Auto Repair are quickly available to make sure your vehicles are safely maintained and ready for the road. You'll notice immediately that the success of this business is due to individualized and prompt attention to every detail and specific needs of the customer. And, you won't find a service manager working off bonuses and margins that usually are a result from employees being pressured by corporate executives to increase sales at all costs.
In order to maintain your vehicles' warranty from the dealer, there's no need to take it back to the dealership for oil changes and service. As long as you have your vehicle maintained and have the service records to show all performed services, there's no question as to whether or not your vehicles' warranty remains in effect.
As an independent repair facility, Sheeler Auto Repair keeps their prices under many dealerships or corporately owned auto repair service companies. If you have a service book that came with your vehicle, Sheeler Auto Repair will be happy to record any information needed during that service visit. They also keep all your service records and will provide you with a copy at the time of service.
For your comfort, they have a comfortable, air-conditioned waiting room with cable television and Wi-Fi, so you don't have to miss a beat communicating with work or your family. They also offer customer pick-up and drop-off from home or office to further make the repair of your vehicle a more pleasant experience.
Sheeler Auto Repair offers free estimates and is open Monday through Friday, from 8 a.m. to 5 p.m., and they pride themselves on being open all day Saturday, from 8 a.m. to 5 p.m. for the customers that cannot make it in during the workweek.
Come and experience the Sheeler difference. Call the professionals at Sheeler Auto Repair today at 407-880-5784 to schedule your next repair service or maintenance check. They are conveniently located at 1908 S. Orange Blossom Trail just minutes from the Wal-Mart Supercenter in Apopka.

Advertisement