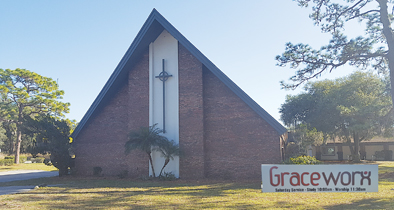 When you drive down a street in Apopka and pass by a lovely church building, do you ever say to yourself: "What might their worship services be like?" 
Or do you ever wonder what kind of music you'd hear? Are you curious about whether the congregation would make you feel welcome if you were to visit? Are their sermons helpful, inspiring and Bible-based?
If you happen to be driving past St. Andrews Presbyterian Church at 9913 Bear Lake Road, those questions will take a little longer to answer because three congregations meet in the same building—at different times, of course.
On Saturday mornings, Graceworx Community Church meets for worship at 11:30 a.m. On Sunday mornings, St. Andrews Presbyterian Church conducts worship at 9:30 a.m. And on Sunday mornings at 11:30 a.m., Revelation Church conducts its worship service. So, the options are quite varied within the one building.
But this article is specifically about Graceworx. So let's start with a little "elevator speech" about who we are: Graceworx was founded by a group of people who believe that a congregation should refresh the spirit, stimulate the mind, provide strong fellowship, and work unflaggingly with other congregations and civic organizations for the betterment of our local community.
Now let's amplify a bit further: Jesus said he had come that humans "might have life and have it more abundantly" (John 10:10). That's what Graceworx is all about. We want everyone to know the Bible's loving, caring, forgiving, grace-exuding Creator and Redeemer God. We seek to be a discovery zone and support center for those who seek a more purposeful, more balanced, more fulfilling life.
One of the ways we seek such spiritual development is through our weekly one-hour Adult Bible Study, which starts at 10:00 a.m. each Saturday morning, meeting in the church boardroom.
In fact, we're beginning a new Adult Bible Study series on Saturday, August 27, moderated by Graceworx member Millie Preussner and built around a RightNow Media series presented by popular Christian teacher-preacher Pastor Tony Evans. The series will run for eight weeks and will examine the Apostle John's three letters. Everyone is invited, and no prior registration is required. Just arrive ready to learn, share and discuss.
"Comfortable Christianity often means a weak Christianity," says the promotional material for the series. "In this study on John's three letters, Dr. Tony Evans challenges Christians who have grown comfortable and complacent in their faith. Fellowship with God is the essence of our faith, and Tony walks through 1, 2 & 3 John to paint a picture of love, obedience, and truth."
Pastor Jim Coffin—who has served as a youth pastor, senior pastor, religious-magazine editor, church-outreach consultant, and for more than ten years executive director of the Interfaith Council of Central Florida—presents the sermon most weeks.
Again, our services are each Saturday morning. We hope we'll see you soon. Contact us at graceworxcc@gmail.com or at 321-228-4599.
Advertisement