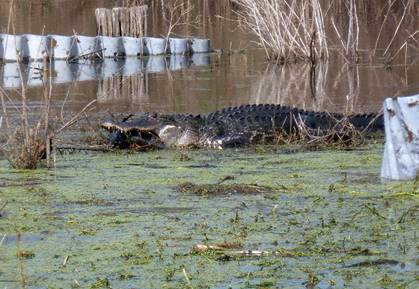 Repairs continue at the Lake Apopka North Shore, which experienced damage last month due to Hurricane Irma, according to St. Johns River Water Management District (SJRWM), which controls the North Shore.
As water levels subside and assessments are completed, the district has been providing a weekly update on the status of repairs and recreation at the North Shore.
The following is the update on the Lake Apopka North Shore repairs according to a Friday, October 20, news release from SJRWM:
*Initial repairs to stop the flow of lake water through the levee breach continue to hold. To date, 920 tons of material have been placed on the breach.
*Due to continued rainfall and saturated roads, additional repair material could not be hauled to the site and the work necessary to complete the temporary repair was postponed. The work is required to help stabilize the roads/levees so that they can support the necessary heavy equipment.
*Levels on lakes Apopka and Dora remain above the regulation schedule and therefore, no pumping has been initiated. Once lakes return to normal levels, the district will begin slowly pumping water from priority areas on the Lake Apopka North Shore.
*Understanding that the North Shore is a popular outdoor recreation destination, the Red Trail, off County Road 448A, and the McDonald Canal Boat Ramp are open.
*To ensure public safety, and minimize potential damage to saturated roads, no other openings are planned at this point due to flooding and the continued presence of heavy equipment. The Lake Apopka Wildlife Drive and nonmotorized Lake Apopka Loop Trail remain closed. As soon as the district determines that the public can safely access an area, it will open.
For continuing updates on district operations and recreational announcements, visit the district's website, www.sjrwmd.com.
More information about lake levels is available at www.sjrwmd.com/data/hydrologic/#controlled.