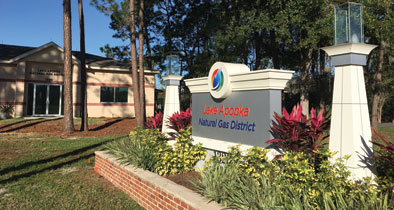 With 2022 officially in the books and the New Year underway, we at Lake Apopka Natural Gas District (LANGD) are looking forward to the year ahead and the opportunity to build on recent growth. Since 1959, LANGD has provided safe, reliable and cost-effective natural gas to a customer base that has expanded to over 27,000, and we have grown by an incredible 38.5% over the past five years, making us the fourth fastest growing municipally owned natural gas system in the state of Florida.
None of that would be possible without the tremendous support from our valued customers in Apopka, Clermont, Winter Garden and surrounding areas. In 2022 alone, LANGD welcomed over 1,000 new customers, including some well-known and new commercial brands. Together, our new commercial and residential customers enjoy and rely on the unmatched benefits of natural gas, including its versatility, reliability and cost-saving capabilities.
With so much anticipated growth on the horizon, we've recently formed a committee to research these areas of growth and created a Five-Year Strategic Growth Plan to expand our distribution system to meet future development needs within our service territory. This year alone, we expect to extend our system's infrastructure by more than 12 miles, to serve new customers across our service area.
Our board of directors also unanimously approved a $10.1-million main extension plan, which aims to accommodate Orange and Lake counties' population growth, development and system improvement, so you know we're serious when we say we're expanding!
We are happy to consistently be extending our services to new customers, and when you look at all of the benefits that natural gas has to offer, it becomes clear why so many people want to make the switch.
Not only is natural gas cost-efficient, yielding an average savings of $879 per year, but it is also environmentally friendly. According to a recent article by Blue Flame Alliance, natural gas is the cleanest burning fossil fuel and helps to reduce greenhouse gas emissions by emitting 50-60% less carbon dioxide than coal and 30% less than petroleum. It is also delivered underground directly to your home, making it extremely dependable – even during a storm. That's part of the reason why so many essential services like hospitals, nursing homes and fire stations rely on natural gas to cook meals, keep their water hot and generators running.
Appliances that operate from the direct use of natural gas are also up to three times as efficient as electric ones. This uninterrupted delivery of energy to your home is not only more efficient, but also reduces carbon emissions and saves you money.
With so many customers switching to natural gas to fill their daily needs, we want to make sure we are expanding to meet those needs, so we can continue to provide outstanding and reliable service for years to come.
If you'd like to be a part of this tremendous growth and are interested in making the switch to enjoy natural gas, please contact the LANGD marketing team at (407) 656-2734 x307 or marketing@langd.org, or visit www.langd.org for more information on natural gas service for your home, business or vehicle. Be sure to "like," "follow" and "share" LANGD's content on Facebook and LinkedIn.
Advertisement