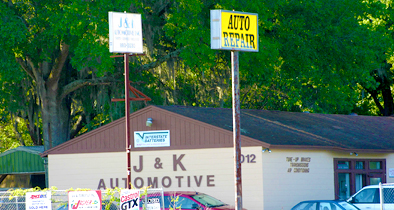 Honest Auto Repairs with a smile.
If you've faced "hidden" charges or been talked into unnecessary service work, then J&K Automotive, Inc. is for you. They offer a unique, honest approach to auto repairs. They operate on their policy of always giving you a fair deal and flawless repair or maintenance work.
J&K Automotive, Inc. is a local, full-featured auto shop in Apopka with years of experience and comprehensive ability. Instead of searching for a different provider every time your vehicle has a problem, their team of technicians is ready to deal with everything from electrical problems to diagnostic issues.
J&K Automotive, Inc. prides themselves on their ability to handle whatever reveals itself under the hood. Providing diagnostics, inspections, scheduled maintenance, lube, oil and filters, tire and wheel services, electrical systems from batteries and starters to radios and windshield wipers.  And even though it's not related to the mechanical or electrical systems, they also provide glass repair and replacement. No challenge is too large or too small for the expert team at J&K Automotive, Inc.
J&K Automotive, Inc. understands that, in challenging economic times, there are things that might take precedence over car repairs and services. But think long term if you're planning on keeping your vehicle for any amount of time. It's in the best interest of your vehicle (and your wallet) to not ignore the little things, which, in time, can turn into big things.
When you must depend on your car, you know how important a dependable, smooth-running vehicle can be. You need a trusted, reliable, quick-service mechanic close to home, not only for regular maintenance but also for those little (and sometimes big) glitches that can slow you down and possibly become a safety issue.
J&K Automotive, Inc. is a family-run business with over 38 years' experience, J & K Automotive, Inc. goal is to always provide honest, dependable labor. They back up their work because they take pride in their service.
J&K Automotive, Inc. utilizes only top-quality replacement parts and highly skilled technicians. They offer a no-obligation free estimate and utilize up-to-date diagnostic equipment to diagnose and repair your car, truck, or SUV. This helps ensure that your automobile is repaired to factory specifications. And, of course, all their work is 100% guaranteed.
J&K Automotive, Inc. began their business in Apopka in 1987 with a passion for excellence in automotive re- pair and quality customer service. It's always been their goal, and will continue to be, the repair shop that offers fair, honest, and dependable service.
J&K Automotive, Inc. is located at 1012 E. Semoran Boulevard in Apopka, J&K Automotive, Inc. is easy to find, just a block east from Sheeler Road. For top-quality service at affordable prices, call J&K Automotive, Inc. at 407-880-3530.
For more information, you can also visit their website at www. JandK.mechanicnet.com and become a fan on Facebook: J & K Automotive.
Advertisement