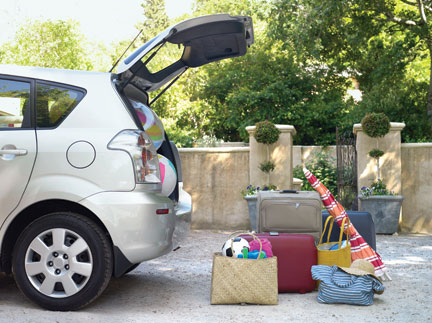 When you have to depend on your car, you know how important a reliable, smooth-running vehicle can be.
You need a trusted, consistent, quick-service mechanic close to home, not only for regular maintenance but also for those little (and sometimes big) glitches that can slow you down.
Before you hit the road this summer, let J & K Automotive, Inc. assist you with a few important inspections and checks to prepare you for a long, hot road trip. These inspections will help to avoid troublesome repairs and prevent potential safety hazards that result from a break down far from home.
• Air Conditioning – A marginally operating system will fail in hot weather.
• Cooling System – The greatest cause of summer breakdowns is overheating. The cooling system should be completely flushed and refilled about every 24 months.
• Windshield Wipers – A dirty windshield causes eye fatigue and can pose a safety hazard. Replace worn blades and get plenty of windshield washer solvent.
• Lights – Have all lights and bulbs inspected. Replace burned out bulbs and periodically clean dirt and insects from all lenses.
• Tires – Have your tires rotated about every 5,000 miles. Have pressures checked once a month. Don't forget to check your spare as well, and be sure the jack is in good condition.
• Battery – Batteries can fail any time of the year. Have your mechanic scrape away corrosion from posts and cable connections and re-tighten all connections.
• Brakes – Brakes should be inspected as recommended in your manual, or sooner if you notice pulsations, grabbing, noises, or longer stopping distance.
J & K Automotive, Inc. is a total car care company that takes pride in their ability to handle whatever reveals itself under the hood. No challenge is too large or too small for their expert team.
A family-run business with many years experience, John and Karen strive to gain the trust of the community by providing honest, dependable labor. They will back up their work because they take pride in service. It is nice to know that you can have peace of mind knowing your car is in good hands at J & K Automotive, Inc.!
J & K Automotive, Inc. began their business in Apopka in 1987 with a passion for excellence in automotive repair and quality customer service. Their goal has always been, and will continue to be, the repair shop that offers fair, honest, and dependable service.
They are enjoying the longevity of their business because of the excellent service that they have provided. Located at 1012 E. Semoran Boulevard in Apopka, J & K Automotive, Inc. is easy to find, just a block from Sheeler Road. Give them a call at 407-880-3530 and get that car serviced.
For more information, you can also visit their website at www.JandK.mechanicnet.com and become a fan on Facebook: J & K Automotive.
Advertisement