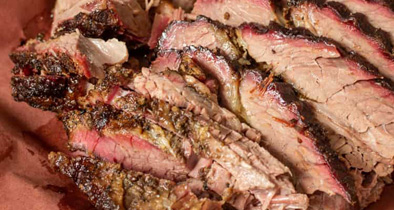 Southern Living's All-Time Favorites' has a special treat for us just in time for our cherished Independence Day celebration a little over a week from now! Traditional Brisket is a recipe you can make ahead. They say, "The rule of thumb is to smoke brisket 1 hour and 15 minutes per pound at 225 to 250 degrees until the internal temperature reaches 190 degrees. The meat is safe to eat at a lower temperature but isn't tender yet."
Neoma Knox's Broccoli and Cauliflower Salad is so tasty. We have shared this recipe with you in the past, but it is so delicious, it deserves an encore.
Charleston Receipts, a wonderful book of recipes, has a recipe (or "receipt") for Custard Ice Cream. This is Mrs. John Laurens' ice cream recipe. I am sure you could use a "modern-day" ice cream freezer for this recipe if you wanted.
For a special Independence Day treat, try Darlene Brammeier's Cherry Torte. It appears to be fairly straightforward; she won't make us do any backflips. And it's beautiful! Thanks to Northside Baptist Church for their cookbook where we found Darlene's recipe.
Paths of Sunshine Cookbook is full of great recipes all wrapped around our state's produce. This wonderful Florida Orange Pie calls for fresh orange juice and is covered with meringue browned in a hot oven.
TRADITIONAL BRISKET
Recipe from
Southern Living All-Time Favorites
1 (5-3/4-pound) trimmed beef brisket flat
Brisket Rub (see below)
Hickory smoking chips
Basting mop*
Brisket Mopping Sauce (see below)
Brisket Red Sauce (optional,
   but see below)
1. Sprinkle each side of beef with 1/4-cup Brisket Rub; rub thoroughly into meat. Wrap brisket in plastic wrap and chill 8 hours. 2. Soak hickory chips in water for 8 hours. Drain. 3. Prepare smoker according to manufacturer's directions, regulating temperature with a thermometer to 225 degrees; allow it to maintain that temperature for 1 hour before adding beef. 4. Remove beef from refrigerator and let stand 30 minutes. 5. Place brisket on smoker rack, fat side up. Insert thermometer horizontally into thickest portion of beef. Maintain smoker temperature between 225 and 250 degrees. 6. Add a handful (about 1/4 cup) of hickory chips about every hour. 7. With basting mop, brush beef liberally with Brisket Mopping Sauce when beef starts to look dry. (Internal temperature will be about 156 degrees.) Mop top of brisket every hour. When internal temperature reaches 170 degrees, place brisket on a sheet of heavy-duty aluminum foil; mop liberally with Brisket Mopping Sauce. Wrap tightly and return to smoker. 8. Remove brisket from smoker when internal temperature reaches 190 degrees with an instant-read thermometer. Let stand 1 hour. Cut into very thin (1/8 to 1/4-inch-thick) slices. Serve with Brisket Red Sauce, if desired. *Basting mops may be found in grilling supply section of supermarkets, restaurant-supply stores, and sporting goods stores. Makes 8 servings.
Brisket Rub:
1/4 cup kosher salt
1/4 cup sugar
1/4 cup black pepper
3/4 cup paprika
2 tablespoons garlic powder
2 tablespoons garlic salt
2 tablespoons onion powder
2 tablespoons chili powder
2 teaspoons ground red pepper
1. Combine all ingredients. Store in an airtight container. Makes 2 cups.
Brisket Mopping Sauce:
1 (12-ounce) bottle beer
1 cup apple cider vinegar
1 onion, minced
4 garlic cloves, minced
1/2 cup water
1/2 cup Worcestershire sauce
1/4 cup vegetable oil
2 tablespoons Brisket Rub
1. Stir together all ingredients until blended. Makes 4 cups.
Brisket Red Sauce:
1-1/2 cups apple cider vinegar
1 cup ketchup
1/4 cup Worcestershire sauce
1 teaspoon salt
1/2 teaspoon ground red pepper
1/2 teaspoon black pepper
1/2 teaspoon onion powder
1/2 tablespoon garlic powder
1/2 tablespoon ground cumin
2 tablespoons unsalted butter, melted
1/2 cup firmly packed brown sugar
1. Stir together all ingredients until blended. Serve sauce heated or at room temperature. Makes 3-1/2 cups.
Now in Heaven – NEOMA KNOX'S
BROCCOLI AND
CAULIFLOWER SALAD,
Recipe from
New Vision Community Church's
Feeding the Flock
1 bunch cauliflower
1 bunch broccoli
5 strips crisp bacon
1/2 cup medium size red onion
1/2 cup golden raisins
Dressing:
1 cup mayonnaise
1/2 cup sugar
1 tablespoon cider vinegar
Break and cut broccoli and cauliflower into bite-sized pieces. Broccoli stems may be used if peeled to soft center. (Hint: large pieces are easy to strip.) Break bacon into small pieces. Slice the onion into rings. Mix all the ingredients together.
Dressing: Combine mayonnaise, sugar and vinegar; pour over the salad and mix well. Refrigerate in air-tight container. Chill at least 4 hours; tip container to spread dressing evenly throughout
.
MRS. JOHN LAURENS
CUSTARD ICE CREAM
Recipe from Charleston Receipts, America's Oldest Junior League Cookbook in Print,
a Cookbook by The Junior League
of Charleston, Inc.
1 cup milk
1 cup light cream
6 egg yolks
2 cups heavy cream
3/4 cup sugar
1/4 teaspoon salt
1-1/2 teaspoons vanilla
Scald 1 cup milk and 1 cup light cream. Add gradually to the slightly beaten egg yolks, mixed with the sugar and salt. Cook in double-boiler, stirring constantly, until the custard thickens and coats a spoon. Pour into a bowl and flavor with the vanilla. Cool. Beat the heavy cream until thick but not stiff. Fold into the custard. Pour into freezing tray, set the refrigerator to coldest point, and freeze until firm. Remove from refrigerator, beat and mash mixture in tray until smooth. Freeze again until firm. Remove and beat and mash again. Freeze until firm. Set control back to normal position. Serve with hot fudge sauce or fruit sauce. Serves 8 to 10.
DARLENE BRAMMEIER'S
CHERRY TORTE
Recipe from Northside Baptist Church cookbook
Pastry:
1 cup flour
1/2 cup brown sugar
1/2 cup margarine
1/4 cup chopped walnuts or pecans
Mix and press into 9 x 9-inch pan. Bake 15 minutes at 400 degrees. Crumble after cooling and press back into pan.
Filling:
1 8-ounce package cream cheese
1/2 cup powdered sugar
1 teaspoon vanilla
8 ounces whipped topping
1 can cherry pie filling
Cream together cream cheese, powdered sugar and vanilla. Fold in the whipped topping. Spread over the crust. Top with can of cherries. Chill. Serve.
FLORIDA ORANGE PIE
Florida Federation of Garden Clubs
Paths of Sunshine Cookbook
1 cup sugar
3 tablespoons cornstarch
1/8 teaspoon salt
1-1/2 cups fresh orange juice
3 egg yolks lightly beaten
1 tablespoon lemon juice
1 teaspoon grated orange rind
2 tablespoons butter
1 9-inch baked pie crust
In heavy saucepan, mix sugar, cornstarch and salt. Gradually add orange juice and stir until smooth. Cook over medium heat until mixture boils, about two minutes, stirring often until thickened. Add a few spoonfuls of mixture to beaten egg yolks and return to saucepan; cook, stirring often, another two minutes.  Add lemon juice, grated orange rind, and butter. Stir in well. Pour into cooled pie shell. Spread with meringue and bake at 425 degrees for about 10 minutes.
Meringue:
3 egg whites
1/4 teaspoon cream of tartar
6 tablespoons sugar
Beat egg whites until thick, add cream of tartar and sugar, 2 tablespoons at a time and beat until stiff. Sprinkle cooled meringue with about 1 tablespoon orange zest.