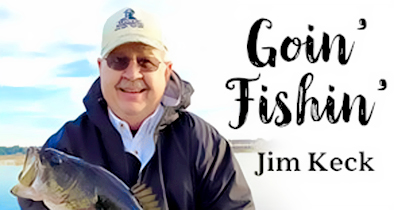 Hello Folks,
I hope you and your family had a great Thanksgivin'. I love this time of the year with the cooler weather and good fishin' and great food. Well, if you are already tired of eatin' turkey, you need to go catch some specks.
Kyle at Bitter's Bait and Tackle reports that the specks are bitin' in most of the lakes in our area. Kyle is gettin' some great reports from Lake Jesup, Lake Monroe, John's Lake, Lake Underhill, and Lake Ivanhoe. Some folks are fishin' with jigs tipped with minners, but most of the specks are bein' caught on minners. So, get the family and a bucket of minners and go catch some specks.
You need to drift open water to catch some specks. We have been havin' some windy days, so let the boat drift with the wind and you should be able to find 'em and catch 'em. As the water gets cooler, the speck fishin' will get better as well. You can also catch some nice specks in the Harris Chain. Most of the specks are bein' caught driftin' open water on minners. You have some good options so have a great time.
The bass fishin' is hit or miss, dependin' where you are fishin'. Kyle reports that folks are catchin' some nice bass on shiners and artificials in the Maitland Chain. You can catch a few bass in John's Lake, too. I fished John's Lake last week with Rick and we caught a few bass up to 2.5 pounds each. Most of our bass were caught on Rat-L-Traps and plastic worms. Rick and I fished the Harris Chain this week and we had somewhat of a slow day. The wind was blowin', but we did manage to put a few in the boat. We caught our bass on Rat-L-Traps and plastic worms.
Mark at Big Toho Bait and Tackle reports that the bass are bitin' real good on shiners in West Lake. Most of the bass are bein' caught out in front of the Kissimmee grass throughout the lake. The Butler Chain is doin' good for bass but they are on the small side. I fished the chain last week with my buddy Rich from Tangerine. We caught around 20 bass on that trip. The bass were keeper size and smaller. The bass are schoolin' like crazy on the chain. You will see a lot of small bass bustin' on bait-fish. Those small bass are jumpin' clean out of the water while they are feedin' on the bait-fish. It's fun to watch them when they come up feedin'. You can catch 'em on lipless crank-baits, plastic worms, or a noisy top-water lure.
Well, that's it for this week. Again, I hope you and your family had a great Thanksgivin' and enjoyed some days off and got to go fishin'.
Tip of the week: full moon on Monday.
Save a few and good luck!