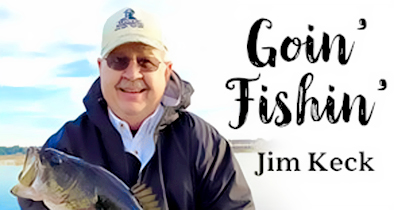 Hello Folks,
I hope everyone had a great Fourth of July. I know my family did. We had the all-American meal of hot dogs and hamburgers, and all that goes with it. We even watched the fireworks at the city of Apopka amphitheater. I hope you enjoyed your family and friends as we celebrated the birth of America.
The fishin' has been pretty good, even in this hot weather we have been havin'. Folks have been catchin' some specks in Lake Jesup under the State Road 417 bridge, with minners.
Kyle at Bitter's Bait and Tackle reports that the bass fishin' has been pretty good in most of the lakes and chains in our area. The Harris Chain has been off and on, but it's still takin' a 20-lb. bag of bass to win most of the tournaments.
The bass fishin' has been good on the Butler Chain. Folks are catchin' 15 to 20 bass per trip.
You need to try top-water baits early and then when the sun gets up, you need to fish plastic worms and slow-sinkin' Senko-type baits.
The bass fishin' on the Maitland Chain is still doin' good. Most folks are freelinin' shiners over the submerged hydrilla and eel-grass beds in the chain.
You can catch some bass on artificials, too, as well as plastic worms and Senko-type baits, mixed in with a chatter-bait. You can also catch some bass on lipless crank-baits rippin' it through the grass.
Kyle also reports that some folks are catchin' some bass in Lake Fairview. Most of the bass are bein' caught off-shore around the submerged grass scattered around the lake.
If you go late in the day, try fishin' around the docks and pads and along the reeds.
Kyle reports that a few bass are bein' caught in Johns Lake. The best fishin' on Johns Lake has been early in the mornin' or dark-thirty.
The folks who fish the Johns Lake Wednesday night tournament are still catchin' a few nice bass. It's takin' a bag of three bass around 12 lbs. to 15 lbs. to win each week.
We are gonna be on the back side of the full moon this comin' weekend. The fishin' might be a little slow, but if we get some more rain, the fishin' could pick back up.
Look for water that's runnin' into the lake from the afternoon rains. If you decide to fish the St. Johns River, fish the mouth of the feeder creeks or where there is any runnin' water. Bass like to hang around those types of areas and feed on the bait-fish feedin' into the lake.
Well, that's it. for this week. It's still hot, so make sure you take along plenty of water and Gatorade, and stay hydrated durin' the day.
I'll see ya next week.
Tip of the week: early or late.
Save a few and good luck!