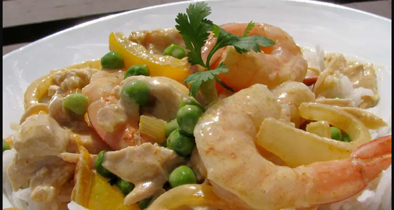 From What's Cookin'?, the recipe is for Shrimp or Chicken Curry. This recipe was contributed by Mrs. Myrtle Womble who suggests serving it over hot, steamy rice.
Savannah Style cookbook has loads of lovely recipes. We are passing on to you some of the great food ideas contained therein, and Sunday Cabbage appears in the top rankings of cabbage recipes.
From Stew Pot Favorites of Zellwood, we have a Cheese Biscuits recipe contributed by Mrs. Ruth McGowan.
Here is a recipe for Sour Milk Doughnuts from The Original Country Cookbook put out by Paragon Products in 1976.
I found a recipe for Alice's Pork Sausage in The Original Country Cookbook that I will include for you industrious cooks. It really doesn't sound like you need to butcher your own hog for this sausage; you can buy the pork pretty economically from any grocery store.
Spinach Salad is a favorite for many of our readers. This one is from Savannah Style and looks fit for a special occasion.
Mrs. Marilyn Guest contributed her recipe for Lemon Meringue Pie to a favorite source of ours, Plains Pot-Pourri that was published in 1977 by the Plains Jr. Woman's Club of Plains, Georgia.
For the times you want to spoil yourself and everybody else around you, here is Butter-Pecan Ice Cream! This flavor is my very favorite, and it might be yours, too! The recipe was contributed by Tammy Sewell of Fort Benning, Georgia, to the 1996 annual publication of Southern Living's Favorites.
MRS. MYRTLE WOMBLE'S
SHRIMP OR CHICKEN CURRY
Recipe from What's Cookin'?
Published by
The Apopka Woman's Club
3 tablespoons butter
1/4 cup minced onion
1/2 teaspoon curry powder
3 tablespoons flour
1/4 teaspoon salt
1/8 teaspoon ground ginger
1 cup chicken broth (or 1 chicken    bouillon cube dissolved in 1 cup    hot water)
1 cup milk
2 cups cooked, cleaned shrimp or 2    cups cut-up cooked chicken
1/2 teaspoon lemon juice
Melt butter over low heat in heavy saucepan. Saute onion and curry powder in melted butter. Blend in flour and seasonings. Cook over low heat until mixture is smooth and bubbly. Remove from heat. Stir in chicken broth and milk. Bring to a boil, stirring constantly. Boil 1 minute. Add shrimp or chicken and the lemon juice. Serve over rice. Makes 4 servings.
SUNDAY CABBAGE
Recipe from Savannah Style,
a Cookbook by The
Junior League of Savannah, Inc.
1 small to medium head of cabbage
2 eggs, hard-cooked
2 cups milk
2 tablespoons flour
1/2 cup margarine
4 ounces Cheddar cheese
Worcestershire sauce, to taste
Seasoned salt, to taste
Salt and pepper, to taste
Pour milk in small saucepan; bring to a boil. Make flour paste by adding a little milk to the flour. Add boiling milk until it becomes a thick white sauce. Add 1/4 cup margarine, seasoned salt, pepper and cheese. Cut cabbage in wedges and boil until tender, five to seven minutes. Drain cabbage, salt it and toss with remaining 1/4 cup margarine. Place half of the cabbage in a 1-quart dish, dice eggs over top and cover with half of the cheese sauce. Top with buttered bread crumbs; repeat second layer in same order. Bake at 350 degrees Fahrenheit for 30 minutes or until bubbly.
MRS. RUTH MCGOWAN'S
CHEESE BISCUITS
Recipe from
Stew Pot Favorites of Zellwood
1 pound cheese
1 pound oleo margarine
4 cups flour
1 teaspoon salt
Cut oleo margarine into flour until crumbly or the size of a pea. Add salt and grated cheese. Divide dough and roll to 1/4-inch thick. Cut with small biscuit cutter. Bake on ungreased cookie sheet about 10 minutes at 425 degrees. These will keep in your freezer indefinitely.
SOUR MILK DOUGHNUTS
Recipe from
The Original Country Cookbook
Paragon Products,
Pompano Beach, Florida
1 egg
1/2 cup sugar
1/2 cup sour milk
1-3/4 cup flour
1/2 teaspoon soda
1 teaspoon baking powder
1/2 teaspoon salt
Beat egg, add sugar, sour milk, flour, soda, baking powder and salt mixed and sifted together. Roll, cut and fry in hot fat. Makes 18 doughnuts.
ALICE'S
PORK SAUSAGE
Recipe from
The Original Country Cookbook
Paragon Products,
Pompano Beach, Florida
4 lbs lean pork
3 tablespoons backbone fat
2 teaspoons ground black pepper
1 teaspoon salt
1/2 teaspoon cayenne pepper
4 tablespoons leaf sage
Grind together. Package and refrigerate.
SPINACH SALAD
Recipe from Savannah Style,
a Cookbook by The
Junior League of Savannah, Inc.
1 pound fresh spinach,
   washed and drained
2 apples, peeled and diced
8 slices bacon, fried and crumbled
1/2 cup almonds, slivered and
   sautéed in bacon grease
2 green onions, sliced
Dressing:
1 cup oil
3 tablespoons sugar
2-2/3 teaspoons dry mustard
5 tablespoons plus 1 teaspoon
   cider vinegar
Blend dressing thoroughly and toss lightly over salad.
MRS. MARILYN GUEST'S
LEMON MERINGUE PIE
Recipe from Plains Pot-Pourri
Plains, Georgia
1 cup condensed milk
4 eggs, separated
1/2 cup lemon juice
6 tablespoons sugar
1/2 teaspoon cream of tartar
Vanilla wafers
Mix together condensed milk, four egg yolks and lemon juice. Beat one egg white until stiff. Fold the egg white into the condensed milk mixture. Pour mixture into a 9-inch pie pan that has been lined with vanilla wafers. Make meringue by beating remaining egg whites until stiff, gradually adding combined sugar and cream of tartar. Bake at 350 degrees until brown.
TAMMY SEWELL'S
BUTTER-PECAN ICE CREAM
Recipe from 1996 Southern Living All-Time Favorites
1/4 cup butter or margarine
2 cups chopped pecans
7 cups milk, divided
1 (14-ounce) can sweetened
   condensed milk
2 cups sugar
6 large eggs, lightly beaten
1 (5.1-ounce) package vanilla
    instant pudding mix
1 teaspoon vanilla extract
1) Melt butter in a large heavy saucepan over medium-high heat; add pecans, and cook, stirring constantly, 3 minutes or until lightly browned. Drain and set aside. 2) Combine 1 cup milk and next 3 ingredients in saucepan; cook over medium heat, stirring constantly, 5 minutes or until mixture coats back of a spoon. Cool. Stir in remaining 6 cups milk, pudding mix, and vanilla; add pecans, stirring well. 3) Pour mixture into freezer container of a 5-quart hand turned or electric freezer. Freeze according to manufacturer's instructions. 4) Pack freezer with additional ice and rock salt; let stand 1 hour before serving.
Yield: 1 gallon.