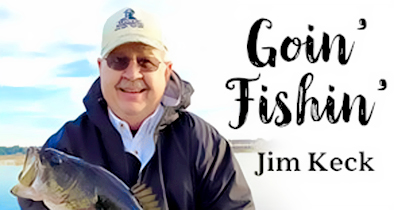 Hello Folks,
I want to take a moment to wish everyone a Happy Thanksgivin' weekend. By the time you read this article Thanksgivin' Day will be over and you should be eatin' turkey sandwiches.
If you are plannin' to go fishin', the specks are bitin'. Kyle at Bitter's Bait and Tackle calls it specks and more specks; I call it speckled perch time.
You folks from the north call 'em crappie, but here in the south, we call 'em speckled perch. Anyway, if you want to catch some specks, now is a good time to go fishin'.
Kyle reports that some of the folks in his area are gettin' their limit of 25 specks per angler. Lake Monroe and Lake Jesup have been the two best lakes to catch 'em. Most of the specks are bein' caught on jigs, jigs tipped with a minner, and grass shrimp. You can still catch some specks in Lake Jesup in shallow water, and some of the specks are still bein' caught under the State Road 417 bridge in Lake Jesup.
Folks are catchin' specks in shallow water due to last week's full moon. The specks aren't on the beds yet, but Kyle reports that a few of the specks bein' caught have some roe in 'em.
If the cooler weather persists, the next full moon we may have some specks movin' in to spawn.
Folks that are fishin' off the seawall in Sanford are catchin' a few specks as well. Kyle reports that he went bass fishin' over the weekend on the Butler Chain, and he caught eight specks while he was bass fishin'.
He also caught around 20 bass as well. He caught most of his bass on lipless crank-baits, swim-jigs, and A-rigs. So, I guess it's safe to say the specks are bitin' just about everywhere. So, get the family, a bucket of minners, and a handful of jigs and go catch some specks.
The bass fishin' on most of the lakes has been a little slow due to the cold fronts and the bluebird skies.
You can still catch some bass in the Harris Chain and the Kissimmee Chain with shiners. You need to be usin' shiners durin' this time of the year. Usin' shiners is a good bet due to the change in weather. The bass still have to eat but you would do best with shiners as opposed to artificial baits. The bass fishin' on John's Lake is still a little slow. Kyle fished there this week and he reports that he caught only a few small bass.
Well, folks, I wish had better news about the bass fishin' but it's that time of the year when the bass are in transition from summer to fall, so it's gonna take some time for the bass to adjust. The good news is that the specks are bitin' and folks are catchin' 'em. If you have some time off over the holiday weekend, get the family and go speck fishin'.
See ya next week. 
Tip of the week: speckled perch time.
Save a few and good luck!